Pastoral Counselor's Identity And Ethics Paper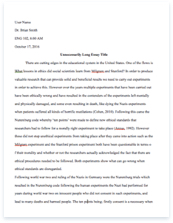 The whole doc is available only for registered users
A limited time offer! Get a custom sample essay written according to your requirements urgent 3h delivery guaranteed
Order Now
ABSTRACT
The purpose of this paper is to formulate the margins of responsibility for a counselor in the area of identity and ethics. So the counselor is able to provide the proper care within the realm of the responsibilities given. Professional guidance is given and will provide the proper licensing and or certification for the overall growth of the student. In addition significant ethical considerations are in place for the counselor as well as a pre counseling packet for the counselee outlining the ethical guidelines to provide a safe and secure environment for everyone involved. The overall goal is the healing process for those who need and desire change in their lives. Introduction
This assignment is intended to build upon a foundation that is already established for the counselor as she continues to develop her craft and professional identity within ethical boundaries. In order to provide important information about the client a counseling packet has been generated. It is important to foster a environment that is inviting and safe from the initial contact. Therefore enabling the client to feel comfortable and set the atmosphere for future sessions in the event the client does indeed want to continue. Understanding that the main focus is the needs of the client.
Paradigm for Identity and Ethical Boundaries
One of the most important things is setting up a paradigm for identity and ethical boundaries. Most ministries have bylaws. Guidelines to follow in order for the ministry to run smoothly. Everyone knows upfront what is expected from the beginning therefore not having a disconnect in the ministry. Proverbs 29:18 states "Where there is no vision the people will perish" The same holds true with counseling. It is critical that the counselor sets the parameters upfront therefore there is no question of the character. It is importment that the counselor is represented as a trustworthy person therefore developing a standard from the beginning with the client. Developing standards assists in the professional awareness for both the client and the counselor. Therefore once again providing a safe and secure environment for the client. In developing professional awareness, this student counselor plans to utilize Trull and Carter's (2004) boundaries as follows:
1. Education – This counselor currently has a Bachelors Degree in Business Administration. She is also a licensed Minister and works in several ministries within the church body. She will continue to prepare for her ministry in counseling through, piety, study and action. Using each of these areas as a stepping stone for the service of the cliental the Lord will place in her life. (2 Timothy 3:14-17) – But continue thou in the things which thou hast learned and hast been assured of, knowing of whom thou hast learned. 2. Competency – This counselor will continue to build upon her skills sh sohe can be technically and tactically proficient in all areas not leaving anything undone. Utilizing the gifts of the Holy Spirit has bestowed upon her. 2 Corinthians 3:5 Not that we are adequate in ourselves to consider anything as coming from ourselves, but our adequacy is from God, 3. Autonomy – This counselor will be equipped to make conscientious decisions that will affect the lives of others. By having the mind of Christ and allowing him to clearly guide all decisions she will follow the example he created to bring her to all truth. (Inspiration: John 13:1-16)
4. Service – This counselor's is a servant following the example set by Christ as he served others. Not looking for a reward but from the heart of love for others. Knowing that his untimate reward is in heaven. 5. Dedication – This counselor will press towards the mark by diligently pushing towards her masters regardless of the obsticles that may come in her way. Not withholding that all of her help comes from the Lord who has ordained her for this season in her life to the good works for ministry to those who are in need. 6. Ethics – This counselor will uphold a high ethical standard. Not allowing anyone or anything to come between the righteousness of God that she stands on. She will be the example for others to follow. (Inspiration: 1 Timothy 3:1-7; pp. 39-40) Potential Professional Partnerships
This student would like to open a private practice as a licenced counselor in a professional setting as well as work within the church , two potential partnerships seems equally likely. First, the American Association of Christian Counselors (AACC) provides support and assistance for professional counselors, religious leaders, and lay counselors (AACC, 2013). "It is our intention to equip clinical, pastoral, and lay care-givers with biblical truth and psychosocial insights that minister to hurting persons and helps them move to personal wholeness, interpersonal competence, mental stability, and spiritual maturity" (AACC, 2013). This seems like a practical partnership, which incorporates affiliation into different networks of specialty areas, such as drug addiction or marriage counseling. Membership is open on four different levels, providing flexibility in meeting ministerial needs and budget (AACC, 2013).
Another likely partnership would be the American Association of Pastoral
Counselors (AAPC). This organization offers different certifications and licensing, including the only one recognized by this student's state of Louisiana, Licensed Professional Counselor (American Association of Pastoral Counselors, 2013). As it seems unlikely that this student will pursue that level of licensure, being certified as a Pastoral Counselor will be beneficial as it will develop working relationships with other counselors through supervision, and hone skills necessary to remain in practice. Certification additionally requires continuing education, vital for growth in the field (AAPC, 2013).
A referral network will likely be established from within this student's church, First Presbyterian. With varying experience on the pastoral staff, it is anticipated that this student will be well-supported in her counseling endeavors, plus have individuals with different areas of expertise to refer clients to, in the event that a situation is unfamiliar to this counselor. Further, as this church is a mission partner with Baton Rouge Christian Counseling Center, it is hoped that this organization will be able to serve those clients outside of this student's scope and capabilities. Organization's Ethical Guidelines
Ethical guidelines are critical to develop as they are the components to establish a safe and welcoming atmosphere for clientele (PACO 500, 2013). Kollar (2011) brings up several issues to be addressed as an ethical framework: 1. Remain alert to one's limitations – Basically, do not continue to do something that is not working and be honest if the counselor is unable to help the client reach goals; in that instance, the counselor should arrange for another professional to take over treatment, rather than neglect the client by perpetuating the non-productive relationship (Kollar, 2011). 2. Counseling must be informed – The counselor should continue to develop a clear methodology in practice and be growing in proficiency by continuing education, counseling journals, and organizational publications (Kollar, 2011).
3. Counselee rights are primary – The counselor must keep the needs of the client first and model spiritual and emotional health, being honest about imperfections; the counselor must keep clear guidelines and boundaries to keep the session oriented to the client's well-being (Kollar, 2011). 4. Dual relationships – The counseling relationship should be maintained on a professional level only, rather than a friendship level, as judgment and integrity could become impaired in such relationships (Kollar, 2011). 5. The counselee must be aware of responsibilities of the counseling relationship – The counselee should know what he or she is getting into by means of a counseling relationship. Issues of confidentiality, counselor qualifications, and the responsibilities of both the counselor and the counselee should be made clear before the client commits to treatment (Kollar, 2011).
6. Avoid romance or sexual intimacy – As the counselee is generally in a vulnerable position, any attempt to exploit that position is considered an abuse of power and authority, highly unethical (Kollar, 2011). 7. The counselor should only use procedures in which she has been trained – There are many methods of gaining understanding of a client, but a counselor should stay with what is familiar, or seek training to gain competence in tools that may be appealing (Kollar, 2011). Johnson and Johnson (2000) discuss four essential moral principles which form the starting point for those ethical guidelines. These principles are: 1. Autonomy – The freedom of the client to choose his or her own direction 2. Beneficence – Promotion of good in others
3. Nonmaleficence – Avoidance of harm
4. Justice – Providing equal treatment to all (Johnson and Johnson, 2011, p. 205). These guidelines should be helpful in setting up a code of ethics for practice, whether in a professional setting or from within a church. It is critical for both client and counselor to be aware of these guidelines to maintain professional boundaries. Pre-Counseling Package
The following forms will comprise a package to give to the potential counselee before the first session, to assist in and support his or her decision whether or not to pursue counseling: Counseling Intake Form; Ethical Guidelines; Informed Consent with Session Description; Referral Process explanation; and Confidentiality Covenant. Further, a note-taking strategy will be included in the Appendix, but not given to the counselee to review (See Appendix for package). Conclusion
In this day and age, ethical guidelines must be established and adhered to, both for the protection of the counselee and counselor. The provision of clear, up-front information regarding the nature of counseling is imperative so that the client can be prepared for the intimacy of the relationship, but know the expected boundaries and responsibilities prior to treatment. The verification of disclosure of this information also may protect the counselor from legal action.
This student is not enrolled in the PACO program, and therefore is not required to complete the background check for the internship; however, she does strongly acknowledge the necessity of such a check as it gives assurance to the agency taking on the intern. Particularly critical in working with children, this student has submitted to such a check in her volunteer position with high-risk students.
Overall, this paper has been beneficial in creating an organized package to present to new clientele and it has allowed this student to deeply consider different ethical factors in the counseling relationship. Providing more awareness to problem areas is always beneficial, as it allows this student to ask for appropriate guidance from the Spirit in those areas and it has also made this student aware of resources for help and guidance from within the profession.
References
American Association of Christian Counselors. (2013, November). About us. Retrieved November 27, 2013, from American Association of Christian Counselors: www.aacc.net/about-us/ American Association of Pastoral Counselors. (2013, November). About us. Retrieved November 27, 2013, from American Association of Pastoral Counselors: www.aapc.org/about-us/ Baton Rouge Christian Counseling Center. (2013, November). Forms. Retrieved November 27, 2013, from Baton Rouge Christian Counseling Center Web site: http://www.brchristiancounseling.com/counseling/forms/ Enrichment Journal. (2013, November). Referral: Safeguarding the integrity of the counseling relationship. Retrieved November 29, 2013, from Enrichment Journal web site: http://enrichmentjournal.ag.org/199803/048_referral.cfm Johnson, W.
B., and Johnson, W. L. (2000). The pastor's guide to psychological disorders and treatments: A quick and easy reference source to understanding mental health disorders! New York: The Haworth Press. Kollar, C. A. (2011). Solution-focused pastoral counseling: An effective short-term approach for getting people back on track (Updated and Expanded ed.). Grand Rapids: Zondervan. (Original work published 1997) PACO 500. (2013, November). Pastoral counselor's identity and ethics [Class notes]. Retrieved November 24, 2013, from Liberty Blackboard Web site: http://bb7.liberty.edu/webapps/ portal/frameset.jsp?tab_tab_group_id=_2_1&url=%2Fwebapps%2Fblackboard%2Fexecute%2Flauncher%3Ftype%3DCourse%26id%3D_2015100_1%26url%
Related Topics