Panera Bread Industry Analysis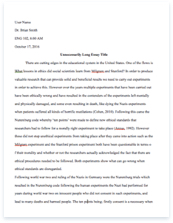 The whole doc is available only for registered users
A limited time offer! Get a custom sample essay written according to your requirements urgent 3h delivery guaranteed
Order Now
The nature of the products and services provided in the restaurant industry are based on customer satisfaction with the food and services that each location provides. Providing a selection of delicious and well-presented food made with quality ingredients that are simple and good tasting is exactly what the customer wants. Most customers go to restaurants to meet with others socially in a friendly environment. Making sure the restaurant is clean, attractive, and the décor is consistent with the food and restaurant's image and making sure the waiting staff knows that it is ok to allow customers to linger adds to the customer's satisfaction in a restaurant. The restaurant industry is highly competitive in terms of price, service, location, and food quality and is often affected by changes in consumer trends, economic conditions, demographics, and the concerns about the nutritional content of the food. Customers and Channels of Distribution:
Different customers go to restaurants and buy the products for different reasons. Individuals go to eat and meet socially with other people or just to feed themselves. Businesses choose restaurants based on the atmosphere and product depending on if they require catering for a business meeting or a location they can go and have a business friendly meal. Getting the product to the customer requires a few different tactics. Good press is always a good source to bring customers into the restaurant. Helping the community, making creative changes, and thinking outside of the box are excellent good press. Another way is to create a website that allows customers to find information on your restaurant.
Allowing access to the menu online can help customers see their food choices and make a decision to visit the restaurant as well as contact information for customers with questions. Another option is to redesign your menu. Even with the same food choices available, an ugly or outdated menu can cause a customer to perceive lower value for your restaurant. Make sure the menu is fresh, well-written and enticing to customers. Implement frequency marketing. Providing deals or reward programs for customers brings in repeat guests who provide the restaurant with 1/3 of their revenues and they can also help market through word of mouth. Also hosting events for community or business gatherings, parties, live music shows, and tastings can bring in more customer interest. The commonly used channel to customers is advertising. Commercials and ads introduce your restaurant and products to a wide array of customers. Size of the Industry:
Major segments of the restaurant industry are full service, quick service, eating and drinking places, and retail host locations. According to the National Restaurant Association, the restaurant industry is still one of the economy's top employers. Forecasters believe the industry to increase its job count to 14.1 million positions by 2020. In 2011, there were 39,296 eating and drinking places in Texas. In 2013, Texas's restaurants are projected to register $40.8 billion in sales and account for 1,074,200 jobs; 10% of employment in the state. In Texas restaurants generate an additional $1.23 in sales for the state economy, an additional 26.3 jobs, and are projected to employ 1,245,000 people. That's a 15.9% job growth in 2013. The restaurant industry has 980,000 locations, $660.5 billion in sales (4% of U.S. GDP), and 13.1 million people (10% of the workforce). Geographic Location of the Industry:
Some of the current major markets for the restaurant industry are in busy, metropolitan locations where there are many people looking for different food options but also where the economy is still thriving enough for people to be willing to spend. A high growth market is an area where disposable income is finally becoming available. The recession caused a lot of people to lose their jobs which led to areas that people could only spend their money on needs. Now that the economy is starting to improve, these areas are starting to grow and provide refreshed markets for the restaurant industry. There are also some emerging markets that the restaurant industry is slowing reaching into so they can grow and expand. An emerging market is a nation with business activity in the process of rapid growth or industrialization. One of the larger emerging markets is in India where companies have transferred some of the call center locations which is providing new jobs and allowing these people to be able to afford to spend money on other things beside needs. Profit Trends:
Sageworks recently released data on the restaurant industry, showing privately held and other eating places are posting nearly 8% sales growth, on average, over the last 12 months amid improved quality. Net profit margins have averaged 3.25% in the last 12 months, roughly even with 2010 average net margins of 3.48% that were the highest since before 2002. Restaurants and other eating places have generated average sales growth of 7.85% over the last 12 months, compared with 4.61% growth for the full year of 2010 and around 8% growth in 2006 and 2007. Total industry sales are expected to exceed $660 billion in 2012, a 3.8% increase over 2012. Competitive Nature of the Industry:
The restaurant industry is highly competitive with respect to price, value and promotions, service, locations, and food quality. Consumers are highly focused on value and improving product offerings at quick-service restaurants and grocery stores. Coupled with the present state of the economy, consumers may choose to trade down to these alternatives, which could affect the revenues of higher, more upscale restaurants. Since the economic downturn, the fast casual segment has led the restaurant industry in both sales and unit growth. Operators within are innovative, entrepreneurial and unabashed in their passion and zeal for the segment, and to the brands contributing to it. Some of the major competitors are Denny's, Red Lobster, Burger King, McDonalds, and YUM! Brands. Depending on the location of a restaurant the rivalry can vary from friendly to intense. The restaurant industry as a whole has a mild rivalry market. There are so many choices people can choose from that it would seem the market would be very intense but the restaurant market is doing so well compared to other markets that it gives them the ability to choose a strategy that best fits the individual restaurant and doesn't require intense rivalry. Driving Forces Impacting the Industry:
Driving forces are key internal variables and external variables that shape the future of an organization. Examples are knowledge and the work force as well as the economy, competitors, and technology. Globalization can affect the restaurant industry because of the ever changing markets in other countries restaurants have to be open minded to expanding their business elsewhere. Shifts in buyer demographics can change the products a restaurant sells. People choosing to eat healthier will require menu changes of restaurants to keep customers satisfied. Governments can drive competitive changes by opening up their domestic markets. Having valuable, well trained employees can cause an effect on a restaurant. Industry Key Success Factors:
Business competition is high and is being constantly scrutinized by local, state, and federal regulators. A restaurant must handle its finances and taxes, find skilled employees, and adhere to crucial food safety rules. Analyze your competition, find out what they have to offer and determine what you could offer to your consumers that the competition lacks, such as better prices or discounts, a unique food choice, or even live entertainment. Hire reliable employees, a business is only as good as its employees. Setting high standards for your employees is key to success. Keeping the restaurant clean and sanitary, it is crucial that the restaurant is educated on the standards of the local health department and see that the business meets every one.
Controlling your costs, meeting your legal obligations, and managing your cash flow are a few key factors as well. Other factors are marketing your business. Customers have to know about the restaurant to come and eat there. Also having a unique brand such as speedy service, or low costs, cuisine they can't get anywhere else, fine dining or an expansive menu that satisfies everyone. Having differentiation in this industry whether it is focused on food or restaurant atmosphere will help. Most importantly, making sure your business has a cash flow. No restaurant can survive if they aren't making money. It is very important to cut down on overhead cost in order to make the most of your sales. Favorable and Unfavorable Factors affecting the Industry:
One factor that affects the restaurant industry unfavorably is the weather.
A National Restaurant Association survey reported that 90% of table service restaurant operators say that local weather conditions influence their sales and customer counts. Nice weather brings people out of their homes to go eat out and visit locations with outdoor seating. Weather also alters demand for certain cold weather and hot weather products, examples are coffee, ice cream, and hot foods. Weather, location, and economic conditions are the most critical factors impacting restaurant sales. Other unfavorable factors are competition from rivals and changes from economic and market conditions as well as changing dietary preferences among consumers. Some favorable factors for the industry are the fact that people have busy schedules and don't always have time to cook at home so they choose to dine out. A guaranteed customer will always be favorable for restaurants. The ability to have a restaurant in a busy location is a very favorable factor. Factors that Influence Demand:
* Customers can cause the demand in the restaurant industry to increase or decrease. There are many factors that affect customers but the largest is money or cost. Without money customers cannot visit restaurants. When the economy is struggling people value their money more and choose carefully what they spend it on; therefore restaurants should find ways to make customers feel that they want to spend their money at their business. The cost of the products offered should be reasonable for the customer base that is trying to be reached. * Customer service as well can cause an increase or decrease in demand depending on how good or bad it is. Customers are more willing to go to a restaurant that treats them with respect and acknowledges them as important. * Quality can cause an increase or decrease in demand because if the food is no good and the location is not up to par then customers will choose not to visit the restaurant. * During the stages of the product life cycle demand can increase or decrease.
Increased demand will help a business go through the stages until it reaches growth but decreased demand can either prevent a business from reaching any of the stages or making it through all of them until it finally reaches the declining stage. * Major economic influences on the current market such as a recession can cause people to spend less and decrease the demand. * Short or long term economic projections can cause an increase or decrease in demand depending on what the projection involves. * Demographic trends such as all of the baby boomers getting older and wanting to eat healthier can cause a decrease in demand for fast service restaurants but increase the demand for sit down casual dining businesses. * Some society changes can affect demand, for example in Texas there are a lot of Hispanic people that enjoy spicier foods so there would be an increase in demand for restaurants that cater to their wants.
* Some governmental policies can cause a decrease in demand for restaurants. Rising healthcare costs will require restaurant s to cut back on employees so the service quality lowers as well as the satisfaction of customer service. * Some new technological trends can increase the demand for restaurants. Domino's Pizza allows people to order their food online and they have the option to specialize their complete order and then wait for delivery of their food. It also tracks the customer's order to let them know exactly what stage of preparation it is in and when it will be delivered. * New marketing programs can cause an increase in demand. Some of the new deals that casual dining restaurants are offering are very inexpensive healthy lunches as well as dinner deals for two. * Being able to keep the product price lower than competitors will increase the demand for the product as long as the quality doesn't suffer. Factors that Influence Cost Structures and Profitability:
* During the emerging stage of the Product Life Cycle cost structures are high and profitability is low. All of the money is being placed into the business to help it grow and succeed. Once reaching the growth stage the company must invest into the business to help it continue to grow and reach a profit. Once in the mature stage of the life cycle a company is profitable and they have learned how to keep their costs down. The last stage of the life cycle is the declining stage. If a company is not able to keep profits up and the costs down then the business will suffer and decline. * Panera Bread's largest competition is Starbucks. They have over 10,000 locations and revenues of $10.7 billion. They also offer very similar menu choices in many locations. The quantity of locations makes it very hard for Panera Bread to find a competitive location not too close. The need for Panera Breads to begin adapting their restaurants to compete with Starbucks, by adding drive thrus, would help with profitability. Looking at Porter's Five Forces of Industry Competition we see that the first force is competitive pressures stemming from buyer bargaining power.
Individual buyers rarely have much bargaining power in negotiating price but as a large group it could affect the profits of a business. The second force is competitive pressures coming from companies in other industries to win buyers over to substitute products. Grocery stores and convenience stores offer very strong substitute products mostly at a lower price. The quality may not match Panera Bread's but the price and convenience make them very successful. This could cause a significant change in the cost structure and profits for Panera Bread. The third force is competitive pressures stemming from supplier bargaining power. Since Panera Bread is very dependent on the quality ingredients they use as one of their major selling points the supplier have extreme bargaining power over them. Panera Bread would need to have other quality supplier substitutes in case they needed to switch to keep costs down. The fourth force is competitive pressures associated with the threat of new entrants into the market. This is always a major concern on profits and cost structures.
The new entrant can cause suppliers to increase costs and cause consumer to switch. The last force is competitive pressures associated with rivalry among competing sellers to attract customers. Rivalry is the strongest of the five forces. Every business needs to keep customers and must find a way to win them over other choices. The restaurant industry is successful enough that the rivalry isn't extremely intense unless the location of the business requires extreme efforts to stay successful. * Some of the major cost drivers for restaurants are labor, material, and manufacturing. Some cost cuts have been achieved through integrated information systems including point-of-sale, automated kitchen displays, labor scheduling, and theoretical food costs systems. Systems that keep detailed track of all of the money flowing in and out of a business will help to find out where to cut costs or raise prices. Labor scheduling helps a company keep track of how many employees they really need to successfully get the needed job done without losing customer service therefore not overspending on labor. Theoretical food systems help to keep track of the food needed so that a restaurant doesn't run out or over stock food. Opportunities in the Industry:
* Expanding a restaurant into a new market or area can help the restaurant grow. Sometimes expanding into new markets can give the restaurant a new perspective and a different customer base that might help the restaurant with new ideas. * Changing or expanding the product offered by a restaurant can bring in a different customer base and allow for more products. A business needs to be able to satisfy all customers so adding new menu options might bring in customers that have never visited. * Weak rivalry among competitors can be a great opportunity for an industry. Less competition allows for less money being spent on extreme marketing to help the company beat its rivals. * A strong increase in market demand is a great opportunity for the restaurant industry. More demand for the products allows for more profit and growth into other markets and areas. * Favorable demographics, social, cultural, and technological trends can be very good opportunities for the restaurant industry. By focusing on what people want and prefer. A restaurant can keep up with the times and make changes according to what people want and think they need. Threats in the Industry:
* Entries of low-cost foreign competitors would threaten any restaurant. It would cause a greater cost in marketing schemes to help the restaurant stay ahead of the lower cost foreign competitor. * Rising sales of substitute products. People are always on the go so grocery stores and convenience store offer the same products that some restaurants do. This allows consumers to stop quickly or why they grocery shop to get products already made and bring home at sometimes a cheaper price. This is a very high threat to the restaurant industry. * Slower market growth can be a threat to the restaurant industry but currently the restaurant industry is one of the fastest growing industries right now. * Shifts in foreign exchange rates can affect the prices of good being shipped from or too other countries. This can affect the costs and profits of a restaurant. * Changing buyer needs and tastes can cause a restaurant to lose money because consumers no longer want what they have which leads to the restaurant having to change its entire business strategy. Panera Bread needs to continue to provide excellent customer service and quality products to its customers. Keeping its appearance and continuing to make minor changes Panera Bread will keep being a major competitor for rivals in the future.
References
1. Gamble, Thompson, & Peteraf. (2013).Case 8: Panera Bread Company in 2011-Pursuing Growth in a Difficult Economy. Essentials of Strategic Management: The Quest for Competitive Advantage. 3rd edition. New York: McGraw-Hill/Irwin. 2. Industry Center. "Restaurants". Retrieved February 17, 2013. www.biz.yahoo.com 3. "What's the Hottest Segment of the Restaurant Industry? Fast Casual." October 10, 2011. Retrieved February 17, 2013. www.qrsweb.com 4. Mary Ellen Biery. "Restaurant Industry Trends are Upbeat." August 23, 2012. Retrieved February 17, 2013. www.sageworksinc.com 5. Restaurant Industry Forecast Predicts Strong Growth Amid Economic Challenges. Retrieved February 16, 2013. www.agri-pulse.com 6. Competition in the Restaurant Industry. Retrieved February 17, 2013. www.wikinvest.com 7. Eleanor Frisch. Top 10 Restaurant Marketing Ideas. Retrieved February 17, 2013. www.foodservicewarehouse.com 8. Helen Akers, Demand Media. "Major Segments of the Restaurant Industry." Retrieved February 17, 2013. http://smallbusiness.chron.com 9. Retrieved February 17, 2013. www.restaurant.org
10. Dave Samuels. "Key success Factors for Restaurants." Retrieved February 16, 2013. http://yourbusinessazcentral.com 11. The Business Problem. Retrieved February 17, 2013. www.planalytics.com
Related Topics