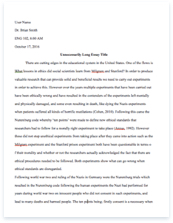 The whole doc is available only for registered users
Pages: 5
Word count: 1162
Category: Ethics
A limited time offer! Get a custom sample essay written according to your requirements urgent 3h delivery guaranteed
Order Now
Online therapy is a new form of receiving therapy. Online therapy is a different form of therapy then the typical face to face therapy one is use to. Interaction with online therapy happens through different forms of communication such as video chat, e-mail, and instant messaging. Security issues can happen with online therapy. State and professional associations review online therapy this paper will also address how reviews are accomplished with online therapy and the advantages and disadvantages will be addressed. Online therapy can be a wonderful tool for those who are struggling to meet a therapist in the therapist's office. Serenity Online Therapy
Serenity Online Therapy offers a verity of therapy sessions. Some of the therapy sessions that are offered are: depression, panic attacks, anger management, addiction, dual diagnosis, grief and loss, codependency 1 and 2, and childhood trauma (Serenity Online Therapy, 2005-2012). Serenity Online Therapy is operated by one therapist who specializes in different areas of therapy. Therapy sessions are based through e-mail or chat. E-mails can be sent 24 hours a day seven days a week whenever the client feels the need to talk. Online-Therapy.com
Online-Therapy offers Cognitive Behavioral Therapy. Therapy sessions are offered for: addiction, agoraphobia, anger, anxiety, bipolar, BPD, depression, GAD, insomnia, relationship problems, OCD, panic attack, PTSD, social anxiety, speech anxiety, stress, and weight problems (Online-therapy.com, 2009-2012). Online-Therapy.com offers a verity of therapists depending on one's needs. Online-Therapy offers services to clients around the world. Therapy is offered in Eight week sessions. Worksheets are given to clients to complete and the therapist gives the client feedback with each worksheet that is completed. Worksheets can be completed daily along with daily feedback of the worksheets. Live chat is the form of communication with clients. Therapion Consulting
Therapion consulting offers a verity of therapy sessions. Sessions consist of therapy for depression, anxiety, social phobia, relationship issues, and more (Therapion Consulting. n.d.). The professionals who are involved with Therapion Consulting are counselors, psychologists and therapists. Each of these individuals is fully licensed and registered. Therapy sessions occur through e-mail, chat, phone, and Skype video calls. Security and Ethical Issues
Online therapy has security and ethical issues just as face-to-face therapy sessions does. Ethical issues include boundaries of competence, basis in science, avoidance of harm, confidentiality, avoidance of false or deceptive statements, forums, testimonials, solicitation of clients, fees, and informed consent (Midkiff and Wyatt, 2008). Boundaries of competence are based off the therapist's area of education. Security and ethical issues can arise if a therapist decides to work with a client outside of his or her education field. Online therapy offers a verity of therapy to clients while some online therapy sites only have one therapist.
Online therapy works with people all over the world. Basis in science comes into effect and can cause security and ethical issues. "Where scientific or professional knowledge in discipline of psychology establishes that an understanding of factors associated with age gender, gender identity, race, ethnicity, culture, national origin, religion, sexual orientation, disability, language or socioeconomic status is essential for effective implementation of their services" (American Psychological Association, 2012. Para. 2). Different areas of the world involve different forms of therapy.
Avoidance of harm and avoidance of false or deceptive statements can cause ethical issues. Online therapy is just that online. There is not face-to-face contact and the therapist does not know if the client is being truthful or not. A client can make the therapist think that he or she will not cause harm to his or herself and the therapist does not know if he or she is being truthful. Facial expressions cannot be seen through chat sessions. Confidentiality is a security risk. With hackers being online the client's confidentiality is as risk. Forums and testimonials can also be a security and ethical issue. Forums give out a lot of information depending on what the client is willing to say to others. Review of Online Therapy
The same laws that regulate the practice of telehealth and telemedicine apply to online therapy (Maheu, 2012). Therapists must be registered to work in the same state as the client the therapist is working with. Being licensed in a state where the client lives is mandatory even if working with the client is for just a few hours a week or a month. Each state has different regulations for online therapy but the same laws and regulations apply to both online therapy and face-to-face therapy. Advantages and Disadvantages
Online therapy has many advantages to it. Some advantages are being able to communicate with the therapist at any time. A connection to the therapist is always there for the client. Clients who are afraid to talk to another person about their problems face-to-face have the opportunity to talk to someone through chat for e-mails. Another advantage of online therapy is convenience. One can schedule time to talk to the therapist when it is best for him or her. There is no commute to the therapist's office.
Disadvantages of online therapy are not meeting the therapist. One will be working with someone that he or she will never meet. No emergency services are available. A client will have to seek help from the emergency department in order to get help in emergency situations. The therapy is online and one has to type out how they are feeling versus talking about feelings. Responses can be lengthy and one may not understand what the therapist is saying. Asking for clarification takes a little more time than just being able to ask. If medication is needed one would have to go to another therapist that is licensed in medication and the process starts all over again. Conclusion
Online therapy can offer clients may benefits but at the same time online therapy may not offer so many benefits to clients. The three online therapy sites each offered about the same services. The sites ranged from the numbers in therapists the web site offers. Interaction between client and therapist for each of the therapy sites was based off chat some offered video chat and e-mail. Professional associations and state regulatory boards view online therapy the same way that face-to-face therapy is viewed. There are many advantages and disadvantages of online therapy such as communication with the therapist at any time. A disadvantage of online therapy is no help in emergency situations besides going to the emergency department. Online therapy can be a very useful tool for many people in the world.
References
American Psychological Association. (2012). Standard 2: competence. Retrieved from:
http://www.apa.org/ethics/code/index.aspx?item=5
Maheu, M. (2012). Online counseling and professional licensure? Retrieved from:
http://telehealth.net/blog/online-counseling-and-licensure/ Midkiff, D. M., & Wyatt, W. (2008). Ethical Issues in the Provision of Online Mental Health
Services (Etherapy). Journal Of Technology In Human Services, 26(2/4), 310-332.
doi:10.1080/15228830802096994
Online-Therapy.com. (2009-2012). Our Programs. Retrieved from:
http://www.online-therapy.com/
Serenity Online Therapy. (2005-2012). Serenity online therapy online counseling: chat therapy
And email counseling. Retrieved from: http://serenityonlinetherapy.com/ Therapion Consulting. (n.d.). Confidential online counseling. Retrieved from:
http://www.therapion.com/
Related Topics