Online Behavioral Targeting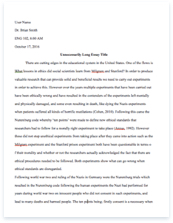 The whole doc is available only for registered users
A limited time offer! Get a custom sample essay written according to your requirements urgent 3h delivery guaranteed
Order Now
Online Behavioral Targeting has been defined as "the alignment of ads with users whose online behavior implies interest in a particular product or service," (InternetRetailer, 2006), in effect, what happens is that a consumer who regularly visits sites and blogs pertaining to automobiles might see an ad involving cars when he logs on into a magazine or news website.  Online Behavior Targeting is a very effective method of advertising, according to surveys:  "of those marketers using behavioral targeting, 35% said they are experiencing more click-throughs; 26%, more conversions; 21%, an increased return-on-investment; 16%, increased trust or brand affinity; and 2%, needed to buy fewer impressions"(InternetRetailer, 2006).
The secret behind the success of Online Behavior Targeting is catering to each and every consumer what he wants, through "profiling consumers' online and offline habits in detail, advertisers are able to direct very specific advertising messages to individual consumers" (Jones, 2008).
Online Behavioral Targeting:  A Threat to Privacy
            A person's right to privacy is guaranteed by the Fourth Amendment.  In the case of Berger v. New York (388 U.S. 59 [1967]), the court held that electronic surveillance is a type of search and seizure, thus, is illegal and is a violation of ones right to privacy.  This doctrine was later qualified by Katz v.  United States (389 U.S. 354-59 [1967]), which states that the government may resort to electronic surveillance if the proper agency acquires a judicial order allowing such intrusion.
The cases of Berger v New York and Katz v. United States laid down the requirements before a valid electronic surveillance may be done, however, this is not being followed by ad agencies when they resort to Online Behavioral Targeting. At first glance, online behavioral targeting seems harmless, however, careful analysis on how the advertising agencies are able to direct a specific ad to a specific person considering the number of people surfing the web at any given time will show that these advertising agencies are performing acts bordering on personal intrusions and violations of people's right to privacy.  A specific example of an advertising agency using online behavioral targeting is NebuAd, according to this agency, they offer a twist to their customers which other ad agencies are not capable of, they boast that this "twist on behavior targeting is based upon monitoring individuals' internet browsing habits through their ISP, essentially seeing all the sites and pages that a user visits" (Smith, 2007).
            The mere use of the word monitor should already place the consumer on caution that this agency is analyzing you and your habits, good or bad without your consent.  These ad agencies never tried to get any court order allowing intrusion to one's online habits.
            I believe that what I do in the internet is my own private thing and no agency government or otherwise should monitor my behavior for commercial gains.  By taking my behavior patterns and creating software that is capable of checking cookies in my computer to know what sites I have frequented, these agencies are crossing the line between harmless monitoring and electronic surveillance.
Countermeasures:  Legislations Targeting Online Behavioral Targeting
            The Federal Trade Commission is well informed of the fact of the existence of these ad agencies and how they get their data, the FTC is also aware that the methodology applied by these companies are violative of the Fourth Amendment.  In addressing the issue of Behavioral Targeting, the FTC, which I think is the best solution, has started to create legislation and other rules governing internet data gathering and behavioral data gathering through the web.
            These legislation and protocols are only the first in many that should be used by the Federal Trade Commission in combating the dangers of Online Behavioral Targeting.
References
Berger v. New York (388 U.S. 59 [1967])
InternetRetailer (23 March 2006). More marketers are using online behavioral targeting, Forrester says. Retrieved April 11, 2008 from http://www.internetretailer.com/internet/marketing-conference/80545-marketers-are-using-online-behavioral-targeting-forrester-says.html
Jones, K.C. (7 April 2008). FTC Divided Over Online 'Behavioral Targeting'. Retrieved April 11, 2008, from http://www.informationweek.com/news/internet/policy/showArticle.jhtml?articleID=207100082
Katz v.  United States (389 U.S. 354-59 [1967])
Smith, C.S. (11 December 2007). NebuAd – New Twist on Behavioral Targeting for Online Ads. Retrieved April 11, 2008, from http://www.naturalsearchblog.com/archives/2007/12/11/nebuad-new-twist-on-behavioral-targeting-for-online-ads/
Related Topics