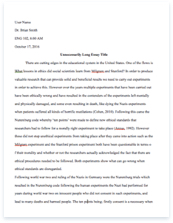 The whole doc is available only for registered users
A limited time offer! Get a custom sample essay written according to your requirements urgent 3h delivery guaranteed
Order Now
Office Space shows the reality of many peoples work, unhappy and discouraged persons that are not treated the way they should or simply don get pay fairly for their work. In addition, there is a minor phenomenon and is that an employee who is not happy with his work will be inefficient, try not to continue in that work and may even not have good intentions with the company. The film tells the amazing change that occurs overnight in the life of the Peter Gibbons, after a hypnosis session he becomes unable to worry about anything. Completely free, decides to start living doing what he wanted to do. Peter starts breaking all the rules at Initech and he receives a promotion and a salary raise but his tow friends Samir and Michael were going to be fired so that Peter could get his promotion.
After the meeting in which the consultants told him about it, Peter came up with a plan that was taking advantage of a programming error that the system had. He communicates the ides to Samir and Michael and finally got the cash. Some of the issues in Leadership at Initech were that there was a lack of one potential leader; there is no one that cause people to take effective and accurate actions to accomplish the company's goals. No one focus on people, about how they feel and what they really want. Blumberg is Peters boss and he should be a leader, someone who really encourages his works, who induces good actions and who motivates people on achieving great goals, but instead he is the contrary of it. He is an evil boss who is always trying to pick on someone and to make an employees life miserable.
Peter can be considered as an informal Leader and also a charismatic one. At the beginning of the film we can tell that Peter had the power to convince others and to lead them to do what he thought it was best for them, this is evidenced in the scene where Peter go to Michael and Samir office and convinced them to get out of the office and have a cup of coffee. Another scene that clearly shows this behavior is where Peter convinced his co-workers to take advantage of the programming error and steal some cash. A leader is the one that makes string statements over others and convinces them to do what they thing is best. At the beginning of the movie Peter is not so happy with his job but after the hypnosis we became a charismatic person, who was happy with everything he was doing in life and had the ability to make people like him. By the other hand we have Blumberg that is a narcissistic and toxic leader. A toxic leader is someone who has responsibility over a group of people or an organization, and who abuses the leader–follower relationship by leaving the group in a worse-off condition than when they joined it.
Blumberg clearly abuses this relationship by treating his employees like toys and leaving them really demotivated and unhappy. He is also a Narcissistic leader because you can tell he is only interested in himself, he is also arrogant, dominant and hostile. This leadership is really destructive and does not help a group at all. The issues of the management style displayed in the movie is that as you can perceive when Peter says that he has to report to eight different bosses, is that there is not a clear structure in which they rely on. They haven't defined the five main managerial activities and haven't assigned a supervisor o manager specialized in each activity. There should be one person uncharged of planning the main goals of the week, other organizing the staffing and the strategies employees can use to solve the problems, another one commanding and coordinating the employees process and helping them in the key steps and one person that makes revision and control the progress and achievement they are having and compare them to the actual outcome they want to have.
At Initech they are following the Autocratic Management style. In this case Blumberg takes decisions without bothering much about subordinates. The employees are totally dependent on their bosses and do not have the liberty to take decisions on their own which creates a lack of motivation in the employees because whatever the superiors feel is right for the organization eventually becomes the company's policies and they can not create new thing or innovate with their own perspective.
The type of motivation that might really work for the employees is an incentive, growth and social motivation .Let the employees do some of the stuff they really want and to get them more involve in the process, not only to give them orders of what they have to do but to let the get their hands dirty and really put some personal input everyday. To create a more dynamic work environment should also help, and to create a really good co-workers relation so that they are happy not only with the job they do but the place the go to work to. A little raise on their salary could also be motivating for them and in case the employees needed to work on weekends, the pay should be higher. Initech bosses should also congratulate their employees when they notice they are doing a good job, this motivates the person to keep up their work.
The suggestions to make this a better place are that first of all hey need to work on their managerial and leadership field. They should have clear each of the subfields or activities the managers should cover in order to have a better-structured workplace. The major problem they have is with their workforce. Employees are not happy with their work and are really demotivated. They should create an incentive program, which rewards employees for not only doing their job good but for really loving what they do and show emotional stability towards it. The workplace should also be redesigned by areas and to make the place a little less strict than it actually is. There should be meeting in which they praise their employees for achieving the previous weeks goals and to make them create and understand this weeks goals.
In my opinion they don't follow the one-minute manager concepts because first of all they don't even have their goals clear, employees only do what they are told to and that's it. Employees never get praised for doing their job really good but they do get reprimands when they do something wrong but they mix the personal relation with their work because they are not so clear about the fact that they are mad at their bad developed action but their make them feel they are bad persons too. Other reason why they don't follow the one-minute manager technique is because Initec employees don't get the chance to analyze by themselves so they don't get to discover many skills they might have because they don't get the chance to analyze and to go beyond.
In conclusion it is really important to have a good environment at work, to be happy with what you are doing and to be always motivated. People who hate their job and feel their life its miserable because of it is not productive people. The new millennium has transformed the practices of organizations and thus the skills and characteristics that the new business environment demands leaders.
Leaders of the 21st century need the preparation required to meet the needs of modern business. The leader of today must master a countless number of functions, to provide solutions and interact with the environment efficiently. You must be a strategist, organizer and proactive leader. To organize you need to know where it is going, how it will be organized, and at each stage learn to be a leader. You should know a little of everything, and all those aspects that can affect your organization, be prepared to face them and be aware that as time progresses you need to be prepared for new challenges.
Related Topics