No Two Persons Regard the World in Exactly the Same Way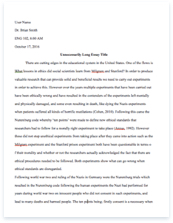 The whole doc is available only for registered users
Pages: 2
Word count: 457
Category: World
A limited time offer! Get a custom sample essay written according to your requirements urgent 3h delivery guaranteed
Order Now
J.W. von Goethe once said, "No two persons regard the world in exactly the same way…" What Goethe meant was that every human views the world in a unique fashion. The novels The Glass Castle by Jeannette Walls and The Catcher in The Rye by JD Salinger both prove this quotation to be true. People do not respond to situations in the same exact way. People who grow up in the same circumstances react in different ways. That's what makes one unique. For example, there could be two people who grew up without money. One of those people decide to use it as motivation to succeed better in life and the other can blame the world for their problem and do nothing to better themselves. Both of them started out in the same situation but grow up with different morales.
In The Glass Castle by Jeannette Walls, The author uses characterization of Jeanette to show how she saw the world differently from her siblings. Jeanette and her family didn't have a lot of money. Her and her siblings were left to fend for themselves, even the most basic needs such as food and shelter. Jeanette tells her story in a straightforward fashion that is not touched with anger or self- pity. As the characters get older in the book Jeanette takes it upon herself to become successful and go to college while Maurice, her younger sibling, and her mother still blame the world for their problems and later on ask Jeanette for money.
In The Catcher In The Rye by JD Salinger, Salinger uses characterization of Holden Claufield to show how he stubbornly sees the world. Holden seems to blame the word for his stubborn behavior. Like Jeanette, Holden also comes from a broken home. After his little brother Ali died from leukemia, his family seemed to drift from him. Holden doesn't take other peoples feelings or ideas into consideration. He is a one minded man. Everyone is considered fake or as Holden would say "Phony". He acts this way because people in the past have either left or hurt him. But Holden takes that as an excuse to not let anyone in.
J. W von Goethe is correct in his statement that, "No two persons regard the world in exactly the same way..". Even if you are in a similar situation, your morales and the way you were brought up are not the same, so you are going to handle the situation differently. Jeannette Walls' The Glass Castle and JD Salinger's The Catcher in The Rye both accurately prove this statement to be true because the characterization the author uses show how a character deals with a situation differently than others.
Related Topics