NIVEA skin and body care products – retaining popularity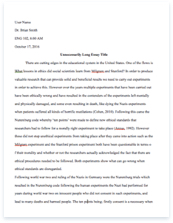 The whole doc is available only for registered users
A limited time offer! Get a custom sample essay written according to your requirements urgent 3h delivery guaranteed
Order Now
It takes a number of positive factors to retain and strengthen the popularity and success of a trademark throughout generation. In 2003, NIVEA can look back over 92 years of tradition. The wealth of experience of this long and successful tradition is today coupled with very innovative orientation of the trademark. And two elements in particular – tradition and innovation – strongly influence and embody today's character of the NIVEA brand.
The way we use our NIVEA skin and body care products today may be familiar but it is interesting to give some thought to how our forefathers viewed personal hygiene. Personal hygiene in ancient times not only demanded great attention and time, it was seen as hygiene in medical sense as well as having spiritual meaning. Oiling of the skin was the ideal beauty treatment that resulted in a clean and smooth skin. Both men and women used a black paste known as "kohl", which is an original form of today's eye pencils. Reddish face make-up, equivalent to our present-day blusher, came from raddle, an iron hydroxide mineral. The raddle or red ochre was also used as a colour pigment for a lip colour that forms the base for modern lipstick.
In course of history, times changed from a period in which beard was admired and considered "manly" to "beardless" period. During this period barber's business grew. The barber's client resigned himself to his fate with a fearful, tense posture. His mouth appeared to be agonized and there were frequent cuts from such unpleasant tools being used. Even after the invention of the Gillette wet shaving device, in 1901, people continued to go to a barber because the danger of injury wasn't still ruled out. People were in desperate need of a crime which could make the bristles soft and the skin well protected against the following wet shave.
"Necessity often is mother of all inventions", and with the discovery of "eucreit" came in the limelight the NIVEA Crime. People used to simply apply the crime on the face before and after shaving to have soft and well-protected skin. NIVEA Crime also became a beauty crime for women and they used it to have soft and smooth skin.
The above fact inspired me to do my presentation on the brand that has been trusted and used not only by our parents but also by our grandparents, since their childhood.
The following slides highlights the many facets that make up the special character of the NIVEA trademark…
Conclusion
Consumer-friendly, attractive, innovative products, and a constantly up-dated advertising are the essential success factors of NIVEA that keep the brand young, popular, familiar and precious.
It was fun to work for this brand. The whole activity of researching about the company and presenting my analysis (in the form of marketing mix), at the same time ensuring that it retains the NIVEA brand identity, was truly a fun-filled and knowledgeable activity.
Everyone wants his or her presentation to be different, and that was on my mind since day one. Finally I decided why not show (through samples) how NIVEA has maintained its product uniformity through NIVEA font and NIVEA colour. To get hold of the samples was much easier than I thought. I contacted the New Medical Centre (NMC), it is the sole distributor of NIVEA products, and spoke to Mr. Akesh Shanawas, the product manager of NIVEA. I told him that I'm doing a presentation on NIVEA and would be obliged if he could provide me with samples. He asked me to put all my requirements in writing and fax the mail to him. I did the same and in the evening he called me to fix the date and time on which I could go and collect the samples from the Deira branch of NMC. Thanks are due to Mr. Akesh, without whose help my presentation wouldn't have been what it is today.
Finally, NIVEA in a nutshell would stand for –
N – Nourishing
Just like our body needs food, our skin also needs food to live and NIVEA provides it in the form of Vitamin E, Jojoba oil etc.
I – Innovation
NIVEA researches and develops new products like Q10.
V – Versatile
NIVEA has a vast product line suiting different consumer needs also taking into account the individual skin needs.
E – Elite
NIVEA is the world's greatest skin care brand.
A – Attractive
NIVEA'S product packages, promotion and advertisements have attracted people of all age groups and nationalities.
Related Topics