My personal view of Mahatma Gandhi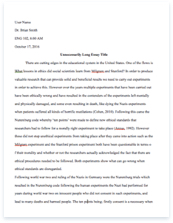 The whole doc is available only for registered users
A limited time offer! Get a custom sample essay written according to your requirements urgent 3h delivery guaranteed
Order Now
Leadership is the ability to influence individuals or groups toward the achievement of goals. Leadership, as a process, shapes the goals of a group or organization, motivates behavior toward the achievement of those goals, and helps define group or organizational culture. It is primarily a process of influence. History is made up of significant events, which shape our future and exceptional leaders who influence our destiny. Their contributions to our history place them in this unique position. Each of them has their own stories, dreams, views, beliefs and goals in life: and yet they are also similar in a vast number of ways.
Late in 1947, Mohandas Karamchand Gandhi turned to his granddaughter, Manubehn, and told her, "I am a true Mahatma." This statement was remarkable from a man who considered the title Mahatma -or Great Soul-to be a burden from the moment Rabindranath Tagore had bestowed it upon him shortly after his return from South Africa in 1915. Yet when one examines the personal accounts of Gandhi and his associates covering the last year and a half of his life, one realizes that Gandhi had finally accepted his title of Mahatma and all that it implied. Along with the title, he accepted the responsibility for India's problems as his own; the new nation became as much a source of his mental anguish during this period.
My objective here is to discuss the achievements of Gandhi as Mahatma. In order for Mahatma Gandhi to reach his ultimate goal, he had to prove worthy of its rewards. All that Gandhi wanted is for people to begin to respect his ideas and see that his belief truly was just. Gandhi spoke of non-violence resistance as a method to help the opposing side see how they were committing sins. Gandhi used inspirational words to encourage his people. He was motivated to begin fighting for Indian rights after being humiliated, and then he had faith that he could help India achieve independence. He knew that if Indians remained nonviolent and forgave their enemies, they would someday be rewarded. To show his responsibility and commitment to the fight Gandhi was subject to fasting, abstinence or the use of non-violence as a political tool. He led many campaigns, organized strikes and stayed true to himself just to convey a message to the people. He claimed to be no more than an average man with less than average ability. He did not want any special advantage for what he did. He believed that any man or woman could achieve what he did, if he or she would make the same effort and have the same hope and faith.
Mahatma Gandhi was a man of religion who preached equal respect for all faiths. He wanted people to accept his path only if they were convinced it was right. When his country became free he held no office or position. He owned no property. His wealth was the love he gave and got from the people. He was full of laughter and fun. In the midst of his battle against an empire, he had time to share the cares and pains of the humblest. He was totally unafraid of death. And when he was killed by a fanatic on 30th January 1948, he had the name of God on his lips.
The final phase of Gandhi's life marked yet another step in his progress along the path of truth. Perhaps Tagore had envisioned Gandhi's future glory when he called him Mahatma, but Gandhi had known that only a lifetime of service would carry him to this height of achievement and make him a true Mahatma. In his last years he acknowledged that he had achieved this height, that he was indeed a Mahatma. The realization was not sudden: it had come slowly and steadily as Gandhi pursued his truth. With this acceptance came the burden of India's problems, relieved only by the power of his beliefs and, finally, by his death. "Life is an aspiration," he had said. In life he aspired to suffer for India. It was fitting that his death should complete that suffering.
This just shows you that some of the greatest people started out as nothing and developed/changed into leaders of the world. Although his efforts have brought about tremendous progress, his work is no way complete. My reason for this is that we have still not yet achieved equality among people of all races. Yet, we all ride in the same bus, but equality is still a major issue. A great way to do something is to get involved in the community and get people thinking about the issues, because if racism and equality aren't even on our minds how can we do anything about them? I think that people should love and treat all as equal and strive to be a hero like the great Mahatma.
Related Topics