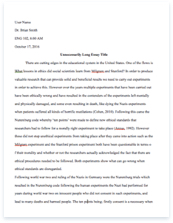 The whole doc is available only for registered users
A limited time offer! Get a custom sample essay written according to your requirements urgent 3h delivery guaranteed
Order Now
Ever since I have been legally old enough to have a job, it has been in my interest. My best friend worked at a restaurant, The Clock, so when the time came around, I jumped straight to applying for a job. After a while I went back to check on my application, and the hiring manager informed me that he wanted to have a sit down interview with me the next day. The moment I heard those words my hopes shot straight up.
Out of all my excitement, the thoughts I should have had did not occur until I looked in my closet. "It is my first job, so what do I even wear to an interview?", I thought to myself. Finally I picked out my outfit and continued on to the clock. When I got there I asked for the manager and he automatically sat me down to start the questioning. After my nervous stage went away, I felt extremely confident in myself when he handed me the paper to learn the abbreviations for waitressing. He then informed me that in around two weeks I would be one of his employees, I was beyond ready to begin!
After all of the studying on how to write orders the two weeks flew by. My first day of work had already arrived and so did my nervousness along with it. My manager introduced me to everyone including the waitress who would be training me. The training process was slightly nerve wreaking. During the time I learned to carry trays and walk up to customers and connect with them like I have known them for years. I was also taught that most of the time what the cooks say could go in one ear and out the other.
Training quickly flew by and being on my own started to become more normal to me. After time my work crew started to be like a second family. My manager got a little too comfortable around me and he started to give me nicknames like big head, although it didn't bother me because it just gave me a reason to give him the fire back. The other waitresses really made it like a family with all of the love hate relationships that we had for each other. Another reason that my coworkers were like family is because I would be there for them if they ever needed me.
Working can definitely get dreadful but it has always been in my interest. I am more than grateful that I lucked out to get such a great first job. I learned many lessons that I will carry with me through out life, and I met many people that I couldn't forget even if I tried. Although I don't work there anymore, I will always have a special place in my heart for The Clock of Laurens.
Related Topics