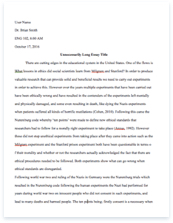 The whole doc is available only for registered users
A limited time offer! Get a custom sample essay written according to your requirements urgent 3h delivery guaranteed
Order Now
The was designed to give students a job interview experience whether as an interviewer or interviewee. BA444 and BA180 students were responsible for this wonderful event and made it into fruition, with the help of Dr. Colfax and Dr. Diego they were able to guide their students to make the event run smoothly and become successful. BA444 students were responsible for making the companies and organizing the whole event, their companies are comprised of Restaurant, Athletic Training Services, Coffee Shop, Landscape Design Company, and Luxury Fashion Company. BA180 students acted as the applicants, they chose two nonexempt positions for two companies and prepared their respective resumes prior to their job interview. This event was a great experience for everybody which prepared students to have an experience for a real job interview.
Communal Restaurant's Pre-Interview
Communal Restaurant's website attracted attention compare to the rest of the companies, it is a friendly user website that has many functions but easy to use. It is easy to navigate on the website when it comes to finding an applicant's needs such as information about the jobs, menu, application form, and the company's information (Communal Restaurant "home"). Applicants who are finding information to complete their resume will be able to complete their task effortlessly. Using Communal's website is very efficient because of their response for individuals who applied. When I applied for the Server position, they were able to respond the next day and gave me information that I needed prior to the job interview. I had plenty of time preparing for my interview because of their efficiency in responding so overall, I think their website helped many of us applicants to complete our tasks
Communal Restaurant's Interview
Communal's interview is one of the best out of five companies, they were prepared in terms of showing their companies information to the people in the room and gave their applicants a comfortable environment despite being nervous for most applicants. The Interviewees, Louise and Ana dressed and conducted themselves professionally. Both interviewees did a great job of displaying professionalism as if it was a real job interview. They were also able to utilize their applicant's resume to construct specific questions that relates to applicants resume whether it would be about their job experiences, skills, and personal information. My experience during Communal Restaurant's interview was incredible, I really liked my interview for Communal Restaurant because the interviewees were passionate about conducting the interview and they were knowledgeable about my resume. They had a set of questions that I think they made as a class, but they also had questions that relates to Food and Beverage Industry and questions that relates from my experiences.
Communal Restaurant's Post-Interview
After the interview, the interviewee provided their applicants a feedback that they will respond to the result of the job interview. The interviewees gave everyone a heads up will give each individual evaluation in a few days. Communal offered some food and refreshments for their applicants after the interview which was impressive and were able to showcase their local food and local beverages.
L.I.V.3.'s website is simple and well organized, applicants who used their website were able to find all the information that they needed to complete their resume, job description, as well as the company's information (L.I.V.3. "join our team"). Using L.I.V.3.'s website to apply for jobs were hassle free for the applicants, their online application was short, and applicants attached their resume at the latter part of the online application. Although their website was extremely helpful and simple to use, the response to their applicant's application took longer than the usual. They took longer to respond compare to the rest of the companies and by the time they responded, they had some typo issues concerning about the applicants' position.
When I applied to L.I.V.3., it took a week for them to respond for my applications and they had some typo issues. I asked my colleagues if they had issued about L.I.V.3. and their issues were similar to mine. I understand their hectic routines to organize this mock job interview, so it was not that big of a deal. There is always room for improvement and fixing the issues will make it even better for the next mock job interview.
L.I.V.3. interview was great in terms of professionalism. The interviewees, Bryan Ranon and Danielle Sherwin conducted the interview smoothly and made their applicants feel comfortable. They conducted the interview in a fast pace which was impressive but may not be suitable for some applicants. It was quite challenging for some applicants to answer some of their questions because of how quick they are to transition from one question to another. Although they had some interesting question, none of them relates to the applicant's resume and did not relate to the job that applicants were applying to.
My interview time for L.I.V.3. was 10:30am so the interviewees were not seemed nervous and were already comfortable asking questions. I was expecting some sports related questions from this interview, but I did not get one, so I was really surprise. After the interview, the interviewees gave a feedback on each applicant about their evaluation of the interview. They informed each applicant that they will give their evaluation as soon as possible. L.I.V.3. conducted their interview well and challenged their applicants in a face pace interview which made their applicants respond in a short period of time.
Conclusion
In sum, the Mock Job Fair was an incredible opportunity for students to experience a job interview or a job fair environment. Students had a chance to have a vision for the future, in terms of preparing resume, applying for jobs, and getting interviewed. Other students also had the opportunity to make their own company, be an interviewer and organize this whole event. Overall it was a win-win situation for all students as they all benefited from this experience and prepared them for the future.
Related Topics