Mission Response of University saints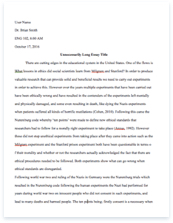 The whole doc is available only for registered users
A limited time offer! Get a custom sample essay written according to your requirements urgent 3h delivery guaranteed
Order Now
I. Identify the mission response of the university saints to their realities of their time.
a.) San Carlos Borromeo
St. Charles took over the Archdiocese of Milan, he immediately sought to better catechize the faithful, many of whom had no understanding of their faith. He established the Confraternity of Christian Doctrine (CCD), equipping 3,000 catechists with a sold faith formation; they were able to instruct an estimated 40,000 children in their Sunday schools. He instituted radical reforms when he finally did arrive at Trent (which had been without a resident bishop for eighty years) in 1556,despite great opposition, with such effectiveness that it became a model see.
b.) St. Arnold Janssen
In 1874, he began to publish The Little Messenger of the Sacred Heart, a popular monthly magazine which shared news of missionary activities and encouraged German Catholics to do more to support the missions. In 1875, he founded the Society of the Divine Word in a mission house in Steyl, Holland. This society was designed to provide priests and lay brothers for the missions. He also founded the Servant Sisters of the Holy Ghost for the missions in 1889.
c.) St. Joseph Freinademetz
He was ordained a priest on July 25, 1875, and assigned to the community of Saint Martin very near his own home, where he soon won the hearts of the people. He is Pioneer of the Divine Word Missionaries in China.
Joseph Freinademetz became a missionary not in Steyl, but rather in China – and the process was very personal and at times painful.
II. What mission concerns and responses of the university saints do you see as connection to your own views and spirituality? St. Charles had a deep spiritual life, and from that flowed a joy that was contagious. That joy was the basis for people's trust in his teaching, so that the people embraced it willingly. I think he would encourage us to lovingly offer the Church teaching to them, helping them understand the why behind the teaching. Although it's not always easy, we need to work on our joy when we are confronted with those who disagree with us. It just might be our joyful hearts that bring them to a clearer understanding of what the Church teaches. Like Arnold we too have to struggle against our weaknesses, all too aware of our frailty. But it is a struggle filled with hope, knowing that it is God's love that changes us rather than our own efforts. A hope directed not to some vague future but to the present. The indwelling Spirit of Love makes each person lovable already now.
III. How can I bare fruits as a Carolinian?
God expects us to be productive and get results. But it also shows that God will not give up on us as long as there is still hope that we will bear fruit. The fruits we should bare that would fill our lives are love, kindness, goodness, self-control, joy and patience in which God and His Word wanted us to become. Like any other saints, they served people for they had desired to do it because they believed that their missions are the fruits they bare. I'm not saying we have to follow them but in another way that we can help other people to become more faithful to God.
Related Topics