Mexican and Puerto Ricans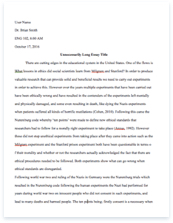 The whole doc is available only for registered users
A limited time offer! Get a custom sample essay written according to your requirements urgent 3h delivery guaranteed
Order Now
Many Americans think Mexicans and Puerto Ricans are the same since they both belong to the ethnic group, Latino, and have a connection with Spanish language; there are many differences like the accents, vocabulary, culture, history, and the struggles they both had. Mexicans and Puerto Ricans are similar and different in immigration because Mexicans immigrated to the southwestern areas such as Texas and California, while Puerto Ricans immigrated to the eastern side like to New York and such. (Gonzalez) Between these ethnic groups, there are parallels but more variances such as immigration, culture, accents and struggles.
When Puerto Ricans speak Spanish, because of their accent, you can tell the differences between Puerto Rican and the other Latinos. The way Puerto Ricans are different than any other groups is by the way they pronounce some words. For instance, with the Spanish phrase to vacuum, "barrer el suelo", Puerto Ricans do not ever pronounce their "R's" or "S's" like the other Spanish speakers would, which includes Puerto Ricans sometimes intentionally leaving out the "D" sounds in a word. These accents may be related to economic and social background. To elaborate, Puerto Ricans' skin colors can either be white, black, or a combination of Indian blood, but all Puerto Ricans have different skin colors; there is no specified skin color for Puerto Ricans.
Within personal experience, many people do not know with certainty that they are actual Puerto Ricans until they speak. (Immigration – Puerto Ricans) Puerto Rico is a small island defined by its nationalistic and racial identity, which differs from Mexico, because many people who visit Puerto Rico might describe its complexity and vibrancy. The educational system of Puerto Ricans is enormous; not only do they get education in Puerto Rico, but they bring over their knowledge to the United States. However, Puerto Ricans might come over to receive their education in the U.S. Both of these factors could have contributed to the migration population to date. When the Puerto Ricans first began to immigrate, most went to east coast areas like New York.
Puerto Rico is known to be some part of the U.S., which allows Puerto Ricans to travel into the United States without passports. As parts of some Puerto Ricans' influences they have distributed are the dance and music of salsa, merengue, and reggaeton. (Immigration – Puerto Ricans) The accents of Mexicans will never be such a difficult accent like Puerto Ricans; the pronunciation and sound are different in Puerto Ricans' accents than any other Latino group, but the easiest will always be Mexicans' accent. Most of the Mexicans' skin colors are all different kind of colors; there is honestly no actual color for Mexicans. You can tell when someone is Mexican unless they appear to be white color because they look like white Americans. (Immigration – Mexicans) A lot of Americans always say Mexicans immigrated to America, but little do they know that Mexican were already there before United States even existed, but everything changed when the United States came into existence.
A gigantic number of Mexicans settled in the southwest and Midwest areas like in Texas and California. Mexicans struggled with their community's identity and many others struggled with jobs. Over 75,000 Mexican immigrants came over to the United States to work cheap labor and after the Mexican Revolution, another wave of immigrants traveled into the U.S. for safety (Mexico). Many Mexicans illegally crossed over to the United States and because of that the U.S. government has influenced some criticism about the government not doing anything about illegal immigration. The influences Mexicans have brought over to the U.S. included mariachi and Banda music. (Immigration – Mexicans) Mexicans and Puerto Ricans are alike in many ways from their ethic background to the history they share including all the discrimination these both groups went through.
Racism was huge back when Mexicans and Puerto Ricans began to immigrate because of their dark skin tone, which caused some conflict when slavery was prevalent. Mexicans faced discrimination from loss of property, low wages jobs, and even execution; Americans treated Mexican Americans as second-class citizens. While both groups do speak Spanish and have different kinds of accents, the United States' education system may have been to blame for their lost of language culture. Both ethnic groups faced punishment not only for their accents, but their ability to speak Spanish, a language the schools did not allowed them to speak in the classroom.
This discouraged several generations of both ethnic groups to not pass on their culture to their children. As time went on, Mexicans and Puerto Ricans were both involved in the World War II and many men were drafted for this war. After World War II, Puerto Ricans immigration hit a big wave in the United States. Mexicans and Puerto Ricans faced a lot of struggles concerning the accents and cultures they brought over by immigration. Although they both immigrated to the United States, each one immigrated to different place. The struggles they faced was mainly discrimination, which means most of them were executed and a lot of them were working low-wage jobs.
Works Cited
Gonzalez, Juan. Harvest of Empire: A History of Latinos in America. New York: Penguin Group, 2001. "Immigration – Mexicans." Mexican – Introduction – Immigration. . "Immigration – Puerto Ricans." Puerto Rican / Cuban. .
Mexico. .
Related Topics