Meaningful Use for Nurses: Implications and Recommendations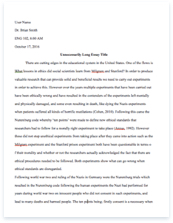 The whole doc is available only for registered users
A limited time offer! Get a custom sample essay written according to your requirements urgent 3h delivery guaranteed
Order Now
Over the past decade, virtually every major industry invested heavily in computerization. The heath care industry was no exception to the rise in the use of technology. These technologies are starting to allow health care practitioners to offer faster, and more efficient patient care than ever before. No doubt this is the right direction we expect health care to follow. Health information technology (HIT) is revolutionizing the way we interact with health-related data. One example of this is the obvious rise in the adoption rates of electronic health records by health care providers.
Nursing plays a vital role in electronic health record (EHR) adoption because of their intimate understanding of the workflow. HIT is changing the way the health information is documented, stored, viewed, retrieved, shared, managed, and consumed (Health IT dashboard, 2013). These technologies include EHRs, personal health information (PHI), electronic medication prescribing, personal health tools, and online communities. Recent changes in legislation had a major impact on healthcare.
This paper aims to discuss the overview of Meaningful Use, the implications of Meaningful Use core criteria, and evidence-based recommendations for additional criteria. Overview of Meaningful Use
In direct response to the economic crisis and at the urging of President Obama, the US Congress passed the American Recovery and Reinvestment Act of 2009 (ARRA) or commonly referred to as the "stimulus package". ARRA includes many measures to modernize our nation's infrastructure, one of which is the Health Information Technology for Economic and Clinical Health (HITECH) Act. The ARRA has earmarked approximately $19 billion to help physicians and hospitals to achieve "meaningful use" of health information technology (HIT). The HITECH Act supports the concept of electronic records – meaningful use. It is an effort by the Centers for Medicare and Medicaid Services (CMS) and the Office of the National Coordinator (ONC) for Health Information Technology.
HITECH proposes the meaningful use of interoperable electronic health record through out the United States health care delivery system as a critical national goal. Meaningful use is defined by the use of certified HER technology in a meaningful manner, ensuring that the certified EHR technology is connected in a manner that provides for the electronic exchange of health information to improve the quality of care; and that in using certified EHR technology the provider must submit to the Secretary of Health and Human Services (HHS) information on quality of care and other measures (CDC, 2012). The goal of increased "meaningful" electronic health record adaptation is to create more efficient, patient-centered health care system by lowering providers' administrative cost, improving coordination of care among multiple providers, and increasing patient's participation in and responsibility of their own care.
The concept of meaningful use relied on the five pillars of health outcomes policy priorities. It includes improving quality, safety, efficiency, and reducing health disparities; engage patients and families in their health; improve care coordination; improve population and public health; and ensure adequate privacy and security protection for personal health information. Compliance with meaningful use hopes that it will result in better clinical outcomes; improved population health outcomes; increased transparency and efficiency; empowered individuals; and more robust data research data on health systems (HealthIt.gov).
The act stipulates that, as of 2011, heath care providers will be offered incentives for demonstration meaningful use of electronic health records (EHRs). CMS grants incentive payment to eligible professionals or eligible hospitals that can demonstrate that they are willing to engage in efforts to adopt, implement or upgrade certified EHR technology. Meaningful use sets specific objectives that eligible professionals or hospitals must achieve to qualify for the incentives. Incentives will be offered until 2015. Grants for training centers for the personnel required to support the HIT infrastructure were established. Implications of Meaningful Use Core Criteria
The stage 1 of the meaningful use includes thirteen core criteria and ten menu set objectives. The first core criteria is the computerized provider order entry (CPOE). CPOE entails the provider's use of computer assistance to directly enter medication orders from a computer or mobile device. The use of CPOE and the electronic prescription process is a technology that has been found to be helpful in preventing medication prescribing errors in several ways (Mominah & Househ, 2013). Having an accurate electronic patient medication profile will help prescribers and pharmacists review the medication history easily and consequently alert the pharmacist to communicate with the prescriber in case any unexplained change in the prescribed medication to the patient and then conforming the change with the prescriber. Applying CPOE technology reduces medication errors.
The problem list is a key part of the electronic health record. It lists the patient's most important health problems and gives the practitioner key information to determine the best treatment plan. Accurate patient problem lists are valuable tools for improving the quality of care, enabling clinical decision support, and facilitating of research and quality measurement. The patient problem list compromises an essential part of the modern electronic medical record. Improved problem list documentation has been associated with higher quality of care and greater adherence to evidence-based guidelines (Wright, Feblowitz, Maloney, Henkin, & Bates, 2012).
Another core criteria that bears a huge impact on nurses is the protection of EHR created or maintained by certified EHR technology through the implementation of appropriate technical capabilities. Confidentiality of the information confided by a patient to a healthcare provider has been a cornerstone of the trust relationship established between them for centuries, as expressed in the Hippocratic Oath in ancient Greece: "..All that may come to my knowledge in the exercise of my profession or in daily commerce with men, which ought not to be spread abroad, I will keep secret and will never reveal" (NLM, 2002). With the increased use and adoption of EHR systems, a vast amount g readily accessible patient data is available for use by clinicians, researchers, and operational purposes.
As data becomes more accessible, patient confidentiality is a requirement and expectation that should not be overlooked or understated (Meystre, Frieden, South, Shen, & Samore, 2010). The Health Insurance Portability and Accountability Act (HIPPA) protect the confidentiality of patient data. The government also created the HIPPA Security Rule to require specific protections to safeguard the electronic health information. A few possible measures that can be built into EHR systems may include: access control tools such as passwords and PIN numbers; encrypting the stored information; and an audit trail feature which records who accessed the information, what and when the changes were made (hhs.gov, 2013). The stage 2 of meaningful use consists of continuation of stage 1 requirements, with heightened demands for the numbers of electronic transactions. Eligible professionals must meet or qualify for an exclusion to 17 core objectives and 3 of 6 menu objectives.
Specific to the stage 2 meaningful use is the capability to submit electronic data for immunizations, reportable laboratory results and syndromic surveillance. Providers who are in stage 2 in the EHR are expected to demonstrate meaningful use of their certified EHR for an even larger portion of their population. In addition to this, this stage aims to identify and report cancer cases to cancer registry and specific cases to a specialized registry (CDC, 2012). One of the core criteria added to stage 2 of meaningful use is to use secure electronic messaging to communicate with patients in relevant health information.
Added to stage 2 is the implementation of electronic medication administration record (eMAR). Studies had shown that despite advancements in technology, medication errors continue to cause patient harm and even lead to thousands of deaths annually. One of the greatest concerns are medications administered intravenously, as these have the highest risk of errors. Intelligent-infusion devices, bar-code-assisted medication administration (BCMA), and eMAR have been effectively implemented, contributing to a decrease in medication errors (Prusch, Suezz, Paoletti, Olin, & Watts, 2011). Meaningful Use Recommendations
In the recent conferences held to
Conclusion
There is no doubt that technology is a major part of our everyday lives. Healthcare is a recipient of the goodness of technology. The enactment of the ARRA made it all possible for health care to be modernized. The impact of the changes not only benefited the people working in healthcare but definitely the end consumers. With the modernization of healthcare, the delivery of care became more efficient, the cost of care is greatly reduced by avoiding repeat diagnostics, and
References
Health IT Dashboard. (2013). Office of the National Coordinator for Health Information Technology (ONC). http://dashboard.healthit.gov/HITAdoption/. Meaningful Use. (2012). Center for Disease Control and Prevention. Retrieved fromhttp://www.cdc.gov/ehrmeaningfuluse/introduction.html. Meystre, S., Friedlin, F., South, B., Shen, S., & Samore, M. (2010). Automatic de-identificationof textual documents in the electronic health record: a review of recent research. BMCMedical Research Methodology, 1070. doi:10.1186/1471-2288-10-70 Mominah, M. & Househ, M, (2013). Identifying computerized provider order entry (CPOE)medication errors… international Conference of Informatics, Management, and Technology in Healthcare (ICIMTH) Conference, July 5-7th, Athens, Greece. Studies In Health Technology And Informatics, 1902, 210-212. doi: 10.3233/978-1-61499-276-9210 NLM: The Hippocratic Oath 2002 [http://www.nlm.nih.gov/hmd/greek/ greek_oath.html]. Prusch, A. E., Suess, T. M., Paoletti, R. D., Olin, S. T., & Watts, S. D. (2011). Integratingtechnology to improve medication administration. American Journal Of Health SystemPharmacy, 68(9), 835-842. doi:10.2146/ajhp100211 Privacy, Security, and Electronic Health Records. (2013).http://www.hhs.gov/ocr/privacy/hipaa/understanding/consumers/privacy-securityelectronic-records.pdf Wright, A., Feblowitz, J., Maloney, F., Henkin, S., & Bates, D. (2012). Use of anelectronic problem list by primary care providers and specialists. JGIM: Journal Of General Internal Medicine, 27(8), 968-973. doi:10.1007/s11606-012-2033-5
Related Topics