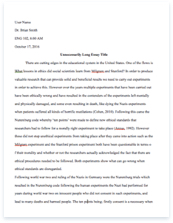 The whole doc is available only for registered users
A limited time offer! Get a custom sample essay written according to your requirements urgent 3h delivery guaranteed
Order Now
The topic of values is broad, abstract, and subjective. These qualities make values difficult to ascribe to individuals or groups in a concise way. Values, like most worthwhile things in life, demand reflection and ongoing thoughtful consideration as one learns and grows. Whether defining a person's own system of beliefs or working on a mission statement for a global entity, values are central to identity and are often reflected in our professional endeavors. Values are critical in social work, a profession built around helping and impacting others at many levels of society.
I have identified the instrumental values of being honest and forgiving and the terminal value of wisdom as my core values, central in the picture of my life and driving my actions. Honesty was highly valued in my home growing up and I would describe my father as honest to a fault. His truthfulness could (and still can) border on harshness, but it was never his intention to be unkind. He just cannot live with himself even telling a fib to protect someone's feelings. This stringency to always be honest really became indelible on me and I, too, could be classified as honest to a fault. Any type of dishonesty, even something seemingly inconsequential, makes me so uncomfortable that I cannot rest until I clear the air. This leads into my second core value: forgiving. Righting a wrong and receiving forgiveness is essential to me in order to move on from a problem, but I have learned that there is nothing more healing than showing forgiveness when someone wrongs you. I find this to be especially true when the person in the wrong does not want to apologize or admit to their mistakes. Forgiving my husband when he does something that hurts my feelings is just as vital for my own emotional health as it is for his and I have found that the more I forgive, rather than holding on to feelings of anger or resentment, the happier I am. I grew up in a Christian family and my faith is still very important to me. Forgiveness, particularly forgiveness given freely and without judgement, is a key tenet of Christianity and this has greatly impacted my life.
The terminal value of wisdom is what I would describe as being my evolving value – I am currently honest and forgiving, but I am continually gaining wisdom along the way. When I was in college, a dear family friend quoted Miles Kington to me: "Knowledge consists of knowing that a tomato is a fruit, and wisdom consists of not putting it in a fruit salad." (Kington, 2003). CITATION HERE. This funny and concise way of explaining the rather enigmatic concept of wisdom has stuck with me over the years. I learned that wisdom is the result of putting knowledge to good work and that experiences can lend themselves to wisdom in a completely different way than just learning facts.
Like many aspects of my life, my values have evolved and changed some over time. When I was younger, I placed a very high premium on knowledge. Being considered intelligent by my peers was very important to me and I gathered facts and information to become more knowledgeable. I still consider knowledge to be important, but this value has been usurped by wisdom in my core values. Hand in hand with knowledge came the need for a sense of accomplishment. I wanted a list of achievements to back up my intellect to validate that I am 'smart.' I have learned that for my own fulfillment it is more important to work on improving myself as a citizen of the world than to be considered accomplished by others. I stand behind my core values knowing that my actions are guided by principles that make me proud.
Related Topics