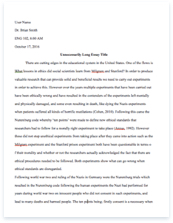 The whole doc is available only for registered users
A limited time offer! Get a custom sample essay written according to your requirements urgent 3h delivery guaranteed
Order Now
According to Sarkar.N.(2008) Newsletter is defined as a small publication (as a leaflet or newspaper) containing news of interest based to a special group, that publication. For example Organizations news letters ie Tanzania Public Service College, programme news letter ie Femina Talk Show programme. It is used as a publication (periodical, pamphlet etc) that gets circulated out to its subscribers after a regular time interval. On writing newsletter you make sure the follow the following rules:- 1. You must consider your audience. It is important to consider the audience because will help you know what content you need print for your newsletter. In this you must take a time in researching what would your audience need to know and interest them? For example an audience made up of women you want be interested in a detailed article explaining how your product works, they will be interested in knowing how this superior product will help them feel better and what problems it will solve.
2. You must Research your information. In finding any content to give your audience you must do research. Without research, you may put wrong information and mislead your audience. This will include facts, statistics, expert opinions, and quotes to prove the validity of your research. Just make sure to give the source (magazine, website, book) and the name of the expert who provided the information.
3. You must Choose your content .Topics and sections will make your newsletter more interesting to many readers like a newspaper contains different sections, your newsletter might incorporate similar sections, such as an opinion section, letters to the editor, industry news, and featured articles. Include tips or customer reviews within boxes to break up the layout
4. Use the five W'S+H questions to give your newsletter printing a news tone – who, what, when, where, and why or how. The best articles incorporate all five of these questions/answers, if applicable. may require some research, including interviewing expert witnesses, but is worth the fifteen minutes it will take to run through a list of questions with the interviewee.
5. Use easy language and readable. In writing newsletter you must use short, concise, and easy-to-understand language in order to make your audience to understand.
6. Use interesting headlines. In preparing newsletter you must use an interesting headlines. Avoid using un interesting headlines readers will never read your article Headlines are one of the keys to creating loyal readers, since a well-written headline means a well-read article means a well-read newsletter.
7. Avoid using long paragraph. if your articles are more than a few paragraphs long, use subheadings to break up the text.
8. Proofread. After writing your articles, proofread for typos and then edit all articles for consistency of tone and voice. Never leave
proofreading to your spell and grammar check tools.
According to online dictionary of business defines a "magazine" as a periodical with a popular focus, i.e. aimed at the general public, and containing news, personal narratives, and opinion. Magazines use vocabulary understandable to most people, and often have lots of eye-catching illustrations.
In preparing magazine there are some key consideration on guiding as follows:- 1. Elements of story-telling . Like fiction (i.e. the novel), magazine writing has an element of entertainment. The magazine writer shows scenes rather than telling the reader the facts. Like fiction writers use characters in their novels, magazine writers use stories from real people (called case studies), as well as dialogue.
2. Detail and Description. Feature writing mimics the novel in that it pays close attention to detail that would be considered unnecessary and inappropriate in newspaper journalism.
3. Facts and Opinion. Newspaper reporting handles hard facts rather than the writer's opinion. Fiction is just that – pure storytelling from the author's point of view. Magazine writing, however, tends to present both fact and a little of the writer's opinion.
This does not mean that magazine writers suck the content for their articles out of their thumb. Everything they write must be gathered from interviews and research.
What we mean by "opinion" is that in most articles, you could glean the writer's opinion on their subject by paying careful attention to the structure of their argument, and tone of the piece.
In all magazine writing, the writer must strive to present facts that are correct, and an opinion that is balanced and informed.
4. Makes use of literary devices. Magazine writing makes use of all the literary devices common to fiction writing, including rhetorical questions, metaphors, similes, and bathos. These would be inappropriate in hard news journalism.
According to the oxford dictionary 8th edition:-News paper is asset of large printed sheets of paper containing news, articles, advertisements and published every day or week; .such as weekly news paper , local news paper, online newspaper, and news paper article When writing news paper consider the following.
1.The Five "W"s and the "H"
This is the crux of all news – you need to know five things: Who? What? Where? When? Why? How?
2.The Inverted Pyramid
This refers to the style of journalism which places the most important facts at the beginning and less important to the down of the story. In that style, the first paragraph should contain enough information to give the reader a good understanding of the story. The rest of the article explains and expands on the beginning. A good approach is to assume that the story might be cut off at any point due to space limitations. Does the story work if the editor only decides to include the first two paragraphs? If not, re-arrange it so that it does.
The Difference Between a Magazine and a Newspaper
While magazines and newspapers both provide readers with information, the ways both media forms target and appeal to their audiences differ considerably. Understanding the differences between a magazine and a newspaper is the best way to determine which publication is the best for you. * Cost
Newspapers are among of the cheapest sources of information available. Printed in the tens of thousands, newspapers are available from any newsstand in the world. Due to the relatively cheap ink used and the numbers produced, newspapers sell for a rather low price.
While Magazines use some of the highest-quality paper and ink to produce a visually appealing product. Generally much more aesthetically attractive than a newspaper, they cost substantially more to print, resulting in a much higher price.
* Content
Newspapers produce a substantial amount of content ranging from hard news stories to entertainment pieces and feel-good tales. As news is always breaking around the world, newspapers are never short of content. While magazines tend to focus on entertainment pieces and features about certain subjects within their chosen magazine subject. This scope can limit the amount of content they can provide, and magazine often have advertisements taking up large amounts of page space. * Size
The newspapers are larger than magazines in more ways than one. Various amounts of information are to be placed and compacted on a newspaper so it really does need to be a little bigger than magazines. A magazine tends to have a "book-type" size while the newspaper is really meant to be spread arms length in order for the reader to grasp its contents to the full.
* Appearance
When we talk about appearance, we also consider the color, the texture and how appealing it is. In this case, the newspapers tend to appear colorless than magazines, which on the other hand are mostly successful in terms of appealing in colors. The advertisements on the newspapers tend to use more of the space than those in magazines which seems to be limited. The overall color of newspapers gives an impression of something firm and strong whereas it is quite less of those in magazines. Magazines' appearances or looks tend to give light or emphasis to the given subject matter.
* Style
Style plays a major role between these two as the newspapers focuses more of what is needed: fixed and straight to the point. The magazines on the other hand tend to be more "freestyle" in the sense. The information throws up into various dimensions in magazines. They are more relaxed and practices well on the freedom that they are given.
References
http://www.businessdictionary.com/definition/magazine.html#ixzz2Ffyvhwjj
Dominick. R. (2002).The Dynamic of mass communication: McGraw-Hill. Sarkar.N.(2008).Arts and Print production:(1st Ed):Oxford University Press. Oxford advanced learner dictionary 8th edition.
Related Topics