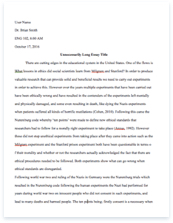 The whole doc is available only for registered users
A limited time offer! Get a custom sample essay written according to your requirements urgent 3h delivery guaranteed
Order Now
This essay will demonstrate that people communicate with one another because they want to share something with others, want personal benefits or want to achieve certain goals. This will be proved by defining communication and the reasons for communicating, followed by Social Penetration theory and the Rational world paradigm.
            Communication is a vital aspect of everyday living. But sometimes, people do not know what communication really means. That is why it is very important to know first the real meaning of communication to be able to communicate well. According to Condit, communication is a process of relating. "It is weaving and reweaving of visible and invisible four-dimensional webs, which constitute and reconstitute matter and ideation as humans, discourse, and other beings within a dynamic field of many forces." (John, 2006, pp.3-4) There are three basic elements of communication. These are the sender/encoder, the message, and the receiver/decoder. Message is the most important element in a communication process. It is the part of the anatomy of communication that is taken for granted most of the time. People use it in various ways and characterize it as the essence of communication without noting its ambiguity. (Heath, 2000, p.76)
Communication's goal is shared meaning.  One must have reason for talking so that he/she would know what to say. If he/she does not know what to say, then he/she will not be able to communicate. It is very essential that he/she knows what to be communicated. And he/she have to make sure that his/her message is relevant and easy to comprehend. Various reasons were identified why people really need to communicate.
            There are three reasons why people communicate. First is the expression of oneself. People say whatever on their minds by using any form of communication, whether it is verbal or nonverbal. To understand one another is the second in the purposes of communicating. Things that are not clear between people can only be understood through communication. It is very important for people to say what they mean and mean what they say for better understanding.  In some circumstances, there are things that are appropriate to say only during those times. Sometimes, feelings are expressed in the most conventional way, which is through communication. They want other people to know and understand how they feel. Last but not the least, people communicate to meet certain goals.
These goals can be to persuade others and negotiate with them. This is very important especially in interpersonal relationships like business transactions. For instance, if a person sells something to another person, he/she must be able to communicate well. He/she must be able to explain the importance and benefits of his product for the buyer to purchase his product. They are able to do this through different strategies. These reasons for communicating are under O'Keefe's "message design logic" or the implicit theories of communication. And this theory shows the importance of message in the communication process. Without the appropriate and substantial message, these main communication purposes will never be possible. (Fussell, 2002, p.56) In additional, this theory also believes that the main role of communication is to 'negotiate selves and situations'. (Thorpe, 2003, p.105)
Another importance of message in communication process is shown in Jakobson's Model of the Communication Process.  It goes like a speaker sends a message to someone, the receiver. Then it will be delivered using a code which can be English language. It will be sent through a medium. This medium can be the spoken language or the nonverbal or body language like hand gestures. What makes sense of the message is the context that can be found in it, depending on the situation it is delivered and how it is affected by the medium. The message unites the speaker and the receiver.
However, according to Jakobson, the message is not the meaning. It is just important to know what the meaning of the message a person wants the listener to receive so that he/she knows how to communicate it. (Berger, 1995, p.14) If this process is followed, then the speaker and the receiver would both achieve their goals. They would be able to express what's on their mind and this would result to better understanding. In a speech, message has three functions. These are the referential function, emotive function, and poetic function. Referential function speaks about the surroundings the speaker finds himself. Emotive function, like O'Keefe's model, aims to express the feelings of the speaker. Thirdly, the poetic function of the message makes use of literary devices that give the message its unique tone and qualities. These functions are crucial for the speaker to communicate in a very effective way. It adds more color to the communication process. If one knows the purpose of his/her speech, it would easier for him/her to deliver it by using different tactics to be effective. (Berger, 1995, p.15)
            The importance of message in communication can also be seen in social relationships. To improve relationships with other people, self-disclosure is believed to be the most effective way. For example, a person is with someone that he/she wants to really get close with. He/she got all the time in the world to talk to that person, yet he/she does not know where to start. He/she does not know what to say. To make the first move, he/she must, of course, have something to say. It is something that should be interesting for the person to make a connection. This is where Social Penetration theory comes in. This theory upholds that interpersonal relationships change in some steady and conventional fashion. Social Penetration theory aims to make development and progress in interpersonal relationships.
This theory, which was pioneered by Irwin Altman and Dalmas Taylor, compares human interaction with economic transactions. (Littlejohn, 2005, p.194) Humans make decisions based on the cost and benefit. Like a transaction, a person will give enough information about himself/herself that he/she thinks that would benefit him/her. That person will not disclose some information that he/she thinks that would cost too much and would result to lesser profit. It is important that people weigh and think about the things that they will say. This will be beneficial to them if they know what the right words to say. If they practice this skill, they would easily get what they want. However, although self-disclosure can result to improved relationships, it can also cause a person to be susceptible. (Littlejohn, 2005, p.195)
            The statement 'Before you can say anything, you must first have something to say' also has implied meaning. It may also mean that people have to be sensible whenever they speak. They always have to keep in mind that every word they utter may have an effect to other people. So it is important that every time they speak, what they are talking about is mindful and realistic. Rational world paradigm provides extensive explanations on this. Rational world paradigm sees human as rational beings. Rationality is determined by subject matter knowledge, argumentative ability, and skills in employing the rules of advocacy in given fields. (Lucaites, 1999, p.269)  However, to achieve rational statements, people must practice logic.
There must be good reasons why they are speaking such things.  This is what Narrative Paradigm theory suggests. Walter Fisher, who proposed this theory, believes that all people are basically storytellers and not rational. All forms of communication are storytelling. Narrative logic is also known as logic of good reasons. Communication, decision-making, and persuasion are based on this logic. This theory also evokes that people often assess the credibility of speakers by whether their stories are unified and hang together clearly, and also believable. This is what they call coherence and fidelity. They want to determine if the speaker's statement is true. In additional, Fisher also argued that narratives and emotional appeals are more meaningful to people; thus, it is more persuasive if people use narrations than deductive arguments. Human communication and their understanding of reality tend to rely heavily on narrations. (Dainton., 1995, pp.123-124). That is why sensible statements are very important. So, before they could say anything, they must first have thought about what they are going to say.
            It is very crucial to communicate. It is not as easy as they think it is. People have to think carefully of the message they will deliver before speaking for many reasons. It is also very important for people to communicate to achieve their purpose. Words are very powerful. They do not know where it can bring them. That is why many theories try to explain the process of communication and its relevance to people. And these theories also aid them to communicate properly and effectively. The statement 'Before you can say anything, you must first have something to say' has a deeper meaning. If they would dig it, they would find that people should be sensible and responsible speakers.
REFERENCES:
THORPE, R. (2003) Management and Language: The Manager as a Practical Author,   Sage Publications Ltd.
LUCAITES, J.L. (1999) Contemporary Rhetorical Theory: A Reader, The Guilford Press.
LITTLEJOHN, S. W. (2005) Theories of Human Communication, Thomson Wadsworth.
JOHN, J. S. (2006) Communication as… Perspectives on Theory, Sage Publications, Inc.
HEATH, R. L. (2000) Human Communication Theory and Research: Concepts, Contexts, and Challenges, Lawrence Erlbaum Associates, Inc.
FUSSELL, S. R. (2002) The Verbal Communication of Emotions: Interdisciplinary Perspectives, Lawrence Erlbaum Associates, Inc.
DAINTON, M. (2005) Applying Communication Theory for Professional Life: A Practical Introduction, Sage Publications, Inc.
BERGER, A. A. (1995) Essentials of Mass Communication Theory, Sage Publications, Inc.
Related Topics