Look For Employees With High EQ Over IQ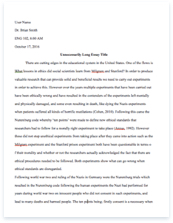 The whole doc is available only for registered users
A limited time offer! Get a custom sample essay written according to your requirements urgent 3h delivery guaranteed
Order Now
Studies have shown that people with high EQs are a better predictor of performance than those with a high IQ. As the editor of a marriage publication, it seems like 90 percent of the issues we discuss involve communication, empathy, understanding, self-awareness—or more precisely, a skill set associated with emotional intelligence (EQ). It just so happens that emotional competencies also translate extremely well to the business world. The best part? These skills can be learned.
Psychologist Dr. Carey Cherniss has been studying emotional intelligence for a long time. In 1999 he published a paper citing a 19-point case for businesses to pay attention to emotional intelligence, using data from the research of others. Here are a few highlights from that paper to help understand why businesses should care about an employee's EQ. For example, one study followed the hiring of sales agents for L'Oreal on the basis of certain emotional competencies. These agents outsold other salespeople by $91,370 for a net revenue increase of $2,558,360. If that weren't enough, the high EQ employees had 63% less turnover during the first year than those selected in the typical manner.
In a separate study, a national insurance company found that sales agents who were weak in emotional competencies such as self-confidence, initiative, and empathy sold policies with an average premium of $54,000. Not bad, right? Well, compared to agents who scored high in a majority of emotional competencies, they sold policies worth an average of $114,000. In a third international study of 515 senior executives, emotional intelligence was a better predictor of success than either relevant previous experience or high IQ. So what can a business owner do to boost emotional intelligence? I asked Dr. Richard Mendelson, I.O. psychologist and founder of Dynamic IO Consultants, a consulting firm specializing in human capital management and other services. During the hiring process, he recommends asking job candidates to complete an emotional intelligence assessment.
"There are several out there, and some are specifically designed for different levels of employment," says Dr. Mendelson. "Assessing EQ is less about asking specific questions in an interview or on an application, and more about properly using an assessment to generate data about an individual's level of EQ." Dr. Mendelson warns that not all HR departments are equipped to handle this type of assessment, but firms such as his have training programs, which can take several months to complete. Of course, many businesses already have their staff and are simply looking to improve or boost productivity. Dr. Noelle Nelson, a clinical psychologist, trial consultant and author of "Make More Money by Making Your Employees Happy," says one of the easiest, most successful ways of supporting a worker's EQ is to catch him/her in the act of doing something right. Like a healthy marriage, it once again comes down to communicating expectations and expressing appreciation. In her book Dr. Nelson writes, "Most people worry when they see their manager looking over their shoulder or stopping by their work area.
They are convinced that you are looking for something they did wrong—which is usually an accurate assessment! But that very worry will often make them do something wrong." Instead, Dr. Nelson says the better situation is when workers see a manager's visit as an opportunity to receive appreciation. "When workers know managers will be on the lookout for good work, they are far more motivated to doing good work." Dr. Nelson says emotional tendencies that facilitate reaching goals are critical to EQ. She adds, "Communicate employees' duties and responsibilities clearly so they know what is expected of them." Employees can't live up to what they don't know and therefore clear direction is what gives employees the confidence to go ahead and do the job competently—it sets them up for success.
As managers change their habits it's easy to see how the work of subordinates can quickly improve. The great news is the process of improving EQ within the workplace can be achieved, but the intention must be there. Dr. Mendelson adds that measured EQ scores can improve in small increments over time, but significant gains can be seen by building awareness, and continuing a focused and facilitated learning process for people who wish to improve. We've probably all had a boss who we knew was intellectually up for the task, but lacked "people skills." In today's highly competitive global economy it makes sense that businesses would continue to try and hire the smartest individuals, however it's even more important to seek those who are equally as thoughtful.
Seventy-One Percent of Employers Say They Value Emotional Intelligence over IQ, According to CareerBuilder Survey – More than one-third of employers are placing greater emphasis on hiring and promoting people with emotional intelligence post-recession CHICAGO, AUGUST 18, 2011 – With smaller staffs, higher stress levels and uncertainties around the economy, are employers changing what they look for in prospective employees? Thirty-four percent of hiring managers said they are placing greater emphasis on emotional intelligence when hiring and promoting employees post-recession, according to a new CareerBuilder survey.
Seventy-one percent said they value emotional intelligence in an employee more than IQ. Emotional Intelligence (EI) is a general assessment of a person's abilities to control emotions, to sense, understand and react to others' emotions, and manage relationships. The national survey –conducted May 19 to June 8, 2011, with more than 2600 hiring managers and human resource professionals – reveals that EI is a critical characteristic for landing a job and advancing one's career. Fifty-nine percent of employers would not hire someone who has a high IQ but low EI. For workers being considered for a promotion, the high EI candidate will beat out the high IQ candidate in most cases – 75 percent said they're more likely to promote the high EI worker.
"The competitive job market allows employers to look more closely at the intangible qualities that pay dividends down the road – like skilled communicators and perceptive team players," said Rosemary Haefner, vice president of human resources at CareerBuilder. "Technical competency and intelligence are important assets for every worker, but when it's down to you and another candidate for a promotion or new job, dynamic interpersonal skills will set you apart. In a recovering economy, employers want people who can effectively make decisions in stressful situations and can empathize with the needs of their colleagues and clients to deliver the best results." When asked why emotional intelligence is more important than high IQ, employers said (in order of importance): · Employees [with high EI] are more likely to stay calm under pressure · Employees know how to resolve conflict effectively
· Employees are empathetic to their team members and react accordingly
· Employees lead by example
· Employees tend to make more thoughtful business decisions HR managers and hiring managers assess their candidates' and employees' EI by observing a variety of behaviors and qualities. The top responses from the survey were: · They admit and learn from their mistakes
· They can keep emotions in check and have thoughtful discussions on tough issues
· They listen as much or more than they talk
· They take criticism well
· They show grace under pressure
Survey Methodology
This survey was conducted online within the U.S. by Harris Interactive© on behalf of CareerBuilder among 2,662 U.S. hiring managers (non-government) between May 19, 2011 and June 8, 2011 (percentages for some questions are based on a subset, based on their responses to certain questions). With pure probability samples of 2,662 one could say with a 95 percent probability that the overall results have a sampling error of +/- 1.90 percentage points. Sampling error for data from sub-samples is higher and varies.
About CareerBuilder
CareerBuilder is the global leader in human capital solutions, helping companies target and attract their most important asset – their people. Its online career site, CareerBuilder.com®, is the largest in the United States with more than 24 million unique visitors, 1 million jobs and 40 million resumes. CareerBuilder works with the world's top employers, providing resources for everything from employment branding and data analysis to recruitment support. More than 9,000 websites, including 140 newspapers and broadband portals such as MSN and AOL, feature CareerBuilder's proprietary job search technology on their career sites. Owned by Gannett Co., Inc. (NYSE:GCI), Tribune Company and The McClatchy Company (NYSE:MNI), CareerBuilder and its subsidiaries operate in the United States, Europe, Canada and Asia. For more information, visit www.careerbuilder.com.
Business Employee IQ and EQ Must Be in Balance for Employment IQ and EQ Are Both Needed to Succeed
Business organizations will benefit overall from any trend to employ the smartest people possible but it is just one of many positive personality characteristics needed in any potential employee. The newest trend is for companies to look for potential employees that have many other factors to add to their organization. Many of the older companies still classify a job by limiting factors. They feel that if they need a C++ programmer than that person must not only be able to program in C++ but have an extremely high IQ. This is based on flawed past thinking that relates IQ with a specific talent or skill. IQ is a measure of intelligence. It is a way to rate how an individual measures on different types of abilities: verbal fluency, mathematical skills, spatial recognition, memory retention, and reasoning. A potential employee should not be passed over for a position if the IQ of the candidate is the only determining factor.
Categorization based solely on IQ would be a bad thing for any organization. Hiring a person with a high IQ for a specific job cannot determine their total potential "suitability" and "competence" for a position in the company. More interpersonal skills are also needed in the potential employee. The emotional intelligence to successfully work within an organization needs to be a major factor. EQ is needed to optimally balance IQ in the workplace. EQ is a measure of ability to notice and then manage interior and exterior perceptions of feelings and then control individual reactions. Hiring an employee that has a well developed EQ to complement their IQ would provide many increased benefits for any organization. It would create a higher potential of that new employee "fitting in" and being retained.
The potential employee would "settle in" faster, become more productive sooner, and bond with the new organization quicker. And now back to our hypothetical potential employee; our C++ programmer that applied for a job. While many C++ programmers are available for hire and applied with us, many did not have the interpersonal skills to get along with the other employees in our organization. This candidate shows the combined talents that would be the most useful to our organization. He shows a tendency towards a high EQ during the interviews and the basic C++ skill sets we really needed. While we interviewed many potential candidates with better C++ skills and higher IQ's; they all had lower EQ's and that determined our decision as to who to employ. Published by Vic Burrack
I write on diverse topics which have been provided by my professional associates. Some of these articles can be seen here or at the Examiner online, http://www.examiner.com/user-vicburrack and Pinellas Scene… View profile * Documenting Employee ActionsAccurate documentation of performance problems is absolutely necessary to justify decisions regarding discipline or discharge. Learn what information you need to track in order to avoid an employee lawsuit
Related Topics