Logo as a Strategic Tool of Companies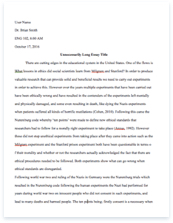 The whole doc is available only for registered users
Pages: 3
Word count: 527
Category: Ethos
A limited time offer! Get a custom sample essay written according to your requirements urgent 3h delivery guaranteed
Order Now
Logo's can be seen everywhere. They are spread around us everywhere we go, are embedded in our culture and life. They influence our decision, communication and opinion about a particular company or a product. Logo's always have some meaning attached to it. The primary role of a logo is to identify. Identification is all that really matters. Trends come and go, technologies evolve over time, what we perceive a logo to be may even drastically change with time, but for all eternity the single most important goal of a logo will always remain this – to identify the person, product, business or service you're designing it for.
Logo design is not an art, too many people mistake them for art since logos are a visual object. Instead it's a strategic tool which company uses to connect with their customers or consumers. Of course, the logo should look good and attract people, but that should be the secondary thing, Identification should always come first. Logo design is not art – too many people mistake them for art since logos are a visual object.
There are lot of examples where customers know a particular company or brand just by the logo. As in the diagram, we all can just look at it and say about which company is in which field and what kind of products it sells and also about the history of the company. A logo is directly associated with a business and what its services or products are. Countless companies could be offering the same services as yours but what sets you apart from the rest is solely your logo & brand. This provides you with the option to come up with a design that leaves a lasting first impression. Having a unique logo does not imply it should be visually complex. Complexity is what needs to be avoided and for that, you have to depend on the concept of minimalism. Declutter your ideas and only add or remove design elements that bring simplicity to your logo design. When in doubt, remove extra elements. You can always get inspiration from the work of other designers and businesses, but it is never okay to directly copy the work of others and this really is no way to stand out. Learn from others that are successful, emulate them and improve on what they have done. Inspiration is crucial in brainstorming for new ideas, however, if inspiration is key then so is creativity. Logos don't have to be static symbols, they can adapt, change and be anything they want to be, as long as it ties in to the brand's goals and ethos.
To conclude, Great branding and advertising campaigns are not created overnight. The aforementioned points are important in creating a logo that not only works for building your brand's visual identity but also helping you run a successful business. A well-designed logo has the ability to bring in more revenue (indirectly), improve customer retention rates and allows people to trust you as a credible brand. Practice certainly does make perfect and by following these core tips, you will able to create a great logo that drives growth to your brand.
Related Topics