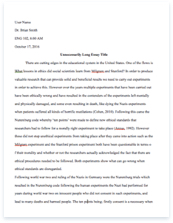 The whole doc is available only for registered users
A limited time offer! Get a custom sample essay written according to your requirements urgent 3h delivery guaranteed
Order Now
Literacy Autobiography
The development of a writer is a long, pensive, and emotional struggle. There is a world of writing skills and knowledge to learn, but a long journey to even begin to understand it. Writing all in all involves skills like vocabulary, structure, grammar, creativity, and research; all of which have many elements to master. If you learn to write with more helpful, intuitive techniques; you will succeed as a writer. The more information you aquire, the better, more creative writer you will be.
In my earliest stages of reading and writing, I remember learning simple words and their meanings. Teachers would have us draw a picture and tell a short story about it. They often used picture-word association, which is helpful because pictures help trigger my memory. Sentence structure was basic, including a common noun and a simple adjective.
As I got older I began to read more books, thus improving my word comprehension and vocabulary. We were required to read books to gain AR points; had this system not been implemented my reading and writing skills would not be as proficient as they are today. We began to take spelling tests to develop rudimentary writing abilities, which don't improve one's writing skills as much as other methods like story writing or reading comprehension.
Towards the conclusion of elementary school; a pattern towards short story and paragraph writing occurred. I feel as though short reading analysis would have been helpful towards the end of the fifth grade. We would usually read passages out of the textbook that were too outdated to relate to; which in a sense, made for a waste of time. Overall, elementary school lacked a sufficient amount of novel reading.
Middle school was a transition. I became more of an individual; I developed a taste for personnel reading, music, and even began to watch more sophisticated films. Listening to the flow of lyrics of The Beatles helped my vocabulary skills and gave me a better sense of creativity. Reading the entire Harry Potter series opened my mind to new creative realms. Creativity is a crucial skill for writing and must be developed from stimulation outside of school.
Without the use of mood-setting or descriptive words; writing is monotonous. Too ensure our curriculum included vocabulary skills, wordly wise was implemented. Wordly wise uses context along with definitions to effectively teach the given terms. To get a better understanding of colloquial language we read books like The Outsiders. We began to read books that challenged our abilities, which helps out in the long run.
At the end of middle school, I began a trek into the French language. Beginning to learn the French language is very similar to learning the English language for the first time. After learning English, French is less of a strife to learn; for both languages stem from Latin making them similar. Like the process of learning English, French takes time to learn and I had to start out learning basic words and short sentences. It is strenuous to learn a new language, but the words become easier to understand and the sentences you speak flow with ease.
High school was vast step up from my previous reading and writing. Reading and analyzing books like The Odyssey and The Good Earth opened my eyes to new styles of literature. Trying to understand and analyze these books was difficult because both stories took place in previous time periods and took place in Greece and China. Trying to understand the themes and meanings of these books challenged my intelligence, but was helpful in the development of my comprehension skills.
As I moved up a grade I learned structural paper writing skills and thought response skills. Organization and format for essays are crucial skills to learn to be a good writer. We wrote quote journals to help our analysis skills, which are key to excelling when writing. Analyzing passages or quotes is difficult because there is no right answer and it requires deep, pensive thought. I believe the skills I learned in this class will stay with
me for the rest of my life.
This class may be the most difficult, tear-jerking, and hair pulling class I've ever had. At the same time; the most valuable class I've ever taken. It challenges me to use new figures of speech I haven't even heard of. It challenges me to take risks and to explore brand new methods of writing. This may be the biggest and most important step I have ever taken as a writer.
Today, I believe writing is a great way to express important thoughts, ideas, and feelings. It can be a gateway to new idealistic barriers. Writing is a way to truly express your emotions or stance on an issue. You can explain or convince somebody about a new ground-breaking idea. The possibilities are unlimited.
My development of writing has been challenging and strenuous. The adjustment to developing a new skill can cause a pensive struggle in any person's mind. Luckily in my experience; once an adjustment is made, the concept become routine and easier to understand. The methods and techniques that are taught to you shape what type of writer you become and where your strengths are. Is the journey to become a successful writer fast and easy? It is quite the opposite; it takes patience, creativity, and a mind ready to learn.
Related Topics