Lester B Pearson's Influence on Our National Identity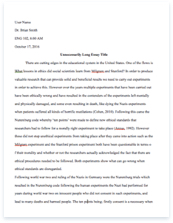 The whole doc is available only for registered users
Pages: 10
Word count: 2392
Category: Identity
A limited time offer! Get a custom sample essay written according to your requirements urgent 3h delivery guaranteed
Order Now
What defines us as Canadians? If you asked people today to identify the elements that make us distinctly Canadian, they might tell you about our bilingual and multicultural society, our tolerance and humanitarianism, our international role as peacekeepers, our maple leaf flag that even Americans put on their backpacks when travelling abroad, and universal health care. Each one of these things, though very different, has one thing in common – Lester B. Pearson who was Canada's 14th Prime Minister.
In just five years of minority government, Pearson left all of these lasting stamps on our nation and defined how we see ourselves and how we are seen on the international stage even now nearly forty years after his term as Prime Minister. Pearson was like a father to modern Canada, and with his nurturing guidance, the nation saw it's coming of age and found a distinct identity. In 1956 came what is considered by many to be Canada's greatest contribution on the world stage. On July 26 of 1956, Egyptian President Nasser seized the Suez Canal which had been controlled mainly by the English and French.
As negotiations failed the English, French and Israelis secretly agreed to attack Egypt in late October. With the horrors of the Second World War fresh in people's memories, there was a great fear that the dispute over the area could escalate to a similar level if there wasn't intervention of some sort. Pearson was Secretary of State for External Affairs and proposed to his colleagues at the United Nations that they create a neutral United Nations force to maintain the peace in the region, offering Canadian troops to serve in such a force, which would allow France, Britain and Israel to withdraw.
This was the birth of peacekeeping as we know it. His efforts earned him the Nobel Peace Prize in 1957, the only Canadian to win that honour. In naming him, the Nobel committee said that he had "saved the world. "1 When hearing that he had won the award, he said simply "gosh. " In 1988 the Nobel Prize was given to the United Nations Peacekeeping Forces, which grew out of Pearson's original proposal thirty-two years earlier.
Because of Pearson's involvement in the birth of the Peacekeeping Forces, Canadians tend to regard the troops with a sense of ownership and patriotism and has become another important thread in the fabric of our national story since its inception. In a speech honouring the establishment of the Lester B. Pearson Chair of International Relations at Oxford University, Prime Minister Chretien said: We have excellent peacekeepers, and not simply because they are highly trained professionals.
It is also because those Canadian qualities of tolerance and respect for different points of view are precisely the qualities the world needs most in its peacekeepers… This is something that Canada does very well, a special vocation that weaves its way through our foreign policy. 2 Internationally, Canadians are still seen synonymously with the peacekeeping forces. The diplomacy that we learned from Pearson is something that is still with us today, and can be seen in decisions such as deciding to stay out of the war in Iraq or the Canadian government's recent decision to not join the "Star Wars" missile defence program.
Pearson is the reason why Canada has its distinctive maple leaf flag and not the Red Ensign or the Union Jack. The Red Ensign was a flag derived from the British Merchant Marine flag, but was not distinctly Canadian. It was a throwback to the days of British colonialism and no longer seemed to fit with a modern Canada which was emerging as its own nation on the international stage. Pearson began speaking openly about the need for a distinctly Canadian flag. He raised the issue in 1960 as leader of the opposition and in 1963 he promised Canadians that if elected, he would ensure Canada would have its own distinct flag.
His views seem to have been strengthened by the objections that the Canadian ground troops faced in Egypt during their peacekeeping during the Suez crisis. With the British look and feel of the flag, many felt it felt like there was too much of a British presence and that the Canadian peacekeepers could not be impartial. By 1964, his first moves to start the process of finding a flag were met with howls of outrage from many, including the Canadian Legion. In May of that year, just as the Flag Debate was about to begin in the House of Commons, Pearson addressed a room full of veterans at an annual legion convention in Winnipeg:
I had as comrades in my section, men whose name were: Cameron, Kimora, English, Gleidenstien, de Chapin, O'Shaughnessy. We didn't fall in or fall out as Irish Canadians, French Canadians, Dutch Canadians, Japanese Canadians. We wore the same uniform, with the same maple leaf badge, and we were proud to be known as Canadians, to serve as Canadians and to die, if it had to be, as Canadians… What we need is that soldierly pride in Canada, that confident, passionate pride in Canada, that men who had wore the uniform with the maple leaf badge on it.
What we also need is a patriotism that will put Canada ahead of its parts. We are all or should be Canadians – an unhyphenated; with pride in our nation and its citizenship, pride in the symbols of that citizenship. The flag is one such symbol… 3 Veterans were not pleased with the idea of a new flag since they had fought and so many of their comrades had died for the Red Ensign, but Pearson was able to convince many that a distinctly Canadian flag would be the best thing for the nation with his speech.
If they were not convinced, they at least saw the clear vision he had for a united Canada under a distinct flag. In June of 1964, the "Pearson Pennant" was introduced into parliament. This design, one of many that were proposed throughout the debate (see Figure 2), was of three red maple leafs on a white centre square with blue bars on each side. The debate raged on in the House of Commons, with Diefenbaker wanting a flag that continued the tradition of the Union Jack and Pearson wanting a flag that showed allegiance only to Canada lacking any colonial association (see Figure 3).
The issue was turned over to fifteen member all-party committee that eventually recommended a design inspired by the Royal Military College flag, but with a single maple leaf in a white squared centre. Debate continued for months, until Leon Balcer, a Conservative MP from Quebec invited closure and forced a vote. Finally, on December 15th at two o'clock in the morning, a vote was taken and the committee's recommendation was accepted 163 to 78. 4 Senate approval followed on December 17, the royal proclamation was signed by Her Majesty on January 28, 1965 and the national flag was officially unfurled February 15, 1965.
In the inaugural ceremony that day Pearson said: This ceremony today is not a break with history but a new stage in Canada's forward march from a group of separate and scattered and dependent colonies, to a great and sovereign Confederation stretching from sea to sea and from our Southern border to the North Pole… The patriotic motives that have led Parliament to adopt a new Canadian Flag do not include disrespect for our past or for the emblems of that past. We salute the future, but we honour the past on which the future rests.
As the symbol of a new chapter in our national story, our Maple Leaf Flag will become a symbol of that unity in our country without which one cannot grow in strength and purpose; the unity that encourages the equal partnership of two peoples on which this Confederation was founded; the unity also that recognizes the contributions and the cultures of many other races. 5 For the first time since Confederation, Canada had a flag that made it unique and distinct, and showing that we were not just another British colony.
Pearson was able to navigate these waters while keeping the nation united as well as satisfying veterans who had fought and died for Canada under the old flag. A new flag for a new Canada, our makeover was underway. Pearson was also very concerned with national unity and knew that the face of Canada was changing. As the Quiet Revolution in Quebec was beginning to become violent, he knew that he needed to find a solution to give the French factor, as well as minorities and women more representation politically.
At the time, he knew that there was a growing tension in Quebec and there was a need for a lasting solution. Pearson struck the Royal Commission on Bilingualism and Biculturalism in 1963 to examine existing bilingualism and biculturalism and to recommend ways of ensuring wider recognition of the cultural dualism of Canada. The three main areas that the commission was interested in were the extent of bilingualism in the federal administration, the role of public and private organizations in promotion of better cultural relations and the opportunities for Canadians to become bilingual in English and French.
The main concept behind the inquiry was that of equal partnership and opportunity for both Francophones and Anglophones to participate in the institutions and processes that affect their everyday lives. The commission was also to report on the cultural contribution of other ethnicities. The preliminary report was released in 1965 and the final report was released as six books over the next five years. Parts of the commission were even broadcast on television and were used as a forum for Canadians to talk with one another and express their concerns about language and culture.
For many Quebecois, the Commission moved too slowly and served only as a measure to quiet those agitating for change, while many in western Canada saw it as an attempt to force the French language upon them. The inquiry revealed that Francophones did not have the economic or the political positions that their population warranted. They did not have the same educational opportunities that their Anglophone counterparts did, nor could they be adequately served in their language in federal-government agencies. The recommendations to correct these weaknesses were implemented rather swiftly.
The nine Anglophone provinces made reforms to improve French as a second language programs, all federal services were offered in both official languages by 1969 and a federal department of multiculturalism was established. Although some reforms, such as the Official Languages Act, were not established until after his retirement, it was ultimately Pearson who recognized that Canada was "passing through the greatest crisis in its history and something had to be done urgently to prevent the nation from breaking up,"6 something that may not have happened under the leadership of Diefenbaker's conservatives.
Pearson quickly learned that he needed to listen to Quebec to protect national unity. In February of 1967 another Royal Commission was struck to inquire about the status of women. For six months in 1968, the commission held hearings across Canada to investigate the problems experienced by women in all areas of society. The Royal Commission on the Status of Women in Canada produced a 488 page report that contained 167 recommendations on matters such as equal pay, maternity leave, child care, and birth control, access to managerial positions, part-time work and pensions.
By the 1980's, most of the recommendations had been implemented. Every person in every province or territory in this country, no matter what their income or background, has health care because of Lester B. Pearson. Sure, it wasn't a new idea. Tommy Douglas had implemented it in Saskatchewan earlier, but it was Pearson that got all the other Premiers to agree and get on board with the plan. Pearson's government made many advances in the area of social programs, in fact; his government passed the most sweeping package of legislation in regards to social programs and did it without incurring a deficit.
"He knew from his rich international experience that a democratic and liberal country's true worth is measured in how it treats its minorities and how generously it shares its riches. "8 Pearson's Liberals introduced a national labour code, which set a minimum wage, an eight hour workday, forty hour work week and two weeks vacation. He increased old age pension payments, crop insurance for farmers, increased allowances for veterans, family allowances which would encourage sixteen and seventeen year olds to stay in school, and introduced interest-free student loans to help more Canadians achieve a university education.
In 1965, his government legislated the Canada Pension Plan which came into effect the following year. This plan was a public pension plan that transfers income from the working to the retired and covers all Canadians throughout their working lives. He wanted all Canadians to have equal opportunity and quality of life and his social reforms reflected this vision. Pearson's sense of internationalism is reflected in the Canadian fabric as well. In us he instilled the importance of aiding others. John F. Kennedy had once said that "if a free society cannot help the many who are poor, it cannot save the few who are rich. 9 Pearson applied this idea to the whole planet. In the 1960's he had become one of the most convincing advocates of worldwide economic assistance. He saw Canada as a successful mediator and the prototype of humanitarian assistance. He introduced a reformed immigration policy that was colour blind to allow others to flee nations of persecution for a better life in Canada.
His legacy is continued not only by Liberals, but by Canadians in general. Under the leadership of Mulroney's Conservatives, Canada expanded peacekeeping in 1988, supported the struggle for human rights in China, Indonesia and Kenya, and work for the rights of children. 0 Canada has established a centre of peacekeeping studies and training in Pearson's name and Canada has been extremely active in the international campaign to ban landmines. In 2003, a survey of leading historians, political scientists, economists, former senior government officials, authors and journalists gave Lester Pearson something he never achieved in politics, a landslide victory. He was named overwhelmingly as Canada's greatest prime minister of the last fifty years. His time in office was described as "an exciting turning point in Canadian political history;" his legacy in domestic policy was called "transformational".
Related Topics