Legacy Leader: Human Resilience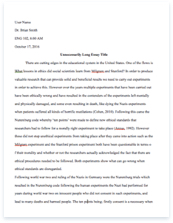 The whole doc is available only for registered users
A limited time offer! Get a custom sample essay written according to your requirements urgent 3h delivery guaranteed
Order Now
Master Sergeant Benavidez, A Legacy Leader SSG Joshua G. Barclay SLC Class 18-021 4th Platoon SGL: SFC Jesse K. West 27 August 2018 Master Sergeant Roy Benavidez, A Legacy Leader The objective of this paper is to explain why Master Sergeant (MSG) Roy Benavidez is a legacy leader that left an impact on the United States (U.S.) Army and me. MSG Benavidez's life, accomplishments, and actions that earned him the Congressional Medal of Honor during the Vietnam war continue to inspire Soldiers and leaders today.
Throughout this paper, I will describe how MSG Benavidez demonstrated the all the attributes and competencies of a Non-commissioned Officer (NCO). His impact on the U.S. Army and actions as a leader inspired my leadership style. MSG Benavidez began his military career in the Texas National Guard while he had a steady job. He realized that working at a tire store in the city of El Campo was not enough and switched to active duty. In 1955, he completed basic and advanced infantry training and deployed to South Korea.
MSG Benavidez observed how Soldiers cared for children in South Korea. Some Soldiers even had children with South Korean women, and some of those Soldiers abandoned these children after American Soldiers left the country. "The children left behind by American Soldiers were a horrible reminder of the price paid for occupying foreign lands." (Benavidez and Craig, 1995). After his mother died in his childhood, he felt that his stepfather abandoned him and his brother. He empathized with these children during a 16-month tour.
MSG Benavidez took it upon himself to help an orphaned child during his time there, giving him work and paying him with food. When he returned to the U.S., he was reassigned to Germany. While stationed in Germany, a significant event took place that impacted his life when he and some friends were leaving a bar. When they left the bar, MSG Benavidez observed two young officers arguing because one was inebriated and the other was trying to convince him return to post. The inebriated officer called MSG Benavidez "little Mexican noncom so and so" (Benavidez and Craig, 1995) and hit the officer while placing him in the taxi.
The incident made it to the command team. The commander and his sergeant thought he would lie, but he told the truth. His commander demoted him from Corporal to Private First Class. The commander later asked MSG Benavidez why he told the truth. MSG Benavides said he saw a plaque behind the commander with the West Point Code of Honor: "I do not lie, cheat or steal nor tolerate those that do. Duty, Honor, Country." (Benavidez and Craig, 1995). That code made an impact on him and he wanted a career in the military. "Leaders of integrity do the right thing because their character permits nothing else" (ADRP 6-22, chapter 3 para 13).
Leaders must make difficult decisions, being honest and owning your mistakes is something that most people do not understand. MSG Benavidez reported to Fort Gordon, Georgia in 1958. While there he attended Military Police training and became a driver for senior officers. Before he enlisted, MSG Benavidez dreamed of becoming a paratrooper. That opportunity arose when he drove for a commander of an airborne unit (Benavidez and Craig, 1995). After completing airborne school, MSG Benavidez served with the 82nd Airborne Division, Fort Bragg, North Carolina from 1959 to 1965. In October of 1965, MSG Benavidez deployed to Vietnam. During his first tour, MSG Benavidez worked for the United States Military Assistance Command, Vietnam (MACV) and acted as an advisor for a South Vietnamese infantry unit.
Most of his duties involved assisting local military and foreign partners on patrols. Typically, these patrols resulted in a firefight and conducting questioning at a nearby village that provided very little results (Benavidez and Craig, 1995). He displayed sound judgement, recommending to his officer to conduct a patrol mission near the Ho Chi Minh Trail in order gather intelligence. The Ho Chi Minh trail wound through the Black Virgin Mountains 20 miles east of the American compound where his team was located (Benavidez and Craig, 1995).
The small team discovered a North Vietnamese Army Battalion and reported the information to their unit. During a patrol MSG Benavidez sustained an injury from a land mine. He awoke in Fort Sam Houston, Texas in January of 1966, not knowing where or who he was. The doctors told him he would never be able to walk again due to the amount of damage to his spine. MSG Benavidez was determined to walk again and did not want to be discharged on disability from the hospital. "Night after night, I bailed out of bed, crawled for the wall at the head of my bed, and pulled myself up" (Benavidez and Craig, 1995).
He displayed resilience, recovered from his injury, and returned to active duty at Fort Bragg, North Carolina. Despite his painful injuries, he continued to improve to the point of returning to jump status. MSG Benavidez volunteered for Special Forces and was accepted in 1966. In April of 1968, MSG Benavidez was assigned to Detachment B-56, Republic of Vietnam. Detachment B-56 was part of MACV-Studies and Observations Group (SOG) conducting reconnaissance missions in Cambodia and Laos. MSG Benavidez's first assignment supported teams from the Tactical Operations Center in Loc Ninh, nearby the Cambodian border (Blehm, Legend 2015).
Towards the end of April another team further north of their position captured a Russian truck. The B-56 commander wanted to find out if the Russian trucks were coming from the south (Blehm, Legend 2015). On May 2, 1968 a recon team of 12 men (3 Americans and 9 CIDG and South Vietnamese Soldiers) embarked on that mission. The team was quickly engaged with a battalion-sized element and overwhelmed. Without hesitation MSG Benavidez volunteered to help as soon as he heard the team was in trouble.
Once at the Landing Zone, he realized that all team members were wounded or dead. He took charge of the situation on the ground, provided medical aid, destroyed classified materials and directed the extraction of all wounded and dead. He did this while severely wounded multiple times. According to ADRP 6-22, "Leaders influence others to achieve some purpose" (Ch. 6 para. 22). He rallied the men who were capable of fighting, placed them in a defensive position while calling in close air support (Blehm, 2015). Only six members of the original team and two members of a downed helicopter survived that day. MSG Benavidez was initially awarded the Distinguished Service Cross, but received the Congressional Medal of Honor 10 years later. MSG Benavidez continued to serve until he retired in 1976, after which he became a public speaker and an advocate for veteran's benefits.
MSG Benavidez continued to mentor and develop officers. "In October 1981, Roy was invited to address the cadets at WestPoint, where he spoke about the importance of the relationships between officers and enlisted men" (Blehm, 2015). He described his relationships with the pilots in the unit and how the NCOs and Officers worked together to accomplish the mission Even following his retirement, MSG Benavidez continued to strive toward developing leaders in the Army. My leadership philosophy is influenced the most by the characteristics of integrity, team work, and never giving up. I strive to mentor new Soldiers on these three philosophies.
Integrity has always been a major factor in my leadership. I know that being honest and doing what is right for my subordinates is the most effective way to build a team. Having a cohesive team is a force multiplier. If a team works together to accomplish missions, there is no concern for failure. MSG Benavidez's story forced me to realize the importance of never giving up. During my career I sustained an injury to my leg which did not allow me to run. I gave up on my hope to run again and it impacted my overall physical fitness. His determination and recovery from his injury gave me hope and inspires me to recover from my own injuries.The legacy I hope to leave on the Army and NCO Corps is through my Soldiers.
I hope that they will carry the philosophies that I pass onto them. I also hope that I can inspire a Soldier to become a senior NCO or an officer through my mentorship and influence. MSG Benavidez demonstrated the all attributes and competencies of an NCO. His impact on the U.S. Army and actions as a leader inspired my leadership style. While serving in Korea he showed empathy for the orphaned children by providing purpose and food to a child. In Germany, after attempting to help an inebriated officer, and hitting the officer, he told the truth to his commander exhibiting integrity and character. MSG Benavidez used sound judgement and displayed understanding his environment, to convey to superiors that the patrols conducted resulted in little to no intelligence.
This lead to the discovery of a battalion of NVA soldiers in the operating area. While he was severely injured during a patrol and told that he could never walk again, his resilience and determination brought him back to active duty. That lead him to join Special Forces and to MACV-SOG where he would volunteer to put his life on the line for his fellow Soldiers. His leadership on that day saved the lives of eight men who would have perished. Even after his retirement he continued to develop the next generation of leaders though his speeches about life lessons. Learning about MSG Benavidez's life and career inspires me to be that leader of confidence in dire situations, never give up and to do what is right.
References
Benavidez, R. P., & Craig, J. R. (1995). Medal of honor: A Vietnam warriors story.
Washington, D.C.: Brasseys.
Blehm, E. (2015). Legend: A harrowing story from the Vietnam War of one Green Berets heroic mission to rescue a Special Forces team caught behind enemy lines.
New York: Crown.
Department of the Army. (2012). Army Leadership (ADRP 6-22). Retrieved from https://armypubs.army.mil/default.aspx
Related Topics