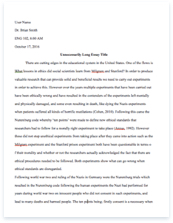 The whole doc is available only for registered users
A limited time offer! Get a custom sample essay written according to your requirements urgent 3h delivery guaranteed
Order Now
Teams are at there most effective when the members have a common sense of purpose, without it teams are lost just like boat without helm. A team's purpose is determined by considering the company's vision, mission and values as well as their own. By considering and trying to align with the company's vision the teams own purpose should not risk conflict or failure. Each team member should have input into the teams purpose, as this will result in a shared purpose which will build a happier more productive team. My teams purpose as I said is determined by the restaurant's vision which is to grow a fine class of clientele and perfect customer service; every team member have it is own responsibilities and a common sense of purpose that supports the overall vision and strategy of the organisation; strategy of the manager is to attract a more a different demographic such as A and B a more affluent people.
Kitchen team have four members including myself; everyone one of them has his own duties such as: Ben is responsible for desserts and starters section, Mike is responsible with cleaning and washing up and I am responsible for mains section and supervising and leading the service. Also to be able to meet the restaurants vision I need to be able to make them work as a team, knowing all their good points and bad ones, recognise problems exist and take action, set goals for the team and monitor how well the team its meeting its goals. Know, that being said with the organisation's vision as a goal I try my best to make the kitchen work at its best standards and together, with front of house team to deliver the best service.
Communication plays a large part in establishing a team's common purpose. With appropriate communication each member of the team understands what the team goals are, reduces misunderstandings and allows each member to give input and feedback. Bad communication can lead to team members skills and knowledge not been used at its best.
I use several types of communication to achieve and maintain a common team purpose. At the start of each day we have face-to-face discussions about the days's goals. During the day to monitor progress and see if goals/tasks were understood correctly and to give the team members the opportunity to give input and feedback. One to one meetings are held on a weekly basis to monitor, give and receive feedback.
I believe the communication that I use is effective and clear as there is very little mis-communication inside the team and every member understands the importance of the teams purpose. Face to face is the most common form of communication that I use on a daily basis, as I believe that communication is everything; this is useful because you can read the non-verbal communication such as body language and peoples reactions or when their confused. You can anticipate a problem just asking a simple question or you can deliver a great motivation just paying a short compliment. Team briefing is important for members so everyone can participate, share opinions; ask questions Looking over teams review I found out that my communication in difficult situation or under stress can improve: managing a service in a professional way even in the busiest nights.
Motivation is very important for any team to complete tasks and hit targets. Individual motivation can be achieved by simply asking the individual what motivates them and trying to use this as a guide, if I understand my team they will take more interest in understanding what I want from them. If team member states money as motivation then I can arrange extra hours of working making sure that will raise his expectations. If job security is a bigger motivation, emphasise the amount of additional work the restaurant can secure in the following months eg. bookings in advance.
Team motivation can be a little harder to achieve as a team is made up of individuals with different motivational needs. As a leader I should clarify expectations, coach and monitor activity, I don't expect the team receiving the task to carry it out exactly as I would. I set achievable goals with them. I share my vision with the team members in order to drive teamwork motivation. I make note of the those who are mature/responsible and those who really need directions to get the job done. These insights of my team members will help me on deciding who needs extra motivation and how to start motivating them. As a team leader, I have to delegate tasks to the right person. For instance if I assign boring or uninteresting activities to one of my team member I don't expect them to perform to their best or to see any significant professional growth. Teamwork motivation cannot be achieved by force, allowing them the right to do the job with their own skills and styles.
Every team needs a leader who can motivate, inspire and move people to action. Motivation is what makes people go to work every morning but people need extra motivation when they are at work to accomplish goals or purposes; this is were a leader comes in. Any leader knows that leading by example is an effective way to motivate. The leaders that are self motivated and disciplined often can lead by example with ease. They understand what goals need to be accomplished and how to get there. A leader that does this is normally treated with respect and fairness, which in turn leads to trust in the leaders decisions. Without a well motivated leader or with a leader who can't motivate the team will have little success in meeting or even exceeding there purpose or goals.
Leaders play a very important role in the development and support of a team. It is their job not only to ensure that the standards of their team are high and the tasks that have been given are being done, but also to ensure that the team spirit and morale of their team is kept. To develop a team the leader must first make sure they know the skills and competencies of each team member and be able to identify the areas were team members need to acquire new skills and knowledge, ( e.g.. Mike one of my team member recently started serving desserts; he is a very confident personality and because of that most of the times if he doesn't know something he just uses his imagination which is wrong; this is were I inter fear and support him, explaining how/why/when) leaders should also be aware of each team members dreams and desires. ( e.g. Ben wants to become a famous chef, I am aware of his desire and dreams and using that in the right direction not only I motivate him but support him and make him one valuable member of my team ) With this information leaders can work out the best ways to develop the individuals and the team. Leaders also have to devote time and effort into development and make sure development activities are consistent and regularly scheduled.
Leaders should support their team with not only emotional encouragement but also practical help. Leaders should monitor work effectively and give timely feedback and react to problems in the work with understanding and help. Leaders should also show support for a team member's actions or decisions and also help alleviate stressful situations. Recognition should be given for good work and all team members should be encouraged to give ideas and opinions on work tasks.
Related Topics