L3 HSC Technical Certificate unit worksheet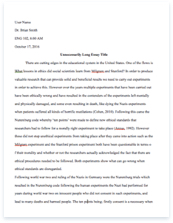 The whole doc is available only for registered users
A limited time offer! Get a custom sample essay written according to your requirements urgent 3h delivery guaranteed
Order Now
L3 HSC Technical Certificate unit worksheet
Unit 301 – Principles of communication in adult social care settings
The numbers in the bracket after each question relate to the assessment criteria in the standards
1.Identify the different reasons why people communicate (1.1.1)
People communicate to express needs, to share ideas and information, to reassure, to express feelings, to build relationships, socialize, to ask questions, to share experiences. People communicate in order to establish and maintain relationships with others, to give and receive information and instructions, to understand and be understood, to share opinions, knowledge, feelings, emotions, to give encouragement and show others they are valued.
2. Explain how communication affects relationships in an adult social care setting (1.1.2)
People communicate to show someone how they feel, to share their ideas to tell someone what they need, to ask a question and to socialise with other people. Communication is very important in a care setting because it builds relationships with the carers and the other residents. Communication helps to know how people are feeling, what they want to do and prevents misunderstandings with their care. Working in the care environment you get used to observing people's reactions like the change of pitch when they talk this is important as this could mean they are angry or stressed out. The body language can alter as well; facial expressions or no eye contact can mean they are unhappy or angry with someone. If these changes are recognised then the situation can be dealt with.
3. Compare ways to establish the communication and language needs, wishes and preferences of an individual (2.2.1)
When you meet an individual for the first time, it is important to establish how you will communicate and how they, and you, would like to be addressed.
A good way to start is to introduce yourself and explain why you are there using a few simple words. If the person clearly has use of their hands, you might also offer a handshake greeting. We should already know the person's name and you should ask the person what they would like you to call them. You will be able to consider the individual's reaction while you are doing this and see how they respond to your question. This will start to give you an idea of how you will need to communicate.
4. Describe the factors to consider when promoting effective communication (2.2.2)
Verbal communication:
Tone and pitch of your voice, does it suit the situation or topic? A louder more direct communication maybe required if trying to get the attention of a group of residents to sit down on a chair. However this would not be suitable in a situation whereby a resident is upset say for example if they have wet themselves and are embarrassed, this would need a quieter and understanding tone to reassure them.
Use of language is important, when talking to residents you need to keep things simpler than if you were walking residents without dementia, however if you're talking to an adult using very simple instructions this may be deemed as patronising, so it is important to choose your language carefully.
The speed in which you talk is also key. When talking to residents I tend to get down to their level if they are in a sitting position and talk to them at a relatively slow speed, this way they are more likely to understand me more than if I was walking round above them talking.
Non-verbal communication:
Facial and hand gestures, again this needs to be tailored to the situation or topic. In the example above, a smile and perhaps a hand on their shoulder is sufficient to the situation. Where by frowning and waving arms as if
annoyed would be detrimental to the feelings of the resident.
Eye contact is an important factor as this engages the audience, keeping them focused on what you are discussing. By making eye contact you are directing your conversation at that specific person, demonstrating that you are devoting your time and are not able to be distracted as if you would by looking around.
5. Describe a range of communication methods and styles to meet individual needs (2.2.3)
There are lots of different ways to communicate. We use all of our five senses to communicate and receive information:
•Visual- seeing
•Auditory- Hearing
•Olfactory- Smelling
•Kinaesthetic – feeling
•Gustatory – tasting
Communication methods can be split into two categories: Verbal and Non-verbal.
Verbal communication
• Vocabulary, words and different languages
• Tone of voice
• Pitch (for example, high or low)
Non-verbal communication
• Eye contact
• Signs, symbols or pictures
• Writing
• Using objects
• Touch
• Physical gestures
• Body language and emotions
• Lip reading
6. Explain why it is important to respond to an individual's reactions when communicating (2.2.4)
It is important to respond to an individual's response because for e.g they might be upset and need to be calmed down and reassured or the same if they were angry or confused.
7. Explain how individuals from different backgrounds may use, or interpret communication methods in different ways (3.3.1)
Communication can be slightly different when using it with other people from different backgrounds. Communication can be interpreted in different ways by different people, this is because they may not speak English, if from a different country, or they may not understand you. This is also a barrier to communication. Other people may think that if they're being listened to, they will express their beliefs and their opinions about life. Different people from other backgrounds may use verbal communication to express what they think, however they could also use non-verbal communication to put their point across.
8. Identify barriers to effective communication (3.3.2)
Here are some of the different barriers to consider:
• Sensory impairment (for example, deafness, blindness or both) • Culture
(for example, speaking different languages or poor English) • Religion (for example, men not permitted to support females with personal care) • Health issues (for example, mental ill health like Dementia) • Background noise (for example, radio, television, other people, machines) • Emotions (for example, difficulty in being able to listen to others) • Stress (for example, failing to recognise what is happening) • Strong accents (for example, from a different part of England that you find difficult to understand) • Specialist communication techniques (for example, sign language is used) • Prejudice (for example, allowing your beliefs to pre judge a situation)
9. Explain how to overcome barriers to communication (3.3.3)
Overcoming barriers to communicate, here are some e.g
1.Use of Simple Language: Use of simple and clear words should be emphasized. Use of ambiguous words and jargons should be avoided. 2.Reduction and elimination of noise levels: Noise is the main communication barrier which must be overcome on priority basis. It is essential to identify the source of noise and then eliminate that source. 3.Active Listening: Listen attentively and carefully. There is a difference between "listening" and "hearing". Active listening means hearing with proper understanding of the message that is heard. By asking questions the speaker can ensure whether his/her message is understood or not by the receiver in the same terms as intended by the speaker. 4.Emotional State: During communication one should make effective use of body language. He/she should not show their emotions while communication as the receiver might misinterpret the message being delivered. For example, if the conveyer of the message is in a bad mood then the receiver might think that the information being delivered is not good.
10. Describe strategies that can be used to clarify misunderstandings (3.3.4)
Sometimes to know if the resident has understood what you have said simply a thumbs up or a nod of the head will let you know if that's what they want to
were or don't want to wear or if they need the toilet or don't need the toilet etc.
11. Explain how to access extra support or services to enable individuals to communicate effectively (3.3.5)
There will be lots of different types of support and services that can help you and the individuals you support to improve your communication skills. Some of these services are: • Translators
• Interpreters, sign language and lip speakers
• Speech and language specialists
• Advocacy services
12. Explain the meaning of the term 'confidentiality' (4.4.1)
Confidentiality means not sharing information about people without their knowledge and agreement, and ensuring that written and electronic information cannot be accessed or read by people who have no reason to see it.
13. Describe ways to maintain confidentiality in day-to-day communication (4.4.2)
These are some ways you can avoid breaching confidentiality: •Do not leave personal information on individuals you support, like medical records, care / support plans or risk assessments, family contact details etc. unattended in an office working environment. Records should be locked safely away or kept in a safe, easy to access place in an individual's room or home. •These are some simple rules to avoid some of the most common breaches of confidentiality:
•Do not conduct conversations (including telephone conversations) about the individuals you support or any aspect of your work, in work or a public or anywhere you can be overheard.
• Do not disclose information to anyone unless you are sure that they have a right to see the information. Always check with you supervisor / manager if you are unsure.
• Do not name the individuals you work with in front of other people during training sessions when talking about examples.
• Do not leave personal records or information unattended in public places.
14. Describe the potential tension between maintaining an individual's confidentiality and disclosing concerns to agreed others (4.4.3)
You may have to breach confidentiality if an individual tells you something that puts them, you or someone else at the risk of harm. You should consult with the policies of your organisation regarding sharing of information and Safeguarding Adults before you are in that position. There are other situations whether information can be shared, for example, if it is requested for a court case, or if there is a threat to public safety, or the police have requested information relating to a criminal investigation. You should always refer these requests to your supervisor / manager.
15. Explain how and when to seek advice about confidentiality (4.4.4)
You will form working friendships with the people you are supporting as well as with colleagues and carers. People will tell you personal things about themselves and because of confidentiality, you will have to decide whether to keep information to yourself or report to your line manager or a more senior manager. You have to take responsibility for your own practice and the people you are supporting.
Related Topics