Kfcs Radical Approach to China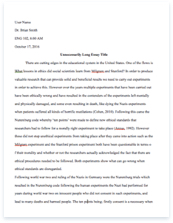 The whole doc is available only for registered users
A limited time offer! Get a custom sample essay written according to your requirements urgent 3h delivery guaranteed
Order Now
NOVEMBER
REPRINT R K
KFC's Radical
Approach to China
To succeed, the fast-food giant had to throw out its
U.S. business model. by David E. Bell and Mary L.
Shelman
With compliments of…
The Globe
At a KFC in Beijing
KFC's Radical
Approach to China
G lobal companies face a critical question when they enter emerging markets: How far should they go to localize their o erings? Should they adapt existing products just enough to appeal to consumers in those markets? Or should they rethink the business model from the ground up? The typical Western approach to foreign expansion is to try to sell core products or services pretty much as they've always been sold in Europe or the United States, w ith headquarters watching closely to make sure the model is exported correctly. This often starts with selling imported goods to the expat community or opening one or two stores for a trial run. Once such an approach is entrenched, companies are reluctant to rethink the model. U.S. retailers and food corporations that have spent years saturating the huge home market tend to cling to what has worked in the past. Domino's Pizza nearly failed in Australia because it underestimated the need to adapt its offerings to local tastes; only after it turned the country over to a local master franchisee did Domino's become the largest pizza chain there.
A master of adaptation is the Swiss food giant Nestlé, which has created an array of products that incorporate differing regional avors—and cater to local tastes—in co ee, chocolate, ice cream, and even water. For a hundred years Nestlé's country managers have been empowered to say no to the head o ce if a product or a campaign doesn't suit their locales. Perhaps the greatest tribute to the strategy is that many consumers around the world believe Nestlé
is a local company. One of the most impressive stories of a U.S. multinational in an emerging market is unfolding right now in China: KFC is opening one new restaurant a day, on average (on a base of some 3,300), with the intention of reaching 15,000 outlets. The company has achieved this success by abandoning the dominant logic behind its growth in the United States: a limited menu, low prices, and an emphasis on takeout. We recently studied KFC China's transformation of the business model that had made Kentucky Fried Chicken a global brand, and we learned how, in the process, the company accumulated strengths and competencies that now pose formidable barriers to competitors.
KFC China o ers important lessons for global executives who seek to determine how much of an existing business model is worth keeping in emerging markets and how much should be thrown away. Five Competitive Advantages In 1987, when the rst Chinese KFC opened in Tiananmen Square, Western-style fastfood restaurants were unknown in China. Many Chinese still wore the tunic suits of the Mao era, and bicycles were the main means of transportation. KFC was a novelty, a taste of America. It was a place where residents with spending money could go for a special occasion. Although customers didn't like the food much, KFC made steady progress, according to Sam Su, now the chairman and CEO of Yum! Brands China Division, which owns KFC and a number of other brands in the country. In 1992, after the Chinese government granted foreign companies greater access to markets, KFC China's managers gradually developed the blueprint that would transform the chain. Like every other multinational in China, KFC made its way up the learning curve by trial and error. But the strategy that emerged was remarkably clear and embodied five truly radical elements: turning KFC into a brand that would be perceived as part Chinese; expanding rapidly into small and midsize cities; developing a vast logistics and supply chain organization; extensively training employees in customer service; and owning rather than franchising the restaurants.
KFC China's executives believed that the company's U.S. model, although good enough to do moderately well in the largest Chinese cities, wouldn't lead to the level of success the company sought. They understood that in China, as in many other developing countries, food is at the very heart of society, inextricable from national and regional cultures, and that an abundance of avors and an inviting ambience would be necessary to win over consumers in great numbers. Execution of the strategy turned on a fluke of corporate ownership. With a closely involved parent, KFC China might not have been free to pursue its homegrown strategy. But the chain was then a unit of PepsiCo, which took a hands-off approach—it was more concerned with beating Coca-Cola than with selling fried chicken. As long as KFC China's nancial results were good, PepsiCo was happy. Su (who joined KFC China in 1989) created a knowledgeable, motivated top management team, hiring ethnic Chinese and painting a scenario they could believe in: T he company they would build would make China a better place.
KFC China's menus typically include 50 items, compared with about 29 in the United States. KFC China's success in winning over Chinese consumers grew out of a deep understanding of the differences between established and developing markets and a willingness to radically alter the U.S. business model. KFC's approach may not apply across the board, but it suggests a mind-set that can position multinationals to win in emerging markets. KFC China's five competitive advantages all depart from the U.S. model. Infusing a Western brand with Chinese characteristics. The company's managers sought to stretch the brand so that consumers would see KFC as part of the local community—not as a fast-food chain selling inexpensive Western-style items but as restaurants offering the variety of foods and the traditional dishes that appeal to Chinese customers. They enlarged the outlets, which are about twice the size of those in the U.S., to allow for bigger kitchens and more floor space where customers can linger. They made a special effort to welcome extended families and groups. In the United States, by contrast, KFC outlets are designed primarily for takeout—most of the dining is done at home.
Related Topics