Key Aspects Of Legislation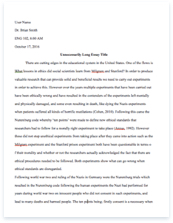 The whole doc is available only for registered users
Pages: 11
Word count: 2517
Category: Learning
A limited time offer! Get a custom sample essay written according to your requirements urgent 3h delivery guaranteed
Order Now
1.1 Summarise key aspects of legislation, regulatory requirements, and codes of practice relating to own role and responsibilities.
A role is: The function assumed or part played by a person or thing in a particular situation A responsibility is: the state or fact of having a duty to deal with something or of having control over someone
The two statements above describe, in their more simplistic terms, what a roles or responsibilities are and can be applied to any individual in any position. When exploring the role and responsibilities of a facilitator within lifelong learning we can relate these two definitions when talking about legislation, regulatory requirements and codes of practice.
Legislation
Legislation plays a key role in Lifelong Learning, as you will see below, legislation is there to protect the health and safety of learners and facilitators, co-ordinate the distribution and confidentiality of data and information and to ensure individuals do not face discrimination.
•Health and safety at work act 1974
At Communities into training and employment (CITE) all staff members are obligated to ensure the safety of persons within/ around the facility where a task or role is being carried out, where reasonably possible this is done by making sure we all follow health and safety legislation which can be found on the HSE website . Within CITE Benjamin Laryea is responsible and trained to carry out risk assessments, he must make sure that a risk assessment is carried out at every location a course is delivered from. All risk assessments must be properly recorded, be brought to the attention of all CITE staff members and be accessible upon request.
On every course learners are taken through health and safety procedures on their first day of the course where they are informed of what action they must take in the event of an emergency, they are told where the nearest fire exits are, where the assembly points is and who to contact in the event of an emergency. This information is also replicated within their Pre-Employment Training Learner hand book which is theirs to take with them.
•Data Protection act 1998
The Data protection act was put in place to protect the way in which information is used between businesses, organisations and government. Organisations, businesses and government must follow guidelines set by this piece of legislation called Data protection principals. Some of these principals are to ensure information provided is
-used fairly and lawfully
-used for limited, specifically stated purposes
-used in a way that is adequate, relevant and not excessive -accurate
-kept for no longer than is absolutely necessary
-handled according to people's data protection rights
-kept safe and secure
-not transferred outside the UK without adequate protection
As a trainer at CITE this would be put into practice by ensuring that leaners understand the forms and information they are given and are aware of what the data collected will be used for. We make sure that we only collect information that is necessary for the course and that all information collected is stored in locked filing draws and password protected computers. At CITE all archived information that is no longer relevant is shredded or deleted after ? years.
•Equality Act 2010
This act replaced the previous anti-discrimination legislation combining them into one act. Thus act was put into place to protect individuals from being discriminated against on various grounds.
It is our responsibility to make sure that all learners on the course are aware of what discrimination is and that it will not be tolerated from any individual. As with the health and safety information, its clearly explained on the very first day of the course what will not be tolerated in regards to discrimination. Because we recognise the importance of the Equality Act in any work environment, the Equality Act and discrimination is covered in detail which backs up information given at the beginning of the course.
Regulatory Requirement
Regulations are a set of rules set by organisations, public bodies, corporations and agencies that apply to those operating within the sector that the regulation applies to, there are also mandatory requirements attached to regulations which must be met for all.
•The further education teachers qualification (England) Regulations 2007
This regulation states that new teachers must be qualified within five years of taking a teaching position, the accepted qualification for a teacher in FE being DTLLS/Cert Ed and PGCE. As trainers delivering funded courses, this regulation tells me that it is mandatory for me to work towards DTLLS or PGCE, the first step being the PTLLS course that I am currently pursuing.
There are also regulations that are put into place by some of the funders of CITE such as JGA, West minister Kingsway ?????. The regulations that funders put into place means that I as a trainer would have to make sure I adhere to things such as, when collecting proof of benefits and ID, the proof of benefits must have been obtained within the last two months. Different funders will have different forms that must be filled by all learners and will have different criteria that must be met by CITE and by learners.
Codes of practice
These are voluntary or mandatory ways of carrying out company practices. Within CITE there are various codes of practice when delivering a course which ties in with the Institute for Learning's code of practice 2008.
•Respect
As a trainer I must respect learners rights, I must accept and welcome diversity and not discriminate on learners in regards to the protected characteristics identified in the Equality act 2010.
•Professional Integrity
As a trainer working for CITE I must make sure that I am also representing CITE in the best possible light, this would be done by making sure that I always uphold the company's reputation by conducting myself in an appropriate manner weather working with learners, funders or external partners. I must also complying with company standards regarding assessments and assignments I would ensure this happens by treating individuals equally during marking and delivery and not give anyone either an unfair advantage or disadvantage for any reason. Some of the other codes of practice that would also apply to me as a trainer and which can be found within the IFL website are:
-Reasonable Care
-Professional Practice
-DBS
-Responsibility during institute investigations
1.2 Analyse own responsibilities for promoting equality and valuing diversity
Equality: '…is about the rights of learners to have access to, attend, and participate in their chosen learning experience, this should be regardless of their circumstances
Diversity: '…is about valuing and respecting the differences in people, regardless of ability and/or circumstances or any other individual characteristic'
When delivering the BTEC courses, as a trainer I come across learners with learning abilities that vary from those who are totally capable and able to complete the course with minimal assistance to those with Dyslexia who need extra assistance than others in the group to those with mental health problems. For me equality means making sure that all learners in the group have the same opportunities to complete the course. For example, within on group I might have learners within the group who will grasp the information very quickly and allow me to continue on with the day's session. But if there are learners who have a learning disability or aren't understanding the information as quickly I would incorporate equality by offering the information in a different form or explaining it in way that they can understand in the same way that I would make sue there is large print information for a learner who has sight impairment.
Diversity and equality is also covered within one of the units within the 'preparing to work in adult social care course where learners are taught what diversity and equality means in real terms when working with colleagues and customers/ individuals within a work situation. Within my role it is one of my responsibilities to ensure that learners are able to voice their opinions and get involved in sessions without ridicule, harassment or any external distractions. This is done by firstly highlighting CITES policies on these issues and discussing with learners within a group setting what they feel should also be addressed to assist their learning. Everything that is agreed on is written down on A5 paper and signed by all learners and myself. This sets down ground rules on what is acceptable behaviour and what is unacceptable. This allows me to remind learners of what was agreed on at the start of the course if a situation does arise.
During a course that I was delivering in December 2012 in Brixton where a learner felt that she was being ridiculed by another learner because she was dyslexic this made her reluctant to get involved in group activities. I had noticed the change in the individual with the complaint so I approached her alone after class to see if I could isolate the problem. As soon as I had ascertained what had happened I was able to have an informal talk with the accused about the problems that had arisen from actions whether intended or not.
She was then directed to the agreement that she had signed at the beginning of the course, she was informed that I would be monitoring the situation and reminded of the consequences if the problem persisted. In my opinion, because of the manner in which the issues was handled, the learner with the complaint was able to continue on with the course with the confidence and security of knowing she could do so in a safe environment. Any action taken against the accused individual would have been backed up by the Equality Act 2010 as Dyslexia is classed as a disability which is a protected characteristic within the act.
1.3 Evaluate own role and responsibilities in lifelong learning
Because of the current economic climate courses like the BTEC courses and pre-employment courses delivered by myself at through CITE are of great value to those receiving the service. For someone who is long term unemployed, moving into a new sector or trying to improve their employability, these courses provide confidence to go complete application forms correctly knowing that they stand a chance to receive a response, it means they better understand the application procedure and are able to conduct themselves correctly and answer interview questions appropriately and it also allows them to have a good understanding of the framework that the organisations that they are hoping to work for operate within. This means that they are not only arming themselves with the skills needed to enter the work force but they are also actively preparing themselves and making themselves available to work in an economy that is making harder for those who are currently out of work/on benefits.
As a trainer some of my roles and responsibilities are:
NOT SURE IF I NEED TO TALK ABOUT ALL OF MY RESPOSIBILITIES AND ROLES AS A TRAINER OR JUST A FEW AS I HAVE DONE. •Identify the needs of learners
My responsibility as a trainer to identify the needs of learners starts at the very beginning, even before the course has begun, at assessments. I am able to get an understanding of individual learner's current skills and abilities. The importance in this being that the assessments will give me an idea of what level the learner is currently at and if this is the appropriate course for them. If a learner doesn't have the required level at assessment, I am able to direct them to the relevant organisation where they can improve on their basic skills first before continuing onto the course.
•Plan learning
Working for CITE, I as a trainer don't have too much input into session plans and schemes of work. I am able to tailor the way in which the session is delivered. This means if I know that I will have individuals on the course who may have needs that differ from the usual candidates I teach I am able to plan the session in way that the individuals will be able to participate in the session and not feel excluded or ignored. For example I may have the majority of learners who's learning styles are auditory (the learning styles would be pre attained by delivering a questionnaire such as the Hawaii learning styles questionnaire) but the course is more designed for visual learners or tactile learners, I am able to plan the session in a way that will benefit their learning whilst meeting the assessment criteria and the guided learning hours.
•Facilitate learners
My role as a facilitator means that I not only deliver information to learners but learners also interact with each other, gaining an insight into how others may perceive things to be or how someone else my do something. It is my responsibility to make sure that the information delivered in do in an appropriate way whilst acting professionally and with integrity. During discussions or group tasks, it is also my responsibility to oversee the session and encourage and motivate learners especially those who seem to be left out or struggling.
•Asses learning
Assessment of learners takes place at numerous points throughout the course. The assessment stage is the first instance in which this happens. Then after each unit they are given an assignment in which they must meet all criteria and then after the course their portfolios are assessed by me and then an internal verifier. It is my role to make sure that the progress of each learner is monitored throughout the course and to ensure that I am following the requirements of the awarding organisations whilst doing so. This is done by making sure all work is marked and feedback (both summative and formative) is given within the required time so that I have a record of their individual progress and they also have an idea of how they are doing on the course and what areas they can improve in.
•Complete quality assurance evaluations
At the end of each course, learners are given a feedback form which allows them to comment on the course they had just taken, they are able to comment on me as a trainer, CITE as a pre-employment organisation and the venue and facilities that were made available to them. We have monthly meetings where the quality of the courses we have delivered are questioned. This allows me to get insight into what others think I can be doing differently or what I need to improve on in order to improve the quality of service. I have a CDP which I fill out whenever I complete a significant task. This allows me to reflect on the work I have done and decide whether it went well or if there is room for improvement which links in with Kolb's experimental learning theory (is this relevant to this section?)
Related Topics