Journalism Ethics Scandal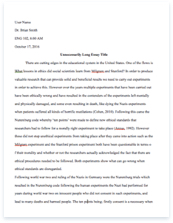 The whole doc is available only for registered users
A limited time offer! Get a custom sample essay written according to your requirements urgent 3h delivery guaranteed
Order Now
Introduction
            Journalism ethics refers to the strict code of conduct that should be followed in journalism profession so as to uphold good conduct and provide an ambient environment for journalists to discharge their duties. In any profession for that matter, there are laid down rules and regulation and gross violation of them can lead to scandals like interference with other people's freedom. Journalism has undergone revolution from the dark era when there was no such things as press freedom especially in the communist countries. Today, journalists can boast of press freedom but some have abused the freedom to the extent of interfering with people's privacy and specially the prominent people in the society (Howard 20).
            There was a case in Britain (Mike 1) in which two journalists were jailed for gossiping about the royal family (England) in the media. Clive Goodman and Glen Mulcaire who both worked for a News of World (NoW) which is a news group owned by Rupert Murdoch were found guilty of hacking into private conversation telephones of prominent personalities in the UK, Canada and Australia. They were exposed after they leaked a story that was published in the media and the contents could only have come from a private conversation since the information was not supposed to go public. This brought out a new question as to how journalist got their news materials. The two admitted to have tapped into the phones of the royal family and listened to their conversation for a period of over four months. This alleged offence happened in 2006 but conviction was done in 2007 earning Mr. Goodman a sentence of four months while his counterpart got a six month prison term (Mike 1).
            The case served to open the eyes of the public on how journalists sometimes use very unscrupulous ways to get news items which involves underhand tactics like the ones employed by those two tabloid journalists. This a fact denied by many journalist but which leaves the public bewildered as to how they get some classified information. During the judges passing of his verdict, he termed the two gentlemen's conduct as gross violation and violation of personal privacy which was a criminal offence totally inexcusable. Such behavior undermines the gains that have been made in the world press that guarantees journalists freedom to move out and gather news and information from all the corners of the world. It only fuels criticism of the press and give the politicians the more needed excuse they need to curtail the freedom of the press. It is ironical that much of the eavesdropping is done on these prominent politicians and that can be a catalyst that can be used to back track on the gains the media (press) has achieved (Howard 15).
            This story also served to show that there are many other pressing issues and problems that are afflicting the world other than running after people's personal lives that do not have any bearing on normal people's lives. There are many problems that are afflicting the world like global warming, war in Africa and the much threat that terrorists are posing to the US and the world at large. In that case, it was proven that the two were paid a lot of money to tap into those phones and supply stories that were sure to cause public outcry and controversy since that is a hallmark of journalism. Instead of investing money in scum and dodgy investigations that will only result into half baked news, it can be worthwhile to invest in professional journalist that would come up with complete and uncompromising truth about issues that are bordering on infringing the privacy of other people (Howard 68).
            The judgment was fair and lenient since it was not meant to be a punitive measure but a deterrent measure and use that to warn other journalists that, just like the freedom of press has been granted and gained through the years, it can also be withdrawn especially if professionalism is not upheld at all times like in other professions. It was quite in order for the judge to impose those prison verdicts on the defendants since they were interfering with privacy of individuals which under penal code, it is a criminal offence.
Conclusion
            Ethics is a major component that governs every profession and without it, then the profession dies. May be for these two journalists their case was different. It might have been that they were over zealous in their work and they overstepped their boundaries but whatever they did was ethically, morally and professionally wrong. Such an act of un professionalism can only at best be retrogressive on the grounds that have been gained by the press and reduce credibility of other journalists. Nobody wants his/her privacy invaded not even a small child does not have much to hide. This information that is gotten at great lengths and pains does not benefit every body but a few people who like gossips but to the vast majority it is not news but a pure case of raiding personal privacy in the name of journalism which should be condemned with the strongest terms possible.
Works cited
Howard, Good. Journalism Ethics Goes to the Movies. New York: Rowman & littlefield           Publishers, 2007.
Mike, Jempsen. 'Royal journalist jailed, editor resigns – UK bugging scandal puts the bite on UK         tabloid tactics.' Journalism Ethics for the Global citizen. Feb 15, 2007. May 15, 2009.
            <http://www.journalismethics.ca/feature_articles/UK_bugging_scandal.htm>
Related Topics