Is teaching a profession?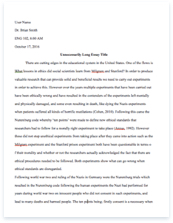 The whole doc is available only for registered users
OPEN DOC
A limited time offer! Get a custom sample essay written according to your requirements urgent 3h delivery guaranteed
Order Now
Beginning the essay it may be mentioned that a profession is always considered as an occupation that needs wide-ranging training and the study and mastery and excellence of specialized knowledge, and usually has a professional association, ethical code and process of certification or licensing. Quoting the examples it may be mentioned that examples are librarianship, diplomacy, accounting, engineering, law, architecture, aviation, medicine, social work, pharmacy, finance, the military, the clergy, nursing, and others. Professionalism is a new principle of social organization which has emerged, based on trained expertise, selection and reward by merit (Perkins, 1989).
American College Dictionary defining the profession says that a profession is a "vocation requiring knowledge of some department of learning or science". A professional is one who follows "an occupation as a means of livelihood or gain," or one who is "engaged in one of the learned professions". And Professionalism is exhibited by one of the "professional character, spirit or methods" or the "standing, practice, or methods of a professional as distinguished from an amateur". Now to the question that whether teaching is a profession or not, some people consider it as a profession and some do not. However, I would firmly and in one line statement say that teaching is a profession. How? The following passages would clarify.
Although the term 'professional' might at first glance seem to be relatively easy to define, it is in fact quite complicated. Eliot Freidson spends an entire chapter (20 pages) attempting to define the term. He notes for example, that while dictionary definitions, such as those in the Oxford English Dictionary and Webster's Third New International Dictionary, may be "socially authoritative", that is, useful to people in a society who want some clarification of what a profession is, they are often too narrow. He comments later that defining professions as occupations with prestige attached to them because of formal knowledge is also inadequate because they can also be occupations that have special forms of protection from competition in capitalist labour markets.
Where certain features are absent, for example, professional autonomy, arguments are put forward for the existence of 'semi-professions' as in the case of teachers (Etzioni, 1969). In the end, Friedson concludes that there is no way to define a profession that is not arbitrary and that in fact the definition is less important than how people in a society "determine who is a professional and who is not, how they `make' or `accomplish' professions by their activities, and what the consequences are for the way in which they see themselves and perform their work". (Manski, 1987).
Freidson's analysis is interesting, especially when he shows how the word can easily be transformed from a very positive meaning such as a "professional job" (as opposed to an amateurish job) to a very negative one such as a "professional partygoer". It can even have a somewhat mixed meaning as in the case of a "professional athlete" who earns money for his or her athletic prowess, as opposed to the amateur who performs for the love of the sport (Manski, 1987).
Freidson concludes, "In one context it refers to high prestige or status and in another to low status . . . In one circumstance of use it implies exalted motives and moral probity, but in another it implies crass motives and deceptiveness". This semantic ambiguity has made it difficult to develop a theory and come to a consensus as to what it means to be a professional (Nelson, 1991).
Still, in spite of this ambiguity it is possible to delineate at least the general dimensions of a profession. Drawing on work by Cogan, Larson develops a list of attributes that she asserts; define professions as they exist today. She posits three areas to be important. The first is the cognitive dimension-that body of knowledge which is used by the professionals in their work, as well as the training necessary to master such knowledge. The second dimension is the normative one and includes the service orientation of professionals and the subsequent privilege of self-regulation which is granted to them by society. The final dimension is the evaluative one which highlights the professions' unique amount of autonomy and prestige, especially in relation to other occupations (NST, 2003).
"To call something a profession is to claim that it has a knowledge base in the academic broadly construed" (Shulman 1998). Teaching does not have a knowledge base, however, this does not mean that it is not a profession; teaching is greater than that. As Shulman (1987) explains, the key to distinguish the knowledge base of teachers is in the intersection of content and pedagogy, in the capacity to transform the content knowledge into the forms that are pedagogically different. Therefore, teacher's knowledge is based on their experiences in the classroom, with children and on their own practises of reflection, in order to improve their teaching methods, and thus continually learning from their students.
In his book, "Education as a Profession", Myron Lieberman argued that teaching was not yet a full profession, however, he discussed its importance in our everyday lives and argued that it must be considered a profession some day in the future as it is a highly recognized task in the society. Lieberman also gave some hope to teachers as he wrote: "One of the main reasons for studying education as a profession is to demonstrate that the educators themselves have the power to achieve certain vocational objectives which would materially affect the educational objectives and possibilities of the public schools" (Lieberman, 1956, page 15).
According to Lieberman (1956), each profession has its own lurching blocks, and teachers do not necessarily have to come to full agreement about the functions of education, they also need to recognize the complexity of the issue and how it poses dilemmas within the profession. Lieberman suggests that teachers should not assume the responsibility for developing and enforcing ethical standards within their profession.
However, in the modern times, teaching has become highly professionalized. Teaching is not something that everyone can do. It is highly categorized and classified. For instance, there is business teacher and in business there are too many branches and for each branch teacher is relevant. In social sciences teachers are different. For each subject there is special teacher. A person from literary background cannot teach business. He is suitable for literature. In the same way a person from the academic background of International Relations cannot teach computer subjects or biology or medical disciplines. What does it implicate? Simply that in the modern times teaching has become a profession.
Now consider how a teaching job rewards teachers for general skills that are also useful outside of teaching. Such skills would include interpersonal skills, such as leadership, but also would include more quantifiable skills, such as knowledge of mathematics, science, foreign languages, or English composition. There are well-established wages for such skills that are largely set outside of teaching. If there were simply a going wage for math skills, say, then choice schools and other schools would pay the same (going) wage for such skills but perhaps hire different quantities.
Now take an example. Since 1988, California has sought to provide intensive learning experiences for beginning teachers. First-year and second-year teachers need intensive learning activities that build on their pre-service preparation and lead to lifelong professional development. The State's efforts revealed a need for a common language and a new vision of the scope and complexity of teaching that would enable teachers to define and develop their practice. The California Standards for the Teaching Profession address these needs. The Standards are designed to be used by teachers to:• prompt reflection about student learning and teaching practice;• formulate professional goals to improve teaching practice; and• guide, monitor and assess the progress of a teacher's practice toward professional goals and professionally-accepted benchmarks.
The Standards address the diversity of students and teachers in California schools today, and they reflect a holistic, developmental view of teaching (CSTP, 1997).
Professional educators in the State of California are serving the most diverse population of students in the history of education. This diversity among students can greatly enrich and enliven the educational experience. There is a critical need for teachers who are responsive to the diverse cultural, linguistic and socioeconomic backgrounds of all students. The California Standards for the Teaching Profession support the creation of inclusive classrooms in which diverse students of varying abilities are engaged and challenged as learners. The Standards reflect an expectation that the education of diverse students is likely to be most productive when teachers use effective pedagogical principles and practices in all subject areas (CSTP, 1997).
With so many changes to the curriculum being introduced and teachers' performance being monitored so closely, ongoing staff and professional development is very important requiring teachers to attend courses of training, many of which take place outside of normal school hours. These courses attended also indicate and strongly emphasize that teaching is a profession requiring teachers to specialize in a particular area or section. This helps them to improve their skills and perform better in these areas of the curriculum.
"…The teaching profession is a dynamic, stimulating, effective, fluid, multileveled, influential and passionate profession. Teaching includes schools, teachers, students, curriculum, but most importantly learning. Teaching a student allows teachers to interact at the human level. This interaction, and influence, on a child's life is more important than we realize. Therefore teachers must choose words and actions carefully. Teaching involves not only the 'conscious curriculum' based ideas but the intangible side as well. Teaching is therefore an Art Form and a Calling, a noble profession involving a passion for learning and a passion for children as students. In order for teaching to be productive and successful, this passion for learning must be promoted as lifelong learning…" (Oilersrule, 16/04/2004).
And in order to achieve all these practices above successfully amongst students, teachers must be highly professionalized to provide opportunities which will enable each child to develop in their own way in the context of society as well as offering security so that the children can work confidently towards the development of their skills in the future.
To conclude the long in short, it may be mentioned that teaching in the modern days is not a traditional teaching, it is highly professional. Innovation and excellence have replaced the traditional concept of teaching, nowadays.
References
California Standards for the Teaching Profession, (CSTP, 1997) ADOPTED January 1997Etzioni, A. (ed). 1969. The semi-professions and their organisations: teachers, nurses, social workers (pp. 30 – 64). New York: Free PressFreidson E. 1986. Professional Powers: a study of the Institutionalization of Formal Knowledge. Chicago: University of Chicago Press.
Lieberman, M 1956. Education and the professions (pp. 10 – 35). Englewood Cliffs, NJ: Prentice-HallManski, Charles. 1987. "Academic Ability, Earnings, and the Decision to Become a Teacher: Evidence from the National Longitudinal Study of the High School Class of 1972". In Public Sector Payrolls, ed. David Wise (pp. 65 – 84). Chicago: University of Chicago Press.
Nelson, Marc S., 1991, Academic professionals, Medical Teacher, 0142159X, Dec91, Vol. 13, Issue 4Oilersrule (16/04/2004). Philosophy of Teaching, short but very good!! Retrieved April 20, 2007 from http://www.cheathouse.com/essay/essay_view.php?p_essay_id=36453Perkins, H. 1989. The rise of the professional society (pp. 28 – 54). London: RoutledgeRedefining the teaching profession, New Straits Times (NST, 2003), (Malaysia), Feb 16, 2003.
Shulman, L. S. (1987). Knowledge and teaching: Foundations of the new reform. Harvard Educational Review (pp. 125 – 136).
Shulman, L. S. (1998). Theory, practice and the education of professionals. The elementary School Journal (pp. 511 – 526).
Related Topics