Investigate the different variables in Meringue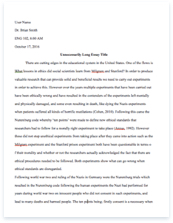 The whole doc is available only for registered users
A limited time offer! Get a custom sample essay written according to your requirements urgent 3h delivery guaranteed
Order Now
Task Analysis: To be able to investigate and answer the task I will have to carry out some background research on: what ingredients make up Meringue, especially what different sugars are used, generally. I will use my knowledge which I have obtained from Year 10 about Meringue's and apply it to the research I do in addition to this I will have to research different alternatives to sugar such as; agave nectar, honey etc. Also, I will be investigating what different eggs can do to the Meringue such as; temperature, type of egg (free range, white, brown etc. ).
Prior Learning:
Baked Alaska I made Baked Alaska in Year 10 using caster sugar and white eggs which were in the fridge, I didn't look at the different properties off the eggs, at the time especially in meringue, we looked and investigated at the fact that it was an insulator for heat (the meringue, made using eggs) – meaning it does not allow heat to get through it, we also had to separate the egg whites from the yolk, using the egg whites not only that, we had to ensure the bowl we mixed it in was completely clean with no; water, yolk or dirt to ensure it'd work. We also looked at emulsifying.
I also made it at home, for my parents meaning I have a little more experience baking "Baked Alaska". Eggs Eggs are a part of a low sodium/salt diet and is also a high source of protein. An egg yolk turns into a solid after you boil it for 16 minutes. Due to their ability to coagulate, the proteins in eggs are used in some recipes to hold other ingredients together. In Year 10 we looked at the different diets needed for people with different; needs, allergies hence how I found out it was a part of a low sodium/salt diet.
Research: The different egg temperatures: Cold Temperature
Apparently, cold temperatures keep the proteins rigid and stable when making meringue. However, tend to curdle the and de-emulsify which is only an issue if you add a bit of fat. As I did more research into what eggs are best for meringues at different temperatures, apparently fresh, cold eggs are recommended as they create a foam that is much easier to work with in addition to this, the meringue may have a delicate and very "uniformed" texture. Room Temperature Room temperature eggs do create a foam which is also good, however, may not be as good as cold eggs. Hot Temperature
In an investigation carried out, hot eggs will dry the egg out and also make it become very rigid and taste horrible. It was advised to have the eggs at room temperature. So which eggs work best? I'm not sure right now but one of my investigations will be to test all three of them and come to a conclusion based on the: flavour, colour, smell and look on a scale of 1-5 on each one, with 5 being the best and 1 being the worst – the total will then be added up, I will also get other people's opinion to reduce any bias and to ensure it is a fair investigation which is carried out.
Flavour and proteins are lost if overcooked they become rubbery and dry, why? It's due to the chemical bonds, once you cook them you merge chemical bonds, if you then overcook them you are then breaking the chemical bonds you just merged. A whisked egg white becomes foam, bubbles of air are mixed into, and trapped, by the egg white. The way that the egg affects the amount of air that can be held by the egg white. Ovalbumin (the main protein found in egg white) in the egg white starts to coagulate at 60°C.
Related Topics