Intersectionality Movement: My Experience as a Hispanic Female in the Political Science Field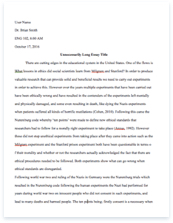 The whole doc is available only for registered users
Pages: 7
Word count: 1731
A limited time offer! Get a custom sample essay written according to your requirements urgent 3h delivery guaranteed
Order Now
The concept of intersectionality has played a significant role in countries all around the world. Intersectionality is a movement toward creating a common ground through discussing differences that us humans often experience. Through intersectionality, we can learn to understand the many forms of oppression and how they overlap. For me, I am a female and I am currently studying political science even when women are underrepresented in that particular field of study. I feel that I am not culturally accepted into the Hispanic community due to the color of my skin, and people racially misidentify me as White. I am currently working while going to school along with being apart of an extracurricular activity, all while balancing my personal life. I have a visible birthmark on my face which leads me to utilizing makeup to cosmetically camouflage it in order to feel confident about who I am and what I look like. I am a Hispanic female who has experienced racial misidentification and crude comments in result of, I have found pride in my culture and specifically my birthmark.
Being born into a Hispanic family you learn to adapt to the culture, food, and language. My parents originated from Mexico, from the states of Leon and Jalisco, and brought their family traditions from Mexico to the United States. Alongside family traditions, my parents raised me to follow Catholicism, which has played a huge role in my life. They were taught how to make traditional Mexican food, and both participated in Folklorico dancing, which is a type Latin American dancing that emphasizes local folk culture with ballet characteristics. Even with all this practice of my culture I am still often misidentified as White.
I am from Chino Hills, California, a city that has a population of 66,800 people, where approximately 57% of residents are White, and 25% are Hispanic or Latino. As I was becoming a young adult, I was frequently asked questions about my racial identity. Phrases such as "where are you from?" or "what are you?", which were common for me. I never fully understood why until I realized it was because of how pale my skin appeared compared to the rest of my family. This is the main reason why my peers continue to racially misidentify me as White. Edward Fergus, author of the journal article, "Because I'm Light Skin… They Think I'm Italian': Mexican Students' Experiences of Racialization in Predominantly White Schools", discusses how Latino/a students who are viewed by their teachers and peers as either "Mexican or Hispanic looking" and "White looking." The critical findings throughout this study offers important data on how we can begin to discuss the problems surrounding racially discriminating opportunities for Latino/a students. Fergus' article reminded me that my identity is continuously assumed to be White, because people are ignorant to the fact that not all Hispanics are dark skinned.
As time went on, the perpetuating stereotype that in order to be Hispanic, you have to be tan or dark skinned began to hurt my feelings. It became harder to seperate who I really am and what society told me I was. To this day, I still do not feel accepted among my Mexican peers. Skin color influences the behavioral outcomes and identity within an individual. Authors Dionne Stephens and Paula Fernandez in the article, "The Role of Skin Color on Hispanic Women's Attractiveness," published in Hispanic Journal of Behavioral Sciences, provide information explaining the qualitative methods used to investigate Hispanic Women's skin color perceptions. "…these women's responses illustrated how social constructions of race and ethnic ideals differ within groups and across locations, creating varied beliefs and ideals about attractiveness" (88).
Now a days, women of color get discriminated in many different areas in their life especially in the workplace. They are not viewed to be successful and get brought down a lot due to the color of their skin. As stated in the article, "Mapping the Margins: Intersectionality, Identity Politics, and Violence Against Women of Color," written by Kimberle Crenshaw, she explains the burdens that women of color face to promote the idea that intersectionality between race and gender shapes the structural and political aspects of violence against all women of color. Crenshaw says those burdens can be poverty, lack of job skills, and as well as childcare. Which eventually results into them becoming racially discriminated (1245). This gave me a different perspective on how I can possibly be grateful for my lighter skin and how it can benefit me in many ways. It gives me the advantage in my social and work life which makes it easier to blend in with my White peers.
Birthmarks are persistent visible red or brown marks on the skin that are shown at birth or shortly after. People, including myself, who have birthmarks tend to feel insecure and may even experience bullying throughout their lifetime. I have experienced bullying ever since I was a young child. I would feel the other children's eyes prying on my face and at one point I remember being told that my birthmark was ugly. I would cry to my parents and I even begged to switch schools. I received questions or exaggeration remarks about what was on my eyebrow. "You forgot to blend in your makeup on your eyebrow by the way." or "Oh what happened to your eyebrow?". One encounter I vividly remember is when I went to the nail salon and the nail esthetician was in the middle of painting my nails, licked her thumb and leaned forward to try and "wipe off" the brown spot on my eyebrow. I eventually learned to accept the fact that my birthmark defines who I am, but although I am an adult now, I have started to experiment more with makeup and I have started to receive fewer comments about my birthmark. With time, I became more confident with myself and with what I look like. The emotional and physical benefits of makeup, or cosmetic camouflage, can help increase your self-esteem and confidence in yourself.
Makeup was once seen as provocative and at times can be overused to the point where it is unhealthy. Despite this, there are many benefits to makeup that not many people consider at first thought. In the article, "Emotional benefit of cosmetic camouflage in the treatment of facial skin conditions: personal experience and review," written by Lauren Levy and Jason Emer, they discuss the practical use of cosmetic camouflage for patients with visible skin conditions located on the face, neck, or hands. Cosmetic camouflage provides a significant amount of emotional benefit for patients with facial skin conditions, or any insecurities what so ever. "Cosmetic camouflage is a technique using makeup to disguise disfiguring skin lesions immediately, with the intention of normalizing the appearance of the skin. This technique uses specialized products, including cover creams, liquids, and powders, that when applied in a systematic way, can rapidly disguise any areas of visible change" (3). Anybody that suffers with facial skin conditions, may have an increased rate of depression, anxiety, and decreased self- esteem. Cosmetic camouflage therapy serves as a tool to give immediate satisfaction to patients. Although many physicians do not consider cosmetic camouflage validated therapy, many see it to be submedical. Having a daily makeup routine bestows the brain and can essentially become therapeutic.
Women in the political science field are typically underrepresented by men. I am a political science major and even in my classes I am surrounded by more men than women. Women make up 51% of the United States population, yet there are more lawmakers in Congress that are male than female. After this years midterm elections, the new Congressional class of 2019 is the most racially diverse and contains the most female group of representatives. Although 42 women will be joining Congress, Men still outnumber women not only in Congress, but in the political science field as well. But, women of color are especially represented less than women overall. This year, there was an uprising of women in Congress. 23% of women made up the U.S. Senate, and 20% of women serve in the House of Representatives. In the journal article, "Women Also Know Stuff: Meta-Level Mentoring to Battle Gender Bias in Political Science," published in PS: Political Science &Amp; Politics, the authors Emily Beaulieu, et all, discuss that women are underrepresented in the political science field. They launched the "Women Also Know Stuff" initiative in February 2016 to highlight the diversity of expertise among women at the professional level. Women being absent in this field reinforces stereotypes about who is and who is not an expert. "We embody the fact that women have a range of skills and identities that further the production of knowledge in the discipline and the larger public discourse" (3). Women, and especially women of color need more representation throughout the political science profession. Women can be successful and we can conquer implicit gender bias issues together.
As a female who is passionate about politics and studying political science, I feel that we need to be more inclusive, especially in today's society were women are placed on a lower platform than the male population. Gender bias issues is becoming more of a common threat to women and even though I see these issues on a daily basis, I try my best to be more involved in my political science classes to prove that myself, a female, can initiate engagement among women who also study political science.
As talked about in all of these topics, having a voice in my life and what I believe in, as a woman of a different background, is important in order not to feel like I am worthy. Even though, I struggle with my identity and get seen as a White passing Hispanic, the connection I know I have with my culture does not involve the color of my skin. Unfortunately, people are always going to judge you based off the way you look and especially with having a visible birthmark, like how I do. What this has taught me is to understand that people are always going to stare and ask questions, that is reality. Through the discovery of cosmetic camouflage, I have found it easier to feel far more confident in myself. Even though women are racially discriminated, I do have a voice to demand change specifically in something that means a lot to me, like political science.
Related Topics