Intersectionality and the Social Determinants Women's Health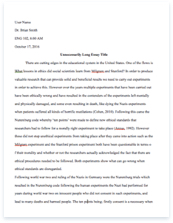 The whole doc is available only for registered users
A limited time offer! Get a custom sample essay written according to your requirements urgent 3h delivery guaranteed
Order Now
In this section, the theory of intersectionality and the social determinants of health will be explored in relation to their impacts on women's health. According to Bowleg (2012), "intersectionality is a theoretical framework for understanding how multiple social identities such as race, gender, sexual orientation, SES, and disability intersect at the micro level of individual experience to reflect interlocking systems of privilege and oppression (i. e. , racism, sexism, heterosexism, classism) at the macro social-structural level" (p.1267).
Feminist scholars identify these multiple social identities as issues that propel people, especially women, to positions of inferiority and oppression. These multiply identities also determine the conditions in which people are born, grow, work, live, and age, and the wider set of forces and systems shaping the conditions of daily life, including economic policies and systems, development agendas, social norms, social policies, and political systems (WHO, 2017).
These conditions point out the predisposition to illnesses and diseases as by-products of socio-economic and physical environmental conditions. On the other hand, illnesses and diseases can also emanate from deeper social structures that operate at the national and global levels.
Gender
Uterine Fibroids affect women's lives significantly. Many women suffer from this debilitating condition which often results in severe symptoms. For women suffering due to uterine leiomyomas "the personal is still political" and the work of "Women Health Movement activists realized that improving women's health would also result in improving health for all people, since women are typically responsible for the health of their families as well as their own" (Bernhard, 2017, p. 80).
In many societies, including developed and developing countries, the lives of women are made complicated by gender inequities. "Biases in power, resources, entitlements, norms and values, and the way in which organisations are structured and programmes are run damage the health of millions of girls and women" (Commission on the Social Determinant of Health, 2008, p. 1666). According to Rogers (2005), "gender inequality and discrimination harm girls' and women's health directly and indirectly, throughout the life cycle.
Female infanticide, inadequate food and medical care, physical abuse, genital mutilation, forced sex, and early childbirth are directly responsible for the deaths of many women across the globe" (p. 352). Additionally, "lack of decision-making power, and unfair divisions of work, leisure, and possibilities of improving one's life" (CSDoH, 2008, p. 1666) also negatively impact the health of women and girls.
Race/Ethnicity
Uterine fibroids affect significantly more black women than women of other ethnicities. Black women experience "significantly more severe fibroid symptoms and more impairment of daily activities" (Stewart, 2001, p. ). Moorman, Leppert, Myers & Wang (2013); confirm that "African American women have higher uterine weight, larger fibroids, and more numerous fibroids. This observation has been consistent across studies of women undergoing hysterectomy as well as those involving women undergoing myomectomy, uterine artery embolization, or ultrasound/magnetic resonance imaging (MRI) evaluation" (p).
Why is this the case? Moorman, Leppert, Myers, Wang (2013) theorize that "African American women… delay surgical treatment for fibroids because of insurance or access to care issues" (p. ). The amplified frequency of uterine fibroids among black women often results in an excessively higher rate of hysterectomy.
There should be a high level of concern among medical practitioners, healthcare providers, feminists, health care researchers, and social ethics as to the reasoning behind the disproportionate rate of hysterectomy among women of African descent. Groff et al. (2000) believe that the "presumed differences in uterine pathology … do not explain the higher morbidity and mortality African American women experience nor their younger age at time of surgery for most noncancerous conditions and the increased likelihood of abdominal versus vaginal procedures" (p. 40).
There is a paucity of literature on the rate of hysterectomy among women of other ethnic groups. Groff et al. (2000) report that "the hysterectomy rate for other racial/ethnic groups of women is lower than that for whites, but even less is known about indications and outcomes for these women (p.40). This shows the lack of research on the subject among these minority groups. Therefore, this issue needs to be addressed from an intersectional lens. Income/socio-economic status Women are among the world's poorest and marginalized population which result in increased levels of illness and premature mortality. However, "poor health is not confined to those who are worst off. At all levels of income, health and illness follow a social gradient: the lower the socioeconomic position, the worse the health" (CSDoH, 2008, p. 1661).
Women of low socioeconomic status often delay medical treatment for illnesses such as uterine leiomyomas because of lack of insurance or access to care issues relating to low-income or unemployment. Lack of income is the main reason for women being poor because women have fewer economic privileges than men. Dunkley (1997) posits that a "higher percentage of women have low pay, non-union part-time employment that generates a much lower income than do their male counterparts. As a result, women are twice as likely as men to be underinsured" (p. ).
Informal employment results in women having "less access to employer-sponsored insurance; they are therefore more likely to be in need of and eligible for government-subsidized insurance plans" (Dennis et al. , 2013, p. 1). Without medical insurance or with limited insurance coverage and the inability to pay cash, women tend to wait longer to seek medical assistance for uterine fibroids and other illnesses resulting in more debilitating symptoms which affect daily activities. The female disadvantage in socio-economic privilege is indicated by the fact that "women earn only 71 cents for each dollar a man earns" (Dunkley, 1997, p.).
Globally, "men are paid better than women, even when they have the same level of education and are in the same occupational field" (APA, 2017). This disparity in "income for women coupled with longer life expectancy and increased responsibility to raise children make it more likely for women to be at an economic disadvantage" (APA, 2017). This inequity in income diminishes the woman's ability to take care of her health needs and renders her powerless to control adverse circumstances.
The U. S.Bureau of Labour Statistics (2015) reports that "in 2014, 26 percent of employed women usually worked part time—that is, less than 35 hours per week". Treating uterine fibroids without full time employment and regular wages poses a significant burden to these women. To make matters worse, "women who suffer from menorrhagia are often concerned about failure of their sanitary napkins. These women will often be housebound on their heaviest days of menstruation, preferring loss of income to social embarrassment" (Vollenhoven 1998, pg. 174).
Stewart (2001) concurs by referring to menorrhagia as a "major source of social embarrassment and lost productivity for women in the work force, since some women need to change sanitary protection as often as once an hour" (p. 293). Surgical treatments for fibroids, such as hysterectomy and myomectomy, are often done via the abdominal route. This means that women need time off from work to recuperate. The average hospital stay for a woman associated with a hysterectomy and myomectomy is between 6 – 7 days and an approximately 6 – 8 weeks of recovery time.
This results in a loss of income coupled with steep medical bills associated with the fibroids from the time the woman first noticed the symptoms, to being diagnosed and treated. Given the gendered nature of care, women are also burdened with the responsibility of caring for their households since "providing care for others is a traditional female role" (Rogers, 2005, p. 353). This continuous lost of income and the additional responsibility of caring for the family drive the woman deeper into poverty.
Education
Education "improves people's ability to access and understand information to help keep them healthy" (Public Health Agency of Canada, 2012). Women and girls are falling between the gaps because discrimination in educational opportunities due to gender bias, still exists. "Poverty, geographical isolation, minority status, disability, early marriage and pregnancy, gender-based violence, and traditional attitudes about the status and role of women, are among the many obstacles that stand in the way of women and girls fully exercising their right to participate in, complete and benefit from education" (UNESCO, 2015).
Lack of formal education limits women's ability to get high paying jobs, reduces health due to the inability to afford proper food and housing, and puts women and girls at risk of trafficking, domestic violence, and exploitation. Women with limited education are sometimes unable to make informed decisions about medical treatment.
They may lack the skills needed to do research on uterine fibroids and other chronic diseases and may also lack the capacity to have an educated discussion with their health practitioner about what fibroids are, how they are treated, what treatment options are suitable, and what to expect from the treatment options available. Consequently, hysterectomy becomes a popular choice for these women.
Goff et al.(2000) found that "Hysterectomy is more frequent among women with a lower educational level and no vocational training and who reside in a community with lower than average income" (p. 40). Women who are unable to participate in medical decisions and information seeking are often left with limited understanding of their physicians recommendations. The inability to follow physicians' instructions can adversely affect women's health.
Hartsell (2005) reports that many medical practitioners "do not recognize the legal and financial implications of failing to identify low-literacy patients in their practice, and many are unaware of the low-cost solutions available for ensuring adequate care of low-literacy patients" (p. 41). It is estimated that approximately "one quarter of adults in the United States are functionally illiterate" (Hartsell, 2005, p. 41).
Additionally, "the question of whether literacy affects a person's health status was raised in 1998, when death rates for chronic diseases, rates of communicable diseases, and injuries were all found to be inversely related to education level" (Harstell, 2005, p. 44). According to Picker (2017), the more educated, on the other hand, have lower morbidity from the most common acute and chronic diseases (heart condition, stroke hypertension, cholesterol, emphysema, diabetes, asthma attacks, ulcer) (The Effects of Education on Health, para.7).
They are less likely to be hypertensive, or to suffer from emphysema or diabetes; substantially less likely to report that they are in poor health; and are less likely to report anxiety or depression. Additionally, their physical and mental functioning is also better; they spend fewer days in bed or not at work because of disease, and they have fewer functional limitations (Picker, 2017, para. 7).
Health Service Providers
There are currently many gender issues in the provision of health care. For instance, the medical profession consists of more male physicians them female and many female physicians are often mistaken for nurses or nursing assistants. Given the gendered nature of care, female physicians tend to spend more quality time with their patients. Verdonk, Benschop, de Haes &Largo-Janssen (2009) reported that "results from studies conducted in the United States suggest that female physicians have a more egalitarian style in communicating with patients and feel a stronger sense of responsibility towards disadvantaged patients" (p.137).
Women's and men's contributions to reproductive healthcare are unequal and their experiences in the health arena are also fundamentally different. Therefore, men systematically dominate key structural resources and positions of power in the medical field which affect women's reproductive health. "Women's reproductive health is affected by male policy makers, male health-care administrators, and male service providers, who may perpetuate a dominant ''male definition'' of what is important and what is not, without taking heed of women's perceptions and felt needs" (Dudgeon & Inhorn, 2004, p.1380).
This can be seen in the healthcare system that has its historical and current preoccupation with reproduction, especially maternity. Heath (2013) believes that women's health issues have traditionally been ignored in our patriarchal systems with the old paradigm viewing half the population as primarily emotional beings whose purpose was to bear offspring and serve the male (para. 1).
She further states that "although some progress has been attained in this area, many of the issues facing women continue to be marginalized, negated, and outright ignored by the male-dominated medical community" (para. 1). The patient-physician relationships are often unbalanced. Women often assume the dependent role when consulting male physicians about health issues, since the physician often exercises control in the physician – patient relationship.
According to Heath (2013), "the "culture of medicine" sees this imbalance as necessary, as the physician must be able to exercise leverage over patients to promote a positive change in an individual's health" (Professional Attitudes, para. 2). She further states that "this exercise of control is frequently more evident when the patient is female, who is likely to adopt the dependent role more readily due to societal norms" (PA. , para. 3). This is especially true when women's bodies must be scrutinized and examined by male physicians.
Additionally, women's social and medical concerns are "most often medicalized, with the symptoms warranting treatment by prescription drugs rather than addressing the underlying problem" (Heath, 2013, PA. , para. 3). There are economic advantages for medical practitioners who benefit from having a male dominated healthcare system by exploiting women. Heath (2013) argues that: Confusion around women's health issues can prove to be financially beneficial to several industries. With physicians serving as gatekeepers to treatment and censors to "accurate"
information, women may believe they are opting for treatment which is in their own best interests, however, others may benefit from her decision to use prescription drugs, supplements, and/or screening tests. (Economic Concerns, para. The medicalization, psychologization and trivialization of women's natural body processes benefit large corporations such as pharmaceutical companies, exercise industries, private hospitals, testing and imaging facilities, and the individual physician.
Related Topics