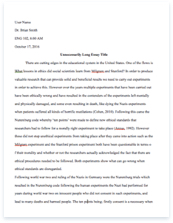 The whole doc is available only for registered users
Pages: 7
Word count: 1669
Category: Coach
A limited time offer! Get a custom sample essay written according to your requirements urgent 3h delivery guaranteed
Order Now
The Electrical Department at ICF works under the overall control of the Chief Electrical Engineer. The Electrical Design Wing is headed by Chief Design Engineer/Electrical. The Maintenance and Construction Organisation is headed by Chief Electrical General Engineer. Chief Electrical Engineer/Quality Control and Commissioning is responsible for Inspection and Quality Assurance of the components and coaches. The functional Wings of Electrical Branch of ICF are as follows:
a. Designs- The Electrical Design Wing is responsible for evolving new designs of coaches, equipments and sub systems, drawings and specifications for components and assemblies. The Design Wing is also responsible for issuing necessary interfaces for electrical equipments for incorporation in the Shell design and inputs required for Production Wing. This wing is also responsible for developing expertise in design of new generation self-propelled coaches, EMUs, DEMUs, Air-conditioned, Non Air-conditioned coaches and Luxury Trains for user Railways.
b. Production – The Production Wing is responsible for manufacturing of harness, installation of electrical equipments, wiring and complete electrical furnishing of the various types of coaches. The Production wing has developed the expertise in handling of different types of self-propelled coaches including 3 phase AC DC EMUs, EMUs, DEMUs, Ac & non AC coaches including luxury trains for RTDC & IRCTC.
c. Inspection – The Inspection Wing is responsible for Quality assurance of electrical components and systems used for manufacturing of the coaches. This Wing is also responsible for undertaking prototype inspection of newly developed components/equipments. This Wing is also responsible for testing and commissioning of self-propelled coaches and AC coaches to ensure quality and reliability.
d. Contracts and Development- The Contracts & Development Wing is responsible for liaising with the purchase department for ensuring timely availability of materials for coach production, customer complaint redressal and discharge of warranty obligations, failure analysis and corrective and preventive actions, development of new Items for coach production and development of additional sources for limited source items.
e. Maintenance – The Maintenance Wing is responsible for maintenance of Plant & Machinery including numerically controlled & CNC machines, EOT cranes etc. This Wing is also responsible for maintaining power supply for Factories, ie. Shell & Furnishing, D&D Wing, Hospital, Colony etc. The construction activities associated with new projects, safety works and replacement works of Plant & Machinery are also undertaken by this Wing. This Wing also is undertaking number of green energy projects such as installation of Wind Mill and Solar energy systems.
DEVELOPMENT OF NEW TECHNOLOGY & EVOLUTION OF NEW DESIGNS:
1. ICF has designed the new AC DC EMUs with state of the art IGBT base 3 phase propulsion system being used for the first time in EMU stock of Indian Railways. Designs of the coaches including development of new items such as Air Handling Units for this project also have been undertaken by the Department.
2. ICF has developed emergency feed terminal arrangement for AC coaches and equipped it in 18 coaches for trial in user Railways. The system will ensure extension of power supply from adjacent AC coach, so that comfort of the passengers is maintained in the event of failure of coach battery in AC coaches.
3. ICF has developed Specification and introduced GPS based Passenger Information and Display system in AC EMU rake for Southern Railway. This is the first time that such a system is introduced in EMU stock in Indian Railways.
4. In order to improve the reliability and maintainability of ventilation fans in non AC coaches, 2.5 kVA inverters has been developed and coaches have been provided with AC fans and 2.5 kVA inverters. 5. In order to ensure better ventilation, ICF has developed 110 V ac 450 mm sweep fixed type RC fans for the use in EMU doorways in place of 400 mm sweep fans.
6. ICF has developed specification and provided GPS based Passenger Information and Display system in Garib Rath coaches.
7. Specification for LED based Disaster Management emergency light was developed and provided in all types of coaches manufactured in ICF since 2007.
8. As a passenger amenity, 100 VA inverters for lap top/mobile charging points to ICF Spec.No. ICF/Elec/922 was introduced in Second Class SL coaches since 2007.
9. New designs of Kolkata Metro coaches have been developed. These coaches have state of the art features like Passenger Information and Public Address System, air-conditioning with roof mounted ac units and with other advanced features such as inverters for power supply arrangements instead of MA set of existing design of coaches and electrically operated door control unit and state of the air brake system with TBU etc.
10. Power Supply and Maintenance of Machinery & Plant:
i. The Maintenance and Power Supply Wing looks after the power supply arrangement for major load centres in Shell Factory.
ii. Ineffectiveness of Machinery & Plant are kept at 1.2%.
iii. Continuous monitoring and energy saving methods deployed has resulted in reduction of specific energy consumption per ECU to 10974 units.
iv. Various safety works such as shrouded contactors in place of DSL, anti-collision device for EOT cranes have been undertaken.
v. Various energy saving measures has been undertaken by the department:
a. Provision of LED indication lamps instead of incandescent indication lamps.
b. Installation of Turbine Air ventilators in workshop roof tops.
c. Introduction of timer circuit in the air circulating fans for switching off the fans during non working hours including lunch hours and break hours.
d. Replacement of 300W IC lamps with metal halide lamps.
e. Switching off stand-by transformers at various sub stations.
f. As a result of energy audit, there was reduction in pressure settings of compressed air lines, replacement of gate and globe valves with ball valves in order to arrest leakage.
11. ICF has installed 10.5 MW Wind Mill Project in April 2009 to harness the wind energy.
Manufacture of state-of-the-art dual voltage EMUs for  Mumbai Rail Vikas Corporation By ICF
During peak hours a nine car EMU train in Mumbai carries more than 5000 passengers, the resultant passenger loading density being 16 passengers per sq.m area. This will undoubtedly call for a substantial upgradation of the existing suburban railway network and its effective management.
Indian Railways have formed a separate corporation for managing the suburban railway system of the Mumbai Megapolis i.e the Mumbai Rail Vikas Corporation. This is part of the larger World Bank aided Mumbai Urban Transport Project (MUTP) which involves overall upgradation of the existing rail and road transport systems and their effective integration for providing a satisfactory transport solution for Mumbai. The total investment involved in the MUTP is 4,500 crores in Phase-I of the project.
ICF has completed the design for three numbers of AC /DC coaches with 3 phase propulsion for MRVC were finalized and shells for one number each of Motor coach, driving trailer and C coach are ready for furnishing. Based on the various discussions among MRVC, RDSO and ICF, the following features shall be incorporated in the 3 prototype coaches and on receipt of feedback from WR, the same will be implemented in regular AC DC coaches of MRVC :
Wiring and speakers will be provided for Public Address System Central Aisle Lighting with two rows of lights Emergency Light using fluorescent light
Modular switches for compartment fans
Fans with injury free features
Poly carbonate single lookout glass
FRP drivers desk
Air conditioning of drivers cab in D coach LED type head code
Roof Mounted Package Unit for improved ventilation in the compartment
Other features of these coaches are:
Higher energy efficiency on account of regenerative braking ? energy consumption would reduce by 35 % compared to the present level. Reduced maintenance requirements and thereby maintenance costs on account of :
reduced wear and tear of brake blocks since majority of the braking effort comes through regeneration
use of squirrel cage induction motors which are inherently more rugged and robust compared to the DC series motors. Also these motors are without carbon brushes eliminating brush and commutor related problems associated with DC motors
As a consequence, down time of stock fitted with three phase propulsion will be much less compared to the DC system and hence availability will be higher. Higher torque and speed potential ? with AC traction motors for the same weight of the motor, much higher power can be derived from the motor (about 50 % higher). Also with the use of microprocessor controlled operation of the power electronics, maximum torque can be achieved over a wider speed range improving the running performance of the train. Easy maintainability on account of use of microprocessor based control system which has built in fault diagnostic feature with fault identification and data logging facility, enabling quicker identification of faults by both maintenance staff as well as the motor man. Driver friendly features like a comprehensive cab display system giving coach wise indication of the health of the traction and braking system, fault diagnostics system, energy drawn, energy regenerated etc. Following parts of the car body, which have been identified as corrosion prone will be manufactured out of stainless steel:
Trough floor
Sole bar
Body pillars
Side wall below window sill level
Cross bearers
The coaches with Siemens Electrics will have following special features:
Use of IGBT based converter-inverters as against GTO based converter-inverters used on the dual voltage EMUs now in use.
Use of air driers in the pneumatic circuit which will improve the reliability of the EP brakes and air springs. Use of train communication network and multiplexing
Use of passenger information and communication system incorporating the following features :
Destination indicator on the front face of the driving coach using high resolution LEDs
Use of fire detection and extinguishing system consisting of smoke & heat sensors, audio? visual alarms and fire extinguishers.
Use of coach ventilation system to make adequate fresh air available in the passenger area particularly during heavy passenger loading conditions.
Provision of independent converter and inverter for each pair of traction motors and provision for isolation of a bogie in the event of a traction/auxiliary circuit fault.
Related Topics