Informative Speech Outline on Sumo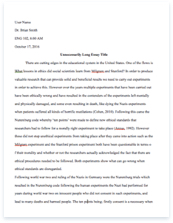 The whole doc is available only for registered users
Pages: 3
Word count: 611
Category: Sports
A limited time offer! Get a custom sample essay written according to your requirements urgent 3h delivery guaranteed
Order Now
INTRODUCTION
Originating in Japan, sumo wrestling is a competitive full-contact wrestling sport where a wrestler attempts to force another wrestler out of a circular ring. From meals to their manner of dress, their daily lives are dictated by strict tradition. Tonight I will enlighten you about what they do in and out of the rings. I am confident that each one of you will leave here tonight knowing at least one new fact about Japan's sumo wrestling's culture-rich history.
BODY
I. Sumo wrestling began many centuries ago in Japan and is still thriving today. A.During the age of the samurai, the early 1600's, sumo wrestling was born. 1. Considered to be a modern Japanese martial art, it's Japan's official national sport.
2. Matches were once held to raise money for structural replacements and shrines.
3. Japan's oldest professional sport.
B.Sumo matches consist of only 1 referee, 2 wrestlers and 5 judges.
1. Average match is approximately 8 seconds long.
2. Only 6 tournaments a year featuring over 15 days each.
C. 1. Wrestlers serve as cultural ambassadors when they take part in events overseas.
II. A day in the life of a sumo wrestler is both traditional and highly regimented. A.Wrestlers live, eat and practice together in stables throughout Japan.
1. Over 62 stables in Japan with approximately 980 wrestlers.
2. Referees, ushers and hairdressers also share the stables its responsibilities.
3. Stables are run by the oyakata, a retired sumo, and his wife, the okamisan. B.Their days begin at 5:00 am and end around 10:30 am during training.
1. After training, the wrestlers are free to do whatever they'd like to.
2. Almost all wrestlers continue to train vigorously for the rest of their day.
3. Wrestlers are encouraged to deviate from daily training to allow for ample naps, proper bathing and carb-enriched food and alcohol consumption. C.They are expected to conform to strict traditions upon entering sumo.
1. Grow their hair long to form a topknot.
2. Wear the chonmage, a traditional Japanese dress, when in public.
3. Abide and follow the proper chain-of-authority amongst the 6 divisions.
III. Sumo bouts consist of honor, culture, tradition and religion. A.Wrestlers fight in 14 ft. circular diameter made of dirt, a dohyo. 1. Matches are won by forcing your opponent outside of the ring or by any part of the opponent's body touching outside the ring. 2. Inside the ring if any part of the body, except the sole of a foot, touch the ground the match is over.
B.Traditional clothes are worn, complimented by hairstyles and props. 1. Wrestlers wear only a loincloth, a mawashi, and style their hair in topknots. 2. The gyoji, or referee, wears a kimono, like the samurai, with a shinto priest's hat and a large wooden fan for addressing the wrestlers. 3. Water is kept in the corners for purifying themselves, called strength-water. 4. Salt is kept in the corners to purify the ring.
C. Sumo wrestling is a strict hierarchy based on sporting merit. ​1. Divisions are based on rankings from tournaments.
​2. The lower division, the more work and responsibilities one must do. 3. The highest-ranking sumos have everything done for them.
4. The level of luxury and lifestyle depend solely on the ranking.
CONCLUSION
Thank you everybody for your time and attention and allowing me to present this information about Japan's sumo wrestling and its culture-rich history. We can all agree that sumo wrestling embodies the time-honoured traditions of its past while preserving its indigenous customs and rituals for the future. Sumo wrestling is not just a sport: It's also an income, a career and national title, an example of living-history, and a lifestyle.
Related Topics