Information Literacy in Project Management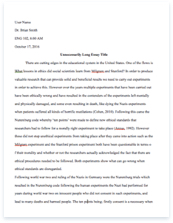 The whole doc is available only for registered users
A limited time offer! Get a custom sample essay written according to your requirements urgent 3h delivery guaranteed
Order Now
How Information Literacy Influences Scholarship, Practice, and Leadership in Project Management (PM) According to the Project Management Institute (2012), "Project Management is the application of knowledge, skills, and techniques to execute projects effectively and efficiently. It's a strategic competency for organizations, enabling them to tie project results to business goals — and thus, better compete in their markets." Information literacy is receiving acknowledgement in the Project Management field. Information Literacy is "defined as a skill of searching, evaluating, using and distributing all kinds of information, which is developed during whole life" (Turusheva, 2009, p. 127). Individuals who have studied how to learn are information literate. Information literacy involves "critical thinking, an awareness of personal and professional ethics, information evaluation, conceptualizing information needs, organizing information, interacting with information professionals and making effective use of information in problem-solving, decision-making and research" (Bruce, 2009, p. 46). These individuals are prepared for lifelong learning, because they continuously obtain the data required for every duty or outcome approaching. "Information literary is not remedial; it is foundational" (Badke, 2009, p. 49).
Project Management is always developing and transforming that requires individuals to be lifelong learners, contributors, and provide helpful encouragement. Projects are implemented as methods to accomplish a company's objectives. A project manager's responsibilities and duties to his or her staff and shareholders affect the project results and execution. As a project manager being a lifelong learner is necessary. Effective project managers are continuously learning. According to Altwies (2012), "a project manager must approach every project by knowing that there will be something they do not know and be a quick study on the industry and seek out those that can help navigate the nuances of that industry." Information is always transforming and refining, requiring that project managers be adaptable and lifelong learners. Overseeing or controlling a project is dissimilar from running or supervising a company.
A project manager's leadership skills are to "motivate the project team and create a project vision, to build and maintain relationships inside and outside the project team, to ensure commitment to the project and to accelerate the performance of the team throughout the project life" (Ong, 2009, p. 158). Given the importance of methods and staff in project completion, the project manager has to concentrate controlling and managing roles; the stress moves from one position or the other based on the magnitude and attributes of the project. Project managers need to have valuable leadership traits to be able to differentiate themselves. Leadership experience is not an optional skill, but a vital part of being an effective, proficient, successful project manager. Therefore, leadership is believed to be a factor of accomplishment as it offers insight and capability to deal with variation.
For a project manager to collaborate more, one must understand the goal, identify clear roles, recognize interdependencies, ask questions, communicate, break it down, look at the past, and look at the future. A project has a definite completion, it is imperative that each contributor to the attempt recognizes the anticipated termination. By knowing the chosen outcome, a project manager can make valuable individual choices and decrease misunderstanding and changes. All individuals are a critical part in the whole project. Teamwork is imperative to the definitive accomplishment of the project. Once the roles are identified, each contributor is in position to work together more effectively. A successful project team attempts to collaborate to accomplish a project, the outcomes frequently achieve a higher level and worth. Consequently, successful collaboration is extremely imperative for the accomplishment of any project. Information literary is a necessary skill now and forever.
"Many post-secondary instructors and others recognize the relevance of information literacy today more than ever" (Russell, 2009, p. 92). Lifelong learning in project management is an advantage. Although a project manager gets to finish the project with the abilities they have, they too get a chance to focus in a specific field. Even though a project manager must be capable of successfully overseeing targets regard to time, span, and budget, his or her job does not end at this point, because they have to handle various matters and targets and be capable to guide the individuals executing them. Helpful contribution in project management is necessary, because a catastrophe of the project team's vision and consistency can damage a productive project end. Although leadership methods are rather forthright, successful project managers must know how to execute leadership skills and seek lifelong learning in any subject they want to improve as part of their advancement.
References
Altwies, D. (2012). Lifelong Learning as a Project Manager. Retrieved October 25, 2012, from http://www.projectinsight.net/community/blogs/project-management-tips/archive/2012/02/03/lifelong-learning-as-a-project-manager.aspx Badke, W. (2009, July/August). How we failed the net generation. Online, 33(4), 47. Retrieved October 25, 2012, from EBSCOhost database. Bruce, C. (2009). Workplace experiences of information literacy. International Journal of Information Management, 19, 33-47. Retrieved October 25, 2012, from http://www.personal.kent.edu/~wjrobert/images/WorkplaceInfoLit.pdf Russell, P. (2009). Why universities need information literacy now more than ever. Feliciter, 55(3), 92. Retrieved October 25, 2012, from EBSCOhost database. Ong, V., Richardson, D., Yanqing, D., Qile, H., & Johnson, B. (2009). The role of project leadership in achieving effective project management. Proceedings of the European Conference on Management, Leadership & Governance, 157-163. Project Management Institute (2012). What is Project Management? Retrieved October 25, 2012, from http://www.pmi.org/About-Us/About-Us-What-is-Project-Management.aspx Turusheva, L. (2009). Students' information competence and its importance for life-long education. Problems of Education in the 21st Century, 12, 126. Retrieved October 25, 2012, from EBSCOhost database.
Related Topics