Indentify the Competitive Factors in the Retail Environment a Selected Business Faces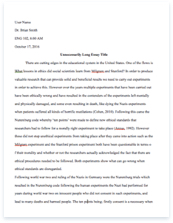 The whole doc is available only for registered users
A limited time offer! Get a custom sample essay written according to your requirements urgent 3h delivery guaranteed
Order Now
In this assignment I will explain how the retail sector response to internal and external change. I will also use a retail company to give example. The retail outlet is Batavia Stad.
Retailers have no control over their external influence; this would call the macro environmental factors. Under this factor includes:
1. Changes in consumer and business confidence
2. Changes in the housing market
3. Developments in the employment levels
Retailers may become successful once they look forward to these influences and react on them consequently. However, external factors should not be ignored as they pose a threat to the long term survival of an organization. A retailer macro environment could be affected by the following:
1. Changes consumers taste
2. Rapidly changing market
3. Increase in competition
Therefore, in order to stay competitive and up to date with the macro environment , is to conduct a PESTLE analysis.
The role of Government :
There are many different government policies that could potentially affect Batavia Stad. One of those is fuel duty, if fuel duty is raised then it may mean that less people will choose to visit by car, since it is not seen as value for money. So people may choose to visit city shopping centres such that is closer by and more accessible along the motorway. If the Government raised VAT it would probably mean that people would buy less, because they have less value for the money, so Batavia Stad will make fewer sales because no one will one to take the ride down and up, especially located in Groningen.
Nowadays, more and more people choose to do shopping online, one because it's extremely convenient as you can do it from home, or even using your Smartphone. Batavia Stad will need to be competitive and diversify by being online in order to keep up with the competition of today.
The role of Social changes :
changes in social values and trends impact the goods retailers sell and how they relate them to consumers. Batavia Stad is constantly under pressure due to the fact that they have to implement social responsible business practices. Such as, environmentally friendly products. Government and social factors, somehow overlap in many areas; retailer that fails to obey the rules to new social norms. Will lose the business to companies that are willing to adapt.
The role of New technologies:
technologies plays a major role in changing the way retails companies do business. It does not only create new products but also advancement, such as the internet offering retail customers shopping options. Examples of technology opening new retail markets are, Amazon.com. Billing systems have improved the retail industry by allowing retailers to develop new processes that increases their efficiency.
The role of Economic growth:
sales are driven by the economic environment from retailers. The economy plays a role in increasing the consumers disposable income, sales and allowing the retailers to sell more valuable goods, such as high end electronics. However, the economy becomes slow it will decrease consumers confidence and cause people to spend less. Which can lead to sale declining and forcing retailers to lower their prices.
The role of Recession:
this is when the gross domestic product has coupled with the negative economic growth to be a recession. A recession can kill a business operations, by having them to lower their prices to meet the demands of consumers. Meaning that the growing economy has to come down it the production rate of goods and services was more the actual consumption. However, it also affects consumers who are fearing of losing their jobs, so they will have less confidence to spend money and buy goods. This will result in reductions in demand in the market.
New retailing concepts
consumers are continually looking for new leisure experiences and life changing activities. Which do have an impact on reshaping the products and service of retailing. Shops will have to continually reinvent themselves to maintain and retain their customers. Moreover, the development of shopping for a mobile population is creating a new retail opportunities. Air travels continues to rise as the number of destination being targeted by low cost airline are on the increased. Consumers are increasing the use of rail network as they buy from all convenient stores on their way to their destination, while those outlets are enjoying the increase of demand.
Related Topics