In Your Opinion, What Is the Most Difficult Skill of Learning English?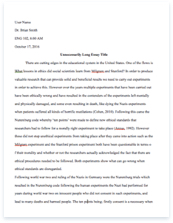 The whole doc is available only for registered users
Pages: 2
Word count: 292
Category: Learning
A limited time offer! Get a custom sample essay written according to your requirements urgent 3h delivery guaranteed
Order Now
Many English learners say that listening is more difficult than any other skills. But in my opinion, writing is the most difficult skill of learning English. Firstly, writing requires good grammar. A non-native person has to remember a large number of rules in structure which are quite different from their own language. Secondly, as we all know that people spend less time to write than to listen, to speak and even to read. Learners learning the language in their country are proved to read more than any other skills while learners learning overseas must listen to the language most of their time. In any cases, they spend little of their time for writing. It is clearly known that an average person spend the most for listening, the second most for speaking, then reading and finally writing. Thirdly, when students of English as a foreign language write something, they have a big question in mind whether what they write is correct or incorrect.
Who can answer the question for them and help them recognize the mistakes. It is, in many cases, the teacher who is teaching them and is ready to give them a hand. The problem however I want to mention is that the teacher does not have enough time to correct for all of them if there are more than ten students in the class. When the teacher corrects the writing for just some of them, the other students cannot recognize their own mistakes. Without correction, the mistakes may be repeated many times and become bad habits which are hard to adjust. In conclusion, writing is the most difficult skill that learners of any foreign language may face. To be good at it, learners must give much effort.
Related Topics