Importance of Three Step Writing Process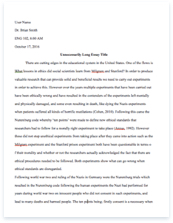 The whole doc is available only for registered users
A limited time offer! Get a custom sample essay written according to your requirements urgent 3h delivery guaranteed
Order Now
Man is a social animal and is thus bound to interact and communicate with those in his surrounding or social network. This communication can take many forms; writing is one of the most important ones. One of the characteristics that distinguish writing from others is that it is supposed to be comparatively more planned and formal effort. In order to make the communication through writing more effective, various communication practitioners and experts have recommended some best practices. One of them is the Three Step Writing Process.
The "Three Step Writing Process" includes planning, writing and revising (completing). The use of this Three Step Writing Process is important in order to develop an effective communication message.  First of lets look at the importance of these three steps individually.
Planning refers to analyzing the situation, gathering the relevant information, selecting the right medium and organizing the message. This step must be performed as the core purpose of any communication is to get the message understood by the receiver. This can be done only when the message is designed according to the needs and the context of the receiver. Planning the message ensures that the message thus formed is customized to the needs of the receiver so that the same message could be understood by the receiver that the sender intends to send. Writing refers to adapting to the audience and composing the message.  This step is the core of the writing process and the significance of writing is undisputed in the process. Next step is to revise, proofread, edit and distribute the message which helps to eliminate errors and potentially misleading words or ideas so as to enhance the effectiveness of the message. Moreover, to follow the same sequence of these three steps is also essential, as it ensure the proper delivery of the well planned and the customized message.
All in all, to follow these steps ensures the pragmatic approach towards writing that helps to make the message clear and effective. Failing to do so may either devoid the message from the customization to the receiver's needs or make the message erroneous that would not only portray the writer's image as the careless one but also tend to the failure in achieving the core of any communication process – making the receiver perceive what the sender intends to.
References
Hildebrandt, H., Murphy, H., & Thomas, J. (1997). Effective Business Communications. New York: McGraw-Hill/Irwin.
Guffey, M. (2007). Business Communication: Process and Product (with meguffey.com Printed Access Card). Mason, OH: South-Western College Pub.
Related Topics