Importance of Communication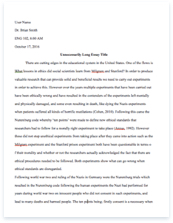 The whole doc is available only for registered users
A limited time offer! Get a custom sample essay written according to your requirements urgent 3h delivery guaranteed
Order Now
The importance of communication skills cannot be underestimated. Good communication skills are necessary in all walks of life. The lack of effective communication skills have a negative impact on the personal as well as professional life of a person.
❒ Good communication skills are a prerequisite for healthcare providers. – Ineffective communication, rather than incompetence, precludes the doctor from conveying to the patient that the former has the best interests of the patient in mind. For instance, a doctor may be knowledgeable and may have considerable expertise in his area of work. However, a patient may feel neglected or ignored if the doctor is not particularly good at communicating. The disillusioned patient may also consider getting a second opinion. A simple miscommunication, especially, when a one is ill, makes one feel awful. A good health care provider, who is able to put patients at ease with a few comforting gestures and words, will definitely be an asset to any hospital.
A teacher, who is able to communicate well with students, can inspire them to learn and participate in class. – Workplace communication can improve by participating in a facilitated workshop. A workshop facilitator needs to be able to communicate. Without effective communication, the goal of workshop facilitation cannot be realized. The facilitator needs to be able to identity dormant participants, and encourage them to come forth with their views without seeming overly patronizing. All this is impossible unless the facilitator has astounding communication abilities coupled with a natural empathy toward fellow beings.
Good communication skills are an invaluable asset to a salesperson since he/she is entrusted with the task of convincing the prospective buyer about the wisdom of investing in a product.- This is done by assessing the needs of the buyer and suggesting a product that would meet the buyer's requirements. The product may offer a vast array of easy-to-use features that would definitely help in improving the quality of life of the user. Who better to convince the buyer about the multitude of features that the product has on offer, than a salesperson with a flair for words!
While the importance of verbal communication cannot be underestimated, one cannot do away or ignore written communication. – A simple billboard, carrying a well-written message, manages to hold our attention at a crossing. Authors have been mesmerizing voracious readers by the power of their words. The enthralled reader flips through the pages, reading well into the night, without giving much thought to the mode of communication. The aforementioned examples would have clearly illustrated the importance of communication skills.
Communication does not refer only to articulating words. Using sign language and the sense of touch to express and feel are also important modes of communication. Ultimately, communication should be effective. As long as there is clarity in communication, the goal of communication will be accomplished. IMPORTANCE OF COMMUNICATION SKILLS TO STUDENT:
Communication skills are essential for the successful future career of a student. In todays competitive world, communication skills in business are the most sought after quality of an educated person. Reading, writing and listening carefully are the three most important communication skills for students. These skills like most of the communication skills sounds too familiar as a result of which we take them for granted. As regards reading and writing, the only thing that we need to tackle is to adapt with our growing age and concentration. With these two qualities, it is possible to develop reading, oral communication skills and writing skills. Apart from reading and writing presentations, reports and speeches are a part of school curriculum. This has been introduced in schools and colleges for the overall development of students. This makes expressive skills and managing skills also important for a student. It is also important to develop communication skills in relationships.
What deserves more attention is that most of the students do not feel confident to make presentations and speeches. But realizing the importance of these skills in modern day life, most good schools have made it a regular part of their curriculum. Here comes the role of expressive skills and managing skills. Expressive skills are those which are used to express our feelings, thoughts and expressions and thus get across our point successfully to the listener. To develop expressive skills, students need to learn is how to communicate effectively and get the full attention of the listeners. After this, management is an important part of a students life so development of management skills is also important for the success of the student. Listening skills are also an important skill that should be taught to a student. Listening skills should not only be limited to the classroom but also in a normal conversation. Students should be taught as how to give undivided attention to a person with whom a conversation is taking place. Also, students should be taught as to how to show the other person respect when the other person is speaking. Such etiquette is a part of conversation in every sphere of life, be it professional or personal.
Now that we have learned as to what specific communication skill a student must have, it is important to learn how to develop communication skills in a student. The first activity to develop communication skill in students is group activities. Teachers should limit group activities not only in the classroom but also ask students to complete assignments in equally divided groups. Also the teacher should continuously change the groups. This is so that there is more interaction among the students. This process helps a lot in the long run. The next activity is to develop communication skills for students. This is to put in the habit of active listening. For this, the teacher should continuously read out something from newspapers magazines and other sources in order to ask questions from that. Also the teachers should make it a point to encourage active participation of the students. By infusing a healthy feeling of competition and curiosity in students, it would become possible to develop communication skills for students.
With these tips, go ahead with confidence and put them into practice. Communicating the intended message clearly and effectively is an important skill, which is often a key factor in deciding the chances of success. Communication is the process of transforming information from one entity to another; but communication skills are a set of important attributes that highlight one's personality. You need to focus diligently on your communication skills to convey your ideas better. Communication skills can be broadly categorized as follows: 1. Written Communication – Irrespective of whether it is a verbal or a written communication, it needs to be precise and lucid. As a thumb rule, avoid using jargons just for the sake of adding weight to your message, which cannot be understood by the readers. Short sentences pack more power as they are easier to read and understand, but they should be correct, clear, consistent, and concrete. Maintain a certain degree of subtlety in your approach. Simply using words from the dictionary doesn't mean that you have a good vocabulary.
You cannot expect people to run through a dictionary every time they come across some new word. Rather, if you provide enough choices and variety in your language that would make the reading and listening experience of your audience more comfortable and enjoyable. Without this, writing might be a big turnoff to most readers. 2. Verbal Communication – While communicating verbally, you need to speak out your point succinctly and clearly, paying careful attention to your pitch. Modulate your tone within the context of the topic. Ensure that you do not ramble or recite your points, as it may seem very unimpressive, which might also project you as unintelligent. You should be well aware and thorough about the subject you are speaking on and should be able to justify your points with logic, facts and figures. Make sure that you are speaking effortlessly, preferably at a slow pace and not just uttering what you have memorized. 3. Listening Skills – Good communicators know the importance of listening.
They will tell you that listening is more important than even speaking. While in a conversation, if you do not listen carefully to what others are speaking, it will appear as if you are simply trying to put your point of view only and trying to dominate others, which might project you as very arrogant. This at times may prove a pitfall for you. Resist distractions and encourage the speaker. A good listener has the power to create a good audience, so try to maximize your audience and pay regard to what they say. Improving your communication skills is an art that comes with regular practice. As proven, practice makes a man perfect, start with a noble intention and keep practicing dedicatedly till you reach perfection. No matter how intelligent you are, your communication skill is the only attribute that will help you to convince your target audience. So, make wise use of your words skillfully and make sure to establish your point politely. Remember, the art of communication is the language of leadership.
Related Topics