Implementing Change Paper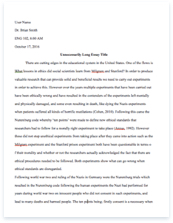 The whole doc is available only for registered users
A limited time offer! Get a custom sample essay written according to your requirements urgent 3h delivery guaranteed
Order Now
Implementing change in an organization is complicated. It is important that a manager understands their role and responsibilities for which could very well be the success or failure of an organization. A manager should know how to handle staff resistance, and the areas that require change. There are processes that help management with assisting their staff members with adjusting to change and concentrate on the areas of importance. This process includes planning, assessment, implementation, and evaluation. The difference between a failed organization and a successful manager is when the manager has the ability to implement change with little disruption to their staff members. There are three different categories that a manager needs to be aware of in any organization when implementing change. Change in people is first; how implementing change and how people relate to each other effects how an organization functions effectively.
The manager needs to be able to communicate to the staff why the change needs to take place in the organization. "In order for the change to be successful the explanation should be detailed enough that staff members feel encouraged making a personal investment" (Ezine). The management team needs to be aware of an area of weakness that can occur, that being a manager seeing the big picture and the goals that you may be trying obtain and will benefit the organization certainly does not mean that others can see your vision as well. A manager needs to get their staff members to see the same big picture and have a clear understanding of how this change will benefit not only the organization but them as well. If people are included in the change and it benefits them personally than they respond positively and with enthusiasm.
The processes are where the second area of change in a organization can take place. This is the area that determines the way things handled and done within the organization. The staff members that do the day to day process should be heavily involved in the changing processes. By a manager involving there staff members that the can will affect helps them to determine if the change took a positive or negative effect and if a new approach needs to be taken. The third change is that of equipment, managers and staff members need to know how to operate any new equipment in the organization that plays apart in being able to do your job. This particular area needs to constantly be addressed and updated, it is found to be the most expensive and critical to the success of an organization. If an organization does not keep working updated equipment it could very well hinder the business of the organization and at the same time be very costly.
An organization could also fail if they do not have the option to repair or replace a part on equipment that is outdated. Therefore, by an organization making regular equipment updates and replacing equipment for new models will save the organization a lot of time and money as an end result. It is important that a manager is aware when trying to implement change which of the three categories to implement first. If all three categories are not combined together, implement changes can be done by a manager with little disruption and minimal staff resistance. There is staff resistance in every organization that a manager needs to know how to deal with and be able to handle and produce an outcome that is positive.
This helps the organization to see how successful of a manager they hired. Some of the common factors that involve change in employee morale issues are; insufficient training, communication breakdowns, budget restraints, and/or employee turnover. How a manager overcomes these obstacles determines if an organization will be successful or not successful. For a manager to address employee resistance the rationale behind the change needs to be properly explained. When it comes to correcting employee moral a manager needs to be able to handle employee's, fears, concerns, and build a good working relationship with so that employee's feel comfortable addressing concerns with them.
Communication break downs are an important component to change and how they are handled. While the implementing phase is taking place managers need to have a open line of communication and address any questions that may come up, and address any conflicts that arise right away. In each area that a manager overseas should know their responsibilities, coaching and paying full attention to employee's and provide positive feedback are key components to a manager's role within an organization. A solution to staff resistance is providing employees with confidence regarding positive change as well as apositive organization plan. Four different processes are followed in any organization.
Assessment is the first process, "an organizations performance can be determined by collecting information systematically" (CLAS). Data is being collected to review how employees and the organization as a whole are performing when I manager uses the assessment process. At this time the manager should be providing feedback regularly during the assessment process as to what areas need improvement, the areas that are strong, and what areas need to change. If at a point the manager decides change needs to take place the next step would be planning. Planning identifies the problem this determines what is contributing or causing the problem, then a solution needs to be found. It is up to the manger to find out all the information gathered and find a solution that will work best with resolving the problem.
The third step is the implementation phase in the managing process. The implement process occurs when the manage has found the solution to the problem and now wants to incorporate the change by implementing it into the agenda in hopes that is provides a positive result which solves the problem. The final step to the process is the evaluation, Once the manager has assessed the situation, problem has been identified, a solution found, the final process evaluates the solution found. The questions are being determined as to be it successful? Is the solution working? Does it need to be improved?
Managers share and better understand results that are of a successful change. By the manager keeping an implementation example of how change worked successfully can be later used as a reference guide for future implementation guides. A manager's role is essential and critical in implementing changes for organizations. Managers need to determine which areas need to be changed and which areas do not. Managers also encounter employee and other obstacles that they need to successfully handle with open communication and confident solutions. By an organization that has managers that follow the change process in the daily agenda are most successful.
References
(2011) CLAS. Retrieved on from 6/21/14. http://www.clashealth.org (2008). Ezine article. Retrieved on 6/21/14 from http://ezinearticles.com/Implementing change Mgt.
(2011). Implementing change retrieved on 6/22/14 from http.www.solutions4training.com
Related Topics