I Think, Therefore Im Summary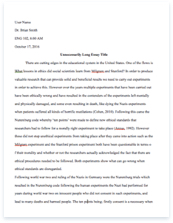 The whole doc is available only for registered users
Pages: 2
Word count: 433
Category: Mind
A limited time offer! Get a custom sample essay written according to your requirements urgent 3h delivery guaranteed
Order Now
Jennifer Lee writes about the use of different spelling and writing mistakes that were a new phenomenon in 2002. She writes about the teacher, Jacqueline Harding; an eighth-grade teacher, who always shows her new students each year what different common mistakes are that are made. For example, "their, there, and they're" or "your and you're" would be common mistakes to see on student writing. In addition to those common mistakes, a new type of mistakes has begun cropping up with Harding's students. They were apparently being made because students were instant messaging and texting so much that they became too desensitized to proper grammar.
Examples of these grammatical mistakes are: u, r, ur, b4, wuz, cuz, and 2. When Harding asked her students which of them made mistakes like these, in order to cut time down, most of them raised their hands. She told them that if she saw it in their work, she would take points off. Unfortunately, the teenagers seemed to ignore warnings, and continued to use them, possibly unconsciously. One teen, Eve Brecker, said that she became so used to abbreviating things that she just started to do it unconsciously on school reports, etc. Eve once handed in a midterm exam that was filled with texting shorthand. Her excuse was that she had an hour to write an essay, and she just wanted to finish before time was up.
Additionally, even terms that can't be expressed verbally were making their ways into papers, such as "smiley faces" (AKA emoticons). Ms. Harding says that to them, it's not wrong, it's acceptable because it's in their culture. Harding doesn't understand the reason for abbreviating "was" to "wuz," because it's not really even an abbreviation; it takes the same amount of letters.
Deborah Bova, another teacher, thought that her eyes were failing her when she read the sentence, "B4 we perform, ppl have 2 practice." When she summoned the student to the desk to talk about it, she realized that the student thought that she was out of touch. Students were astonished when things like this were pointed out to them, because they were so used to reading it that they didn't even realize it was wrong any more. Spell checkers can't always notice mistakes like this, because they don't mark single letters down as wrong.
While some teachers find this new style of writing very rude and careless, Erika Varres, a professor at the University of North Carolina at Chapel Hill, tries to turn it into a positive teaching moment. She tries to help them improve.
Related Topics