How to Write a Market Feasibility Study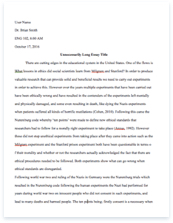 The whole doc is available only for registered users
Pages: 21
Word count: 5193
Category: Study
A limited time offer! Get a custom sample essay written according to your requirements urgent 3h delivery guaranteed
Order Now
Purpose of Lesson: To assist business women in identifying market competition, potential markets, and market analysis to assess a business idea. What is a Market Feasibility Study and How Does a Market Feasibility Study Differ From a Marketing Plan? All feasibility studies should look at how things work, if they will work, and identify potential problems. Feasibility studies are done on ideas, campaigns, products, processes, and entire businesses. Feasibility studies assess something and consider both pros and cons. They analyze potential business scenarios. A Marketing Plan maps out specific ideas, strategies, and campaigns based on feasibility study investigations, that are intended to be implemented. Think of market feasibility studies as a logistical study and a marketing plan as a specific, planned course of action to take. What Should be Included in a Market Feasibility Study?
Things to Include in a market feasibility study include:
* Description of the Industry
* Current Market Analysis
* Competition
* Anticipated Future Market Potential
* Potential Buyers and Sources of Revenues
* Sales Projections
THE MARKETING ASPECT
I. DESCRIPTION OF THE PRODUCT
The discussion pertains to the nature of the product, its components and its purpose. It describes, also, the features, including the characteristics and attributes.
Discussions should be elaborate and comprehensive.
II. MARKET CHARACTERISTICS
This component deals with the presentation of the industry where the market thrives. Where economic indicators affecting this project are available, presenting them in this heading will be very enterprising.
Discussions are elaborated following the sub headings as indicated below:
A. Industry Background
This is a description of the existing market, the practices and characteristics that are presently observed from the suppliers and the market as well as their reactions to the changes in supply and demand characteristics.
Under this heading, the locale (market area) is stated and described. It could be a block, four blocks, one barangay or even a district in a city or progressive town. This locale is specified given the limited budget that will be funding the project.
B. Demand Consideration –
This component discusses the nature and attributes of the market. It provides emphasis on the attributes of the market and its behaviors in relation to the various product/service qualities that are offered. It provides comprehensive discussions on the historical values of purchases and consumptions, including the trends in consumptions.
Historical values are presented and trends discussed. Values could be presented weekly, monthly, quarterly, etc., provided that at least seven periodic values are presented.
C. Supply Consideration
This component discusses the nature and attributes of the supply. It provides details on the number of suppliers in the locality or in the community where the project will hopefully be operating. It also describes the attributes, including the scale (sizes) of the operation
Historical values of supplies will be presented in tabular form and the trend analyzed. D. Price
The price of the product is covered under this heading. Prices are analyzed for the period covered in the demand and supply consideration. Historical prices will be presented and trend analyzed. E. Historical Supply, Demand and Price Matrix
The basic information that are derived from the preceding discussions are summarized under one table to depict the market consideration.
These historical information are subjected to statistical calculations, using four specified statistical tools to determine the appropriate equations that closely describe the individual trends (for demand, supply, and price).
The statistical review that generates the lowest standard deviation (and the highest correlation coefficient) for each variable (demand, supply, and price) will truly represent the variable and will be used to predict the individual variable future trends.
E-1. Projected Values
Having identified the statistical tools that truly represent the trend for each variable, values for the next five years are computed and are presented in tabular form. They are each described depicting the trend of each variable, emphasizing the justifications for each projection.
E-2. Demand and Supply Gap
Projected information detailing the trends of the demand and supply for the next five years are then shown in a table. Demand gaps are estimated by taking the difference between the demand and the supply which are then presented in the right column of that table. Given the established demand gap, the proponent will specify the market size that the project will attempt to satisfy. Since the project is funded from the proponent's own money that is capitalized at P200,000, at most, not all the quantity or volume that is discovered to be the demand gap may be targeted (because of the limited project capacity).
III. Marketing Plan
Under this section, the proponent presents the marketing plan for the project. The plan is subdivided into the 4 P's and specifies the detailed plan that could attract an optimum size of the market. The optimum size of the market corresponds to the demand in its locale that is just enough to consume the projected output of the project.
Under each "P", specific strategies are planned that may or may not differentiate the products and the other variables from those that presently exist in the market. It could be a plan that distinguishes its offering from the offerings of the present suppliers of similar commodities or service, which could entice the market to try the new product.
Strategies are identified and comprehensively discussed for each of the following components:
Product
Place
Price
Promotion
IV. Marketing Budget
A marketing budget is the proposed forecast of the performance of the marketing unit of the proposed project. The forecast covers a period of five years and presents the details of the predicted revenues as well as the corresponding expenses by the marketing unit. It is under this discussion where the marginal profit of the marketing organization can be established and the initial project profit can be established.
To corroborate the statistical analysis of historical and projected data, calculations are appended (and are presented in the last pages of the report). Sample calculations are included in this discussion. Furthermore, macro programs are attached for use by students of Project Development and Management in identifying the most appropriate statistical tool where historical data fit, and which could be used to predict the future trends of the covered variables.
In order for the student to get a good picture of how a marketing component of a feasibility study looks like, two sample presentations are included. These examples form part of the learning process and are used as a reference only but which do not serve as subjects for evaluation. This means that these examples are not meant to be scrutinized for defects, both in form and substance:
SAMPLE MARKETING STUDY # 1
I. DESCRIPTION OF THE PRODUCT
In today's busy world most people are sucked with their work at the offices, students with their studies and even ordinary people couldn't do more because of doing some errands. And these people stopped needing that service when washers and dryers became normal household appliances. But you would be amazed at how many people just do not have the time to do their laundry. Laundry was first done in watercourses, letting the water carry away the materials which could cause stains and smells. Laundry is still done this way in some less industrialized areas and rural regions. Agitation helps remove the dirt, so the laundry is often rubbed, twisted, or slapped against flat rocks. Wooden bats or clubs could be used to help with beating the dirt out. These were often called washing beetles or bats and could be used by the waterside on a rock (a beetling-stone), on a block (battling-block), or on a board. They were once common across Europe and were also used by settlers in North America.
Various chemicals may be used to increase the solvent power of water, such as the compounds in soap root or yucca-root used by Native American tribes. Soap, a compound made from lye (from wood-ash) and fat, is an ancient and very common laundry aid. However, modern washing machines typically use powdered or liquid laundry detergent in place of more traditional soap. Once clean, the clothes were wrung out — twisted to remove most of the water. Then they were hung up on poles or clotheslines to air dry, or sometimes just spread out on clean grass. Meanwhile 18th century inventors further mechanized the laundry process with various hand-operated washing machines. Most involved turning a handle to move paddles inside a tub. Then some early 20th century machines used an electrically powered agitator to replace tedious hand rubbing against a washboard. Many of these were simply a tub on legs, with a hand-operated mangle on top. Later the mangle too was electrically powered, then replaced by a perforated double tub, which spun out the excess water in a spin cycle. The Industrial Revolution completely transformed laundry technology.
In some parts of the world, including the USA, Canada, and Switzerland, apartment buildings and dormitories often have laundry rooms, where residents share washing machines and dryers. Those without a machine at home or the use of a laundry room must either wash their clothes by hand or visit a commercial Laundromat. Growing demand for laundry service – For Engr. Fred Lumabas of Kalinisan Laundry, the growth of the Philippine's personal laundry services is proving to be a boon for the business. "People are becoming more aware kung ano ang tunay na laundry," he said, "which in turn, increases the demand for the service." It is advisable that one should start with a feasibility study because initial capital can run up to millions of pesos.
"Make a study of whom you're going to serve," Lumabas suggested. "Consider, too, the availability of good quality water and your accessibility to target customers." With that, he related how Kalinisan Laundry started. "You see, we have this chain of hotels in Manila. We had our laundry done by one company. But the quality was not going up and up. So we did a study. In that study, we found out that it was then viable to start a laundry business. If at the start, an entrepreneur does not have enough to invest in a water treatment plant, Lumabas suggested that it would be more feasible to have the linens of restaurants and hotels contracted outside. "Mag concentrate ka na lang sa mga damit. That way, maliit lang ang water treatment na kakailanganin mo diyan."* * EntrePinoy atbpa 2009.
II. MARKET CHARACTERISTICS
A. Industry Background
Today's laundry industry is a strong and vibrant one that continues to grow and thrive. The demographic trend toward an even greater "apartment dwelling" segment of the population portends continued industry success. Irrespective of economic conditions, services remain in continuous demand. Sales volume, and/or individual store performance varies based on a number of factors. These factors may include: demographics; overall services offered; design and general condition; equipment selection, condition and vend prices; hours of operation; exposure of the building; parking; and competition.
Unlike many industries, competitive entry to the market is not barred by economic recession, as laundries thrive in all economic climates. Even during periods of recession the laundry market expands, since more people are unable to afford to repair, replace, or purchase new washers and dryers, or because they move to apartment housing with inadequate or nonexistent laundry facilities. The market size grows commensurate to increases in population.
Because clean clothes are considered a necessity of life, the industry is said to provide a basic health service.
Demand Consideration
Everyone needs clean clothes, for a low start-up capital, excellent return on investment and a business opportunity that is basically recession-proof, the growing demand for laundry service is proving to be a boon for the business. Accessibility to target customers and the availability of good quality water should also be considered. Detergent usage for extremely soft water is much minimal as compared to hard water, it should thus be considered and covered on operations cost. Before going into the business, the entrepreneur should take into account environmental responsibility. Proper waste water disposal and alternative means to recycle should be planned accordingly. Such ways, as the re-use of rinse water for urinals in your own establishment as well as partnership with other institutions who could use recyclable water as an alternative to fresh water.
Although both have proven to be profitable, personal and institutional laundry services differ in pricing. As a beginner in this form of business, I have to consider the capacity of the machines that could accommodate volumes of laundry and the kind of laundry to be loaded in the machine to be able to cope with deliveries regardless of the demand from the market. This study focuses only for one product, which is the wash and fold of clothing articles like shirts, trousers and undergarments and the exception of bed linens, comforters and the likes. The data below was taken from the existing laundry shop situated in Bgy. Guadalupe Nuevo. And according to them sometimes they could not accommodate the numbers of client especially if they are in rush.
Prices vary depending on the type of laundry to be washed. While big width items as bedsheets, curtains and comforters are priced separately, the data above is exclusively for the clothing articles as the study focuses only for a single price.
Supply Consideration
Volumes of water are expected to be used in laundry machines and detergent powder outsourced from homemade detergent suppliers is really cheaper compared to branded one. Aside from these components fabric softener should also include to the budget. Most modern washing machines have a dispenser which can add liquid fabric softener to the load of laundry automatically on the final rinse; in launderettes one may need to add it manually. Some fabric softeners are also claimed to make ironing easier or to make clothes dry faster. For best results, un-diluted liquid fabric softener should not be poured directly onto clothes. Electric bill is expected to occupy the large amount of expenses thus in purchasing a washing machine the electric consumption of these unit must be consider aside from the quality and cost.
Price
Charging of laundry will be in per kilo basis and the laundry only includes shirts, trousers and undergarments and the exception of bed linens, comforters and the likes. An amount of Php 23.00 per kilo will be the rate of the services offered by the shop. Extra services such as pick up and delivery there will be no charges these are for the start up operating only as soon as the target market penetrates.
Historical Supply, Demand and Price Matrix
The following data was taken from three laundry shops situated within the target market of the study in which the two of them operate for 2 and 3 years respectively and the other one operates 6 years. The data was breakdown according to the four (4) major elements in Laundry Services. Historical Values
Product
Laundry business is a wash and fold laundry (washing, drying, and folding) service dedicated to consistently providing high customer satisfaction by rendering reliable machines and furnishing a clean, enjoyable atmosphere at a competitive price/value relationship. Laundry Service offers a drop off service Monday to Saturday so the laundry can drop off and let us do the work for the customer. Just drop them off and leave the rest to us. Our service is easy, affordable, and convenient. Same day drop-off service is available which is perfect for busy families. Laundry Shop would like to set itself apart from other laundromats that may offer only one or two services. Although the focus of Laundry Shop is a washing, drying and folding services, we do wish to offer our clients the convenience of these other services in one location. Those services include potentially pick-up/delivery service, as well as online reservation and for pick-up and delivery as part of promotions during pilot operation of the shop. Most importantly, it's our convenience that sets us apart from the competition. Place
Potential business is to be located in a nice corner area center of a poor to lower-middle class, where it's the closest and most convenient place to get services. In addition, there are two apartment complexes and two condominiums located nearby. In addition of being into Laundromat business the shop is surrounded by residences, and the potential competitor is located far away from the proposed area. Proposed area is situated in Bgy. Guadalupe Nuevo, Makati City corner of Amorsolo Street and in front of Guadalupe Barangay Hall. In this area, a dense population of employees and students live in condominiums and surrounded by residences. Price
Charging of laundry will be in per kilo basis and the laundry only includes shirts, trousers and undergarments and the exception of bed linens, comforters and the like. An amount of Php 23.00 per kilo is rate of the services offered by the shop. Laundry business has its own pricing that vary according to the types of fabrics, and for clothes the pricing it's almost bond in one price. As the business start the price will follow based on what is existing price in the market. Extra services such as pick up and delivery will be no charges these are for the start up operating only as soon as the target market penetrates. Promotion
It's been shown that the best method of advertising is through word-of-mouth. No major newspaper ad campaign is planned. On the pilot testing of my business strategy, pick up and drop off arrangements will be strategically planned in batches of morning, mid day and evening. Washed, dried and folded, pick ups will immediately follow each efficient drop off to clients. During these activities leaflets or flyers will be distributed thus, there is a personal touch when talking to people. Tarpaulin will be posted on the façade of the shop with the small billboard that will visually and eye catchy to the people who passes by. In addition, we shall have an incentive program for referrals. Those customers who refer someone else to the store will be rewarded with two free washes, and the referee will receive an introductory gift of a free wash. In addition, we will ensure a clean environment, reliable machines, and friendly, prompt services. And actual photos of the shop together with the services offered and the detailed contact numbers and location will be posted on the internet. This will instill an impression of good service and professionalism, thus encourages client continuance, loyalty and support.
MARKETING ASPECT – SAMPLE #2
I. DESCRIPTION OF THE PRODUCT:
Blended and Creamy Fresh Blended Fruit Juice are intended for all ages. Everyone loves juice. There's nothing healthier than to start your day with freshly squeezed fruit juice. It gives us our daily dose of much needed vitamins and energy boost. Trouble is though, some of us may not be able to get a wide variety of fruits to juice… so we end up with oranges almost on a daily basis. This isn't to say that oranges aren't great, but people are people and we all crave variety. Add to that the fact that getting a glass of pineapple or sugarcane juice can be quite a messy job, it's no wonder people tend to miss out on enjoying lots of wonderful fresh juices. Many people think that they're getting fresh juice when they buy the ones in cartons in their supermarkets. Fact is, most if not all of these products are far from fresh by the time they consume them, plus they've been processed and have had preservatives added to them. People who live in tropical countries are lucky because they get can easily get loads of fruits that make fantastic juice like pineapples, mangos, guavas and papayas. Most people, including myself, like fresh fruits because it is good for our health.
Everyone turning health conscious, the idea was instantly a hit. The concept of a Juice Bar is to serve variety of fresh fruit juices. There are ready-made variations but the specialty really is to choose-your-own. Every one simply loves fruit shakes, fruit smoothies, or simply fruit juice. These cool creations are a great way to help quench a person's thirst especially during very hot and humid summer days in the Philippines. You get a smoothie or a shake depending on how you blend fruits. A shake will have ice bits and sago when you sip it; a smoothie's smooth and even from top to bottom. The increasing demand for healthy food is creating more opportunities for people to go into business, and one of the least expensive but potentially lucrative ventures to start is selling fresh fruit juices. The big challenge is convincing people to buy juices. Consumer awareness of healthy drinks is increasing, but many people-wage earners particularly-are fairly set on the amount of money they pay for a drink.
Fruit juices are a bit expensive at around Ph 40.00 a cup for the previous years, so a customer with not much to spare will always pick soda-as little as Ph 6.00 a bottle-to slake his thirst. This business aimed at the upper-C-to-A segment to make sure to have customers. These are the people who read a lot and understand the benefits of drinking fresh fruit juice. Study says that eating and drinking more fresh fruit juice is ideally a total of four or five servings a day could help cut the risk of cancer, stroke, and heart disease. The largest part fruit consists of water just like the human body does; Fruit is 100% bad-cholesterol free; No doubt about this argument. Too much bad-cholesterol is not good for our bodies and fruit doesn't contain bad-cholesterol. Animal products like meat and dairy contain a lot of bad-cholesterol. Fruit stimulates the memory; Fruit has a positive effect on our brains. The way this works still has to be found out and many scientists are looking into it as we speak. What we do know is that if you consume fruit effectively, your brains can recall information faster and more easily. The idea that fruit is an expensive nutrition;
Take a good look at how much money you spend on other food. It could be worth something to replace some of those expenses with fruit. We think that fruit is the healthiest food on earth and therefore it is well worth spending our money on. The miraculous healing effects of fruit. Fruit a Fibers; We do know now that a diet with plenty of fibers helps against corpulence, high blood pressure, and other factors that increase the chance for a heart disease. The consumed amount of fibers maybe even a more important factor than the amount of fat that is consumed by people! The food that contains these healthy (natural) fibers is…. right: fruit! Fruit makes you feel better; several stories have told us about people that were frequently depressed and how they got out of their depression slowly but surely after consuming substantial amounts of fresh fruit on a regular basis.
Eating much fruit can have a mysterious healing effect on human beings. Even better is to drink a lot of freshly squeezed fruit drinks on a regular basis. It will take approximately 30 days until you start to notice the effects. Don't forget to drink these smoothies 20 minutes before the consumption of other meals. This way the fruit will not ferment in the stomach and the nutritious elements can be absorbed by the blood effectively. Fruit is the most natural food; the human diet; A good start is to eat and drink more fresh fruits; it's as simple as that. Before you know it you will feel much better; Don't forget to eat fruit on an empty stomach, not after other meals and; inform yourself about the substances that our 'modern' food contains
II. MARKET CHARACTERISTICS
A. INDUSTRY BACKGROUND:
Fruit Magic, The Big Chill, and Fruitas Fresh are the main players in the fresh juice market, but the sector is far from saturated. Indeed, the market is wide open, and anyone with a modest starting capital may join it and thrive by picking a good location and getting the best fruits at the best prices. Fruit magic pioneered the juicing industry in the Philippines and is currently enjoying its popularity as the leading source of the freshest fruit juices and concoctions in the country. However, many still wonder how the store that gave us that bud-tickling smoothies, refreshing shakes, and nutritious juices came about. Fruitas Fresh is all about fresh fruit juices and shakes, being done while you wait without preservatives and at very affordable prices. The first cart started juicing on February 01, 2003 at SM Manila and now has 100 outlets nationwide. Some are located at SM Malls, Festival Malls, Robison Malls, Ever Gotesco Malls and other Malls outside Metro Manila Area. The Big Chill produces super smoothies, Mango Shake, Strawberry Shake, Carrot Juice, Pineapple Shake, Kiwi Shake, Avocado Shake, All Natural Fruit Drinks B. DEMAND CONSIDERATION:
Everybody are considered as consumers because everyone loves juice and its a healthy drink. From the surveys the public's growing awareness for health consciousness and well being makes the consumption of healthy juice drinks soar. In fact, more and more people turn to lighter beverages like ice tea and fruit based drinks against colas and other artificially prepared drinks. . Active people, heath enthusiasts and fruit lovers will find nourishment in their nutrient-starved body while satisfying their discriminating taste. Today, many fruit shake stalls and specialty juice bars have sprung up all over the metro. Many of them also use artificial flavoring instead of fresh fruits. With everyone turning health conscious, fresh fruit juice are all-natural healthy diet free from preservatives and chemicals. It was almost impossible since only colas and artificial drinks flooded every restaurants and food stores. The real goodness of fresh drinks was nowhere to be found. Fresh Fruit Juice simply offering a healthy and natural alternative to soft drinks and other artificially made beverages. There's nothing healthier than to start your day with freshly squeezed fruit juice.
Trouble is though some of us may not be able to get a wide variety of fruits to juice… so we end up with oranges almost on a daily basis. This isn't to say that oranges aren't great, but people are people and we all crave variety. Add to that the fact that getting a glass of pineapple or sugarcane juice can be quite a messy job, it's no wonder people tend to miss out on enjoying lots of wonderful fresh juices. Many people think that they're getting fresh juice when they buy the ones in cartons in their supermarkets. Fact is, most if not all of these products are far from fresh by the time they consume them, plus they've been processed and have had preservatives added to them. People who live in tropical countries are lucky because they can easily get loads of fruits that make fantastic juice like pineapples, mangos, guavas and papayas. Based on my survey, the number of cups sold in a day ranges from 50 to 60 cups.
D. PRICE:
Price is a market value of a certain merchandize. It is a measure of good or service. To estimate prices for a Fresh Fruit Juice business, the following should be considered: a. Price will be based on the costing of Fruits and Fruit juice ingredients. b. Quality, presentation, size and taste of the product to be served. c. Availability and price are influenced by the weather conditions and seasonality of fruits. d. Once the suppliers know that buying is regular, they will adjust their production to meet the project's demand. Also try and use the fruits which are readily available locally. e. To determine the selling price, there is a need to investigate prices for similar items in the market. If there is a similar item, then the price should be close to that price. f. Product Price will be based on one size only which is P60 per 16 oz cup size.
F. MARKETING PLAN
F.1 Product
Fresh fruit juice offer a new kind of beverage that gives nutrients and good health a cool and refreshing drinks that gives nourishment in our body. The fresh fruit juice is a variety of fruits to choose from, blended in fresh juice with a twist of skimmed milk, vanilla with added sago for that thick, unique, sweet and satisfying taste! Served in a unique decorated plastic cup with one size only. A shake will have ice bits and sweetened when you sip it; a thick smoothie's smooth and even from top to bottom. Fresh fruit juices are heavy in vitamins and minerals, no artificial flavors & preservatives straight from the source! refreshingly fancy and healthy, sure to chill you up! The fresh blended fruit Juice will be served in an attractive and decorated plastic cup with our company logo, in which you will see the color and ingredients of the product to make more attractive to our potential customers. The uniqueness of this product compare to current offerings is that, this fresh fruit juice is blended and served with sago and flavourful taste of fruit syrup to make it more delicious and yummy to the taste of our customers, especially for kids. Fresh fruit juice is delicious. It is sweet tasting and highly flavorful.
F.2 Place
The best and advisable location for fresh fruit juice business is in commercial places in which there are lots of different people passing by.
The suggested places are at the Malls in Metro Manila which are inside and near Mall food court or Mall Entrance. It can also be located in the Universities or be visible at the rail station such as MRT and LRT stations. It can also be placed at the Bus terminals and other busy places in Metro Manila. Target locations also include gyms, corporate buildings or call centers, within a private school attended by the target customers The proposed area is the Glorieta Mall Food Court. In this area there are lots of professionals passing by during weekdays and groups and families on Saturdays and Sundays. In short, since it is direct selling to the end customer, the location with the highest traffic should be chosen. The store will be six to 10 square meters depending on the location; it should have sink, small chiller, and stable surface for blending or juicing fruits. F.3 Price
Most of the competitors are selling Fresh Fruit Juice at a cost of Php 50.00 to Php 65.00 per glass depending on the sizes to be served. But my suggested Fruit Juice business will serve 1 size and 1 price and it will cost Php 60.00 per serving. F4. Promotion
Promotional Strategy will be distribution of Leaflets, advertise products thru posters that can be seen at the entrance door of the Mall food court in and other Mall Entrance. The Store should have an attractive and unique logo, including tissues and cups where the fruit shake will be served. Attractive Area and a colourful signage design are additional buying motivators. Marketing Budget
Related Topics