How Successful Is the Character of the Inspector in Portraying Priestley's Message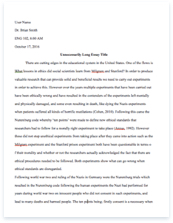 The whole doc is available only for registered users
A limited time offer! Get a custom sample essay written according to your requirements urgent 3h delivery guaranteed
Order Now
The character of the inspector is successful in conveying Priestley's moral message in which we are each to take into account of our responsibilities for our own actions and that we should also take responsibility for each other. The inspector gets this point across by creating sympathy and admiration for Eva Smith by the way he uses her to represent her social class and the way that he creates sympathy for that class in general. He also forces the Birlings to admit their guilt and responsibilities. In the play, the final words of the inspector indicate clearly Priestley's message. The purpose of this speech is to leave the Birlings with an overwhelming feeling of guilt, so they realise what they have done and learn from their mistakes before another tragedy like this occurs again. He says that everybody is "responsible for each other" and that the "millions and millions and millions of Eva Smiths and John Smiths" all count as people. This is Priestley's social message to the audience and to the Birlings. The Inspector tells the Birlings that if man will not learn this lesson "then they will be taught in fire, blood and anguish" By contrast, Mr Birling makes a speech, just before the inspector arrives, at the beginning of the play that totally contradicts that of Inspector Goole's near the end, showing two very different philosophies of life.
Arthur Birling believes that a man has to "mind his own business" and he was only to look after himself, his family and no one else "community and all that nonsense" There is a lot of sympathy created for the working class in the play. Sheila and Eric do not agree with the pay the working class receive and the way they are treated. When Birling refused them a pay rise, he told them "It's a free country" Eric replies and says "It isn't if you can't go and work somewhere else" This shows that Eric is more in touch with the different tiers in society, than Mr. Birling, who is old-fashioned and set in his ways. This also gives the audience a clearer picture of how hard it was to get a job, which creates sympathy among them. The Inspector tells Gerald and Birling than it is "better to ask for the world than to take it" which shows that the Inspector believes that Eva and her group were right to ask for a pay rise and should not have been punished for it.
Sympathy is also created when the Inspector suggests "putting ourselves in the place of these young women" because the audience immediately picture hungry, starving girls in their "dingy little back bedrooms", "counting their pennies" and they couldn't imagine having to live their life. Again Sheila and Eric realise that businesses abuse the working class "but these girls aren't cheap labour, they're people" Inspector Goole leads Sheila and Eric into saying such things. He 'spoon-feeds' them so he receives the response he wants, so he can build up a force against Birling. This creates sympathy, as Birling was the one that was 'abusing' the working class in the first place so the audience realise that everybody is ganging up on him. All through the little speeches made by the inspector about the working class, Mr. Birling is very quiet and is obviously taking it all in, and maybe secretly taking note in order to mend his ways.
The audience will se Birling on stage, very quiet, and again will sympathise with the working class as they see him thinking about it and considering, possibly, how low their quality of life was. Another tactic Priestley employs to convey his message through the inspector is the way he convinces Mrs Birling and Sheila to answer his questions. Sheila is very ready with her answers, lets everything spill out naturally, and in fact delivers a long speech about her visit to Milwards and she even goes to the trouble of trying to remember name of her assistant "Miss Francis". Sheila is very honest about the way she behaved "I was very rude to both of them" and is clearly very sorry for what she did "I'll never, never do it again". The inspector wasn't too harsh with Sheila, he wasn't as nasty with her as he was with the rest of the characters, probably because he knew that Sheila was regretting what she did, and was truly sorry for her actions. Mrs Birling, on the other hand was much more awkward in questioning "and what if I was?"
She would not give the inspector a straight answer to his questions and the inspector was getting quite angry " The inspector is crueller to Mrs Birling than to any other character. Sheila says he is "giving us the rope so that we will hang ourselves" This is exactly what he is doing with Mrs Birling, allowing her to dig herself deeper and deeper into the ground, without her realising until irreparable damage had been done. "So, who's the chief culprit then?" Mrs Birling starts to blame Eric… "I blame the young man who was the father" Then she says that this young man should be "made an example of" she is now adamant that it was this boys fault and "ought to be dealt with very severely" Then the inspector breaks the news to Mrs Birling, not in a kind way at all.
We know what to do don't we? Mrs Birling has just told us."This illustrates the message again, Sheila, who was very co-operative, got off rather lightly, but Mrs Birling, who was not in the least co-operative and seemed none the wiser at the end of the interrogation, had a cruel trick played on her, and she was taught her lesson in "fire and anguish" I think that J.B.Priestley has used Inspector Goole to great effect in this play. He has allowed the inspector to convey his message about concern for people in the community. The play has made me realise that every decision I make, will affect somebody else's life, so I must make sure it is the right one.
Related Topics