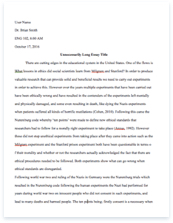 The whole doc is available only for registered users
A limited time offer! Get a custom sample essay written according to your requirements urgent 3h delivery guaranteed
Order Now
Jack, I now speak directly to you. You might be the most lazy and annoying person I know. You literally whine every single time mom asks you to help out with cleaning the house. Yes, I know it can be a pain in the butt, however; the faster we get started, the quicker we will be done. Besides, mom does not ask you to do anything she would not ask me to do. On the contrary, I do get pushed around more and forced into doing more chores than you have to. What you need to learn is to suck it up and get done with the task at hand.
Household chores are training exercises for real life. For kids, chores are more than helping out; they are lessons in basic life skills. By loading the dishwasher, mowing the grass, or doing their laundry, kids learn how the world works. When kids do chores, they are learning responsibility. They are learning that life requires work. Chores not only teach children important life skills that will prepare them for living on their own, and impart a pull-your-own-weight work ethic, but recent studies show that starting chores at an early age gives children an enormous leg-up in other areas of their life as well.
Chores give children hands-on training in the basic life skills they'll need to thrive when they head out on their own, while also developing crucial traits like hard work, responsibility, and delayed gratification. In truth, manual tasks and higher learning go hand-in-hand. Doing chores has been shown to develop children's large and fine motor skills; sorting laundry, sweeping, and digging in the dirt are great ways for children to develop and practice these skills. And this in turn makes them smarter.
There are plenty of ways to get children and teens to help around the house with chores. First of all, start off early. Psychologists have observed that children at the age of eighteen months naturally want to start helping with the small tasks. Also, you can make it a routine and offer praise!It's easier to get your kids to do something by praising the good things they do than by reprimanding them after they make mistakes. You can also make doing chores a game! Making it a game can boost their productivity and motivation to actually do their chores. What kid does not like money? Giving the child an allowance might be a great way to get the task done. One of the benefits of giving your children money in exchange for doing chores is that it teaches them the connection between work and money.
So, Jack know you know the reasons for helping around the house. Mom is not torturing you, but teaching you life lessons that, believe it or not, will help us when we are living on our own. Some people just need a small (or big) push in the right direction. So let's get off our butts and go to work!
Related Topics