Historical And International Perspectives Of Early Years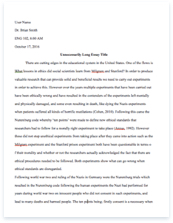 The whole doc is available only for registered users
A limited time offer! Get a custom sample essay written according to your requirements urgent 3h delivery guaranteed
Order Now
The purpose of this assignment is to critique and evaluate the chosen article in terms of strengths and weakness and to demonstrate an understanding of an international educational approach to Early Years education. In addition it will explore the similarities and differences of the international approach to the current Early Years Foundation Stage (EYFS) working within my setting. Furthermore it will critically reflect upon the strategies within the approaches to identify possible issues and limitations of systems.
The article I have chosen is called 'The struggle for Early Childhood Curricula: A comparison of the English Foundation Stage Curriculum, Te Wha"riki and Reggio Emilia. (Article found in Appendix A). The article was written by Janet Soler and Linda Miller who are both senior lectures in the Faculty of Education and Languages at the Open University. Janet Soler's doctoral and post graduate work has been in the areas of curriculum history and history of education' (OU Knowledge Network 2014) Linda Miller is a lecturer in Childhood studies and has spent a large part of her professional life developing courses and providing training for practitioners across the fields of early years education and care' (Sage education 2014)
Within the article, Soler and Miller (2010) research three different international childhood curricula approaches and explore what impact an instrumental/vocationally based trend in education, has upon each curricula. For this critique I have chosen to focus on the Reggio Emilia approach.
Early Years Education is a name that refers to educational curriculums or programs that are providing care and education for children from birth to eight years old. My research has highlighted several international early years' educational programmes that are recognised worldwide. Te Wha''riki, Highscope, Steiner and Reggio Emilia are all approaches that have influenced my own teaching and understanding of how children play and learn in an educational environment.
Reggio Emilia is named after an Italian town in northern Italy. According to Abbott and Nutbrown (2001), it is a constructivist approach and can be linked back to theorists such as, Lev Vygotsky and John Dewey. Dewey saw education as an active process that was improved through social direction and through joint activity, where people consciously refer to each other's use of materials, tools and ideas (Edwards, Gandini and Forman, 1998, p.57) Lev Vygotsky believed that children co-construct their theories and knowledge through the relationships that they build with other people and the surrounding environment. (Learning and Teaching Scotland, 2006). However, since the end of World War two, Loris Malaguzzi was the pioneer that greatly influenced this system. It evolved from a resolution to provide something different for our future generations and to make something better for our children.
Reggio Emilia focuses on the 'unique child' and believes the child has the ability to choose what they want to do or play with instead of the practitioner selecting for them. The learning is viewed as an educational journey which involves building relationships with adults and children. It is underpinned by several guiding principles such as the child as a communicator, the teacher and parent as partner and the environment as the 'third teacher'. This approach is complimentary to the EYFS which states that: Four guiding principles should shape practice within the early years setting. These are 'Every child is a unique child who will learn through positive relationships and develop in enabling environments (Department for Education, 2014 p 5).
The article starts with a reference to the instrumental beliefs that have been revived within the English Foundation stage, curriculum guidance. 'This national early childhood curriculum has largely been underpinned by resurgence in instrumental beliefs, as it aims to provide guidance to early childhood practitioners and teachers so that children can be prepared for the next stage of schooling. (Soler and Miller 2010, p. 60) Throughout my career I have worked within settings that do not comply to a national curriculum as there was none, and also within settings that did. It was in 1996 that the first UK curriculum was introduced which was called 'Desirable Outcomes'. Within the document were learning outcomes to be achieved by all children by the age of five and being a centralised system, an inspection scheme was also introduced. In this article Soler and Miller (2010) highlight how these changes were perceived to be shaping the early childhood curriculum from the outside rather than from within the early childhood community.
On the opposite side of the continuum, the Reggio Emilia approach is a programme that is centred on the principles of respect, responsibility, and community. It is based on the interests of the children through a self-guided curriculum with no early learning goals or inspections. The article then goes on to explain how in 1999 new curriculum guidance was introduced in the UK which was entitled 'Early Learning Goals'. It was later developed to bring in six learning areas and stepping stones that led each child towards an early learning goal. Soler and Miller (2010) research this statement further and write, that in structuring the curriculum and its assessment in this manner, the policy makers have made assumptions about where the levels begin and end for all children. My knowledge would suggest that the national Early Years Foundation Stage curriculum guidance produces an effective teaching environment.
This is because, as practitioners we have a clear view of what is expected of us; we have a greater understanding of children's needs and what we need to do, to develop those needs. The Early Years Foundation Stage, also known as the EYFS promotes teaching and learning to ensure children's 'school readiness' and gives children the broad range of knowledge and skills that will provide the right foundations for good progress throughout school and adult life. (Hutchin,2012) I believe that learning goals can be useful as it can guide a practitioner when they are observing the child and planning for the child's future development. I also think that the statement is over exaggerated as there are currently seventeen early learning goals and over three hundred development statements that could be chosen to highlight where a child could be within their development stage.
The Reggio Emilia approach is unlike the EYFS as it does not follow a set agenda 'It represents a localised, learner-centred approach as an alternative to national centralised, uniform curricula' (Soler and Miller 2010, p.60).Their education is based on relationships and the environment. Reggio Emilia teachers and parents are seen as partners in learning. Teachers are trained to recognise a child's interests and create on-going projects that stimulate their curiosity. (Thorton and Brunton, 2005).
From reading further into what 'relationships' and 'environment' mean within the Reggio Emilia approach, I learnt that teachers work in pairs to maintain strong, friendly relationships. They also engage in continuous discussions with other teachers and parents to understand and further develop the work of the child. Parents continually participate in the teaching and organising of all project activities and are involved in all aspects of the curriculum. (Bruce, 2011) The environment is seen as the third teacher. They have uncluttered and less structured rooms, but have carefully planned areas and well organised materials, so that children are free to move around and create what they want to. Children's portfolios are documented on walls within the setting which will include photographs of the children creating and learning at each project. Every project is based on what children say and do. The environment also supports the children to learn through their experiences of senses; this may be by touching, moving, listening or seeing.
A challenging aspect I foresee in this approach is the many points of view that may arise from each child's needs. You may have to come to an agreement and trust your judgement to respond to each child's developmental needs. Additionally you would have to have complete trust in all parents and colleagues to contribute effectively and to be able to work alongside the parents as educators within the setting. Furthermore you would need to have confidence in the parents and the community, that what they bring to further encourage the developmental journey of the child is meaningful. However I am able to see similarities to the EYFS, as the overarching principles of the EYFS states 'children learn and develop well in enabling environments, in which their experiences respond to their individual needs and there is a strong partnership between practitioners and parents' (Department of Education, 2014, p.6)
Decisively the article makes a summary of how play within the EYFS is seen to be marginalised in contrast to Reggio Emilia. I believe this raises the question of how the EYFS is interpreted by those researching it and those that are using it as a working document. The EYFS clearly states; 'Play is essential for children's development, building their confidence as they learn to explore, to think about problems, and relate to others. Children learn by leading their own play, and by taking part in play that is guided by adults' (Department of Education, 2014, p.9) Our ideas on Play have been greatly researched and influenced over the years by several educationalists, psychologists and practitioners. In the 18th century by Rousseau and Kant , the 19th century by practitioners like Froebel, Montessori and Steiner and into the 20th century theorists like Piaget, Vigotsky and Bruner. It is now being challenged further by the work of Howard Gardener, Ferre Laevers, Loris Malaguzzi (Reggio Emilia), Chris Athey and many more (Bruce 2011)
Like Reggio Emilia, play within my own setting is paramount. The rooms are spacious and appealing to the eye. Areas are set up by adults that will encourage the child to play and explore independently. Work is displayed, similar to the Reggio Emilia, as projects. By this I mean drawings, art pieces and photographs that tell a learning journey of what the children have been interested in. When I observe children playing, I am able to assess their development and measure how much scaffolding is required to enhance and extend their learning experience. The EYFS is a good tool for guidance on how to enhance and extend in all areas of learning.
The article also reveals how the EYFS has resulted in practitioners feeling the need to prepare children for school through a more formal approach opposed to an approach in which adults outline flexible, general educational objectives, but do not formulate pre-specified goals. (Soler and Miller, 2010, p.66) I argue against this statement as if the EYFS is used correctly it is a positive and useful tool. I personally do not feel it is a more formal approach as within the EYFS development matters document, the development statements leading towards the early learning goals are meaningful and show how a child might progress through their developmental journey. Within the EYFS Development Matters document you will also find on each page a paragraph at the footer saying: 'Children develop at their own rates, and in their own ways.
The development statements and their order should not be taken as necessary steps for individual children; they should not be used as checklists. The age/stage bands overlap because these are not fixed age boundaries but suggest a typical range of development'. (Department of Education, 2012, p. 6 – 46). Children come to our settings already skilled learners so through our observations of them at play and our professional judgment, we make sure that there is progression in the provision of activities to meet their developmental needs. The EYFS helps us as practitioners to make those judgements.
The Reggio Emilia approach can be seen embedded within our current EYFS. The need to provide materials, opportunities, interactions and experiences so that children can pursue their own interests and be creative can be found in the EYFS 'Development Matters' document. The Reggio Emilia has an excellent outdoor physical environment which has also been taken on board by the EYFS framework. Natural extension of the inside learning environment should be transported and apparent outside. (Department of Education, 2014) I see that they have one main thing in common which is to 'meet the needs of the child' know as 'The Unique Child'.
To conclude my thoughts I am attracted to Reggio Emilia because of the way it views and respects the child. I pay attention to their strong relationships with parents and other teachers as this is an area that I too am passionate about. I am fascinated by the way they create their rooms and displays and with this in mind I have successfully adapted my own setting to incorporate these views.
On the other hand I do not fully lean towards their approach of not following any predetermined national framework. I foresee a lack of accountability which would not work within my institutional setting. However one should not assume that the Reggio Emilia approach has no assessment strategies. Research has shown that each child has a portfolio similar to the learning journeys of the EYFS. Each child's folder would consist of a collection of art samples and other works throughout a specific timeframe. (Downey and Garzoli, 2007) According to (Samuelsson and Williams 2006, p.22, cited in Downey and Garzoli 2007), this type of assessment provides a way to analyze a child's progress. By documenting the process and letting the child participate in it, they make the child's world visible for adults to reflect on.
I am able to see that the Reggio Emilia do not follow any predetermined national framework, so I would determine that the Reggio Emilia is an 'approach' or a 'programme', not a curriculum.
Referencing
Abbott, L. and Nutbrown, C. (2001) Experiencing Reggio Emilia, implications for pre-school provision. Buckingham:Open University Press.
Bruce, T. (2011) Early Childhood Education. 4th edn. London: Hodder Education.
Department for Education. (2014) The Development Matters for the Early Years Foundation stage. Cheshire: Department for Education.
Department for Education. (2014) The Statutory Framework for the Early Years Foundation stage. Cheshire: Department for Education.
Downey, J. and Garzoli, E. (2007) The Effectiveness of a Play-Based Curriculum in Early Childhood Education. Available at: http://www.teachplaybaselearning.com/8.html.(Accessed: 18th October 2014)
Edwards, C. Gandini,L. and Forman, G. (1998) The Hundred Languages of Children: The Reggio Emilia approach-advanced reflections. 2nd edn. Westport: Ablex Publishing.
Hutchin, V. (2012) The EYFS a Practical Guide For Students and Professionals. London: Hodder Education.
Learning and teaching Scotland. (2006) The Reggio Emilia approach to Early Years Education. Early Education Support. Available online at: http://www.educationscotland.gov.uk/earlyyears/reggioaug06_tcm4-393250.
(Accessed: 15th October 2014).
Sage Education. (2014) Available at: http://www.uk.sagepub.com/booksProdDesc.nav?prodId=Book239253 (Accessed 13 October 2014).
Soler, J. and Miller, L. (2003) the Struggle for Early Childhood Curricula;A comparison of the English Foundation Stage Curriculum,Te"Wha"riki and Reggio Emilia, International Journal of Early Years Education, 11(1),pp.57-68. Available at: http://www.tandfonline.com/loi/cley20. (Accessed:15th September 2014).
The Open University (2014). Faculty of Education and Language Studies. People. Available at:http://www.open.ac.uk/education-and-languages/main/people (Accessed: 13th October 2014).
Thornton, L. and Brunton, P. (2005) Understanding the Reggio approach: Reflections on the early childhood experiences of Reggio Emilia. London: David Fulton Publishers.
Related Topics