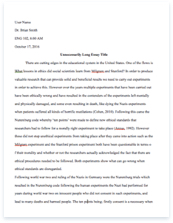 The whole doc is available only for registered users
A limited time offer! Get a custom sample essay written according to your requirements urgent 3h delivery guaranteed
Order Now
Healthcare in United States has been a topic of discussion for many generations. Improving the quality and quantity of life is why healthcare delivery has evolved from the traditional family doctor providing the majority of the care to a team of healthcare professionals across a continuum of care. In the past, health care was designed to focus on the major health problems like epidemics. In addition, technology to handle the predominant health problems was virtually nonexistent. Individuals were left on their own resources to pay for doctor's services. Furthermore, people were actively involved in giving care to their families (Williams & Torrens, 2008).
Due to research and development, more and more diseases have been identified and they have been categorized and given to different health care professional. Technological advances have made it possible to cure many fetal health issues, even though; it comes at a steep price. Furthermore, internet access has made people better informed about illness and treatment. Government influences have created many financial organizations to help people afford such an expensive care.
They have enabled elderly to afford treatment by establishing programs like medicare and medicaid. In addition to government, insurance companies have directly influenced the structure of the healthcare industry today. Provider, government, and insurer that are mentioned above are the three basic elements of the American healthcare system. Provider can be a clinic, hospital, or group healthcare professionals that provide service to the patient.
They are supposed to act unselfishly to put patient's health and interest above their own. Government has establishes Food and Drug Administration for regulating and controlling medications (Williams & Torrens, 2008). They have also established programs to help individuals that cannot provide for themselves. Lastly, insurer is a person or a company that offers insurance policies for premium.
History of healthcare and how it has really evolved into an entity is really an exceptional fact. I have always been interested in working with healthcare professionals to provide better service to patients. Healthcare profession requires both integrity and discipline. With both of those qualities and a position as a senior executive, I will be able to bring forth positive change and policies that are beneficial to all.
Professions in Healthcare
Everyone thinks of doctors and nurses as working in the same environment. In the physical sense, they obviously do. Most healthcare professionals work in the hospital environment, where patients are being cared for in a high-intensity environment around the clock. Doctors and nurses first differ in their job descriptions. In most cases, the doctor is tasked with examining and diagnosing patients. A nurse, on the other hand, will have a more hands-on role with physically treating a patient based on the doctor's diagnosis. Nurses often joke that they are just as knowledgeable, yet are paid less and charged with performing most of the work.
However, both jobs can be physically and emotionally demanding. It should be pointed out that the role of a nurse is not always as a subordinate to doctors. Advanced nurses, such as nurse practitioners, will also diagnose patients and can even prescribe medication. Another major difference between a doctor and nurse is their salary. While not always true, the average doctor earns a higher yearly income than the average nurse. According to a 2006 study by Allied Physicians Incorporated, a hospital staff nurse earns an average of $45,000 a year. A hospital staff doctor, however, earns well into the six figures in the first year of practice.
While an advanced practice nurse in a supervisory position could take in at least $75,000, an experienced surgeon could earn over $1 million. Nurses and doctors also differ in length of college study. While some nurses obtain specialized degrees in a graduate program, the minimum degree requirement for a registered nurse (RN) is a four-year bachelor's degree. A doctor, however, must obtain a PhD, which takes eight years on average. A specialist physician, however, could remain in college for over a decade. Both a doctor and nurse will typically earn a higher wage for obtaining advanced degrees (Secemsky, 2012).
While it is obvious that the career of a doctor and nurse are different, it is important to note that the two complement each other in the process of healing patients. Neither could exist without the other and neither role is more important. My choice of career is to be a senior administrator at a hospital which compliments both nurses and doctors. This job brings many responsibilities throughout the hospital. Primary responsibilities of administrators are being the intermediary between doctors, nurses, and other different departments throughout the hospital. Another one is to supervise the staff and supervision of the patients. They also administer changes in the work environment and are responsible for economic growth.
Where Healthcare is provided
Health promotions and disease preventions in the United States are responsibilities of both public and private sectors of healthcare. Public healthcare is government based facilities that provides healthcare for the lower income individuals. Private healthcare facilities focus on small populations that are privileged. These two healthcare delivery systems have many advantages and disadvantages when it pertains to equity and access, health preventive and curative care, management, customer orientation, flexibility, and financing. However, it is necessary to forge a strong public-private partnership that allows both sectors to use their unique roles to advance health of the public in ways that have never been possible.
Public sector targets services for poor and vulnerable populations and are very attentive to geographic disparities. Public healthcare system emphasizes their preventative care for larger populations through extensive systems of hospitals and curative care centers. Public healthcare systems generally depend on political and legislated direction. Disadvantage of having a high bureaucracy is less accountability and high level of personal interest.
Therefore, there is less flexibility and a low rate of innovation. Customer satisfaction is a second thought when there is indirect accountability. Public healthcare sector has extensive infrastructure of owned facilities which makes it highly vulnerable and slow to respond to changing market conditions. Public healthcare systems are funded through tax revenue, therefore, have weak incentives to be cost conscious or cost efficient (Williams & Torrens, 2008).
Private healthcare facilities favor individuals who can pay and ignores individuals who are poor and vulnerable. They value paying customers and pay little attention to preventive and public health services without special incentives. Their management has greater synergy between business and personal interest. Private practices have broader range of discretionary authority and greater flexibility.
Private practices focus on relatively narrow range of customer needs and are more attentive to customer convenience and comfort. There is a direct accountability for customer satisfaction for wealthy and privileged. The private healthcare sectors have adaptable access to infrastructure through rentals and leasing, therefore, have quicker response to changing market and innovations. Private practices depend on sales and contracts for revenue and are more attentive to cost and prices (Williams & Torrens, 2008).
As noted above, both private and public practices have advantages and disadvantages. As a consumer of healthcare, I would prefer private healthcare facilities. They have higher innovation and higher consumer convenience. Due to their efforts to keep their consumers, their services are phenomenal. Private healthcare is significantly costly then public healthcare, however, I believe my health is everything. Consumer satisfaction and comfort is really important to me, therefore, I would prefer private healthcare facilities.
Emerging Issues
The role of the pharmaceutical industry is three-fold in that it drives innovation of new drugs, tests and produces these drugs safely for consumer use and also acts as economic growth factor. With expertise gained over the decades, pharmaceutical companies produce effective medicines to high standards set by organizations such as the U.S. Food and Drug Administration. These medicines are then used to cure and prevent disease in the wider public. In other words, prescription drugs save lives, alleviate suffering, and improve the quality of life. They also often reduce the need for other more invasive expensive treatment (Williams & Torrens, 2008). At its most unsympathetic level, drug innovation is most efficiently funded and driven by profit.
Public funds for drug research are scarce as they are paid for by taxpayers, but businesspeople have the funds to take the risk on a potential moneymaking product. Great innovations that have been brought to completion by pharmaceutical companies include the contraceptive pill and penicillin and other antibiotics and vaccines that have saved millions of lives over the years. "Whether deliberate or not, they develop a type of quid pro quo understanding which may not represent innocent business practices all the time. Several aspects of healthcare are driven by financial gain, and boundaries must be set on all levels when the welfare of patients and professionals are at stake" (Rhee, 2009).
The pharmaceutical industry will be a key part of the national healthcare system. Maintaining good mental health is crucial to living a long and healthy life. Good mental health can enhance one's life, while poor mental health can prevent someone from living an enriching life. According to Richards, Campania, & Muse-Burke, "There is growing evidence that is showing emotional abilities are associated with positive behaviors such as stress management and physical health" (2010). It was also concluded in their research that people who lack emotional expression are inclined to anti-social behaviors.
These behaviors are a direct reflection of their mental health. Mental and behavioral disorders are highly prevalent, but prevalence is different from need for treatment. Some mental disorders are a major source of distress, disability, and social burden, and many people who could benefit from treatment do not receive it (Wells, 1989). "Approximately 15 percent of all adults who have a mental disorder in one year also experience a co-occurring substance use disorder, which complicates treatment" (Williams & Torrens, 2008). About 10 percent of U.S. adult population use mental health services. Mental health has made many advances in the field once shrouded by mystery. All healthcare services have an obligation to better health institutions that care for large populations.
Who pays for healthcare
With medical costs on the rise and millions of Americans uninsured, health insurance is a topic of heated debate in the United States. But how did our health insurance system tangle itself up in the first place? To help ease the healthcare problem, Baylor Hospital in Dallas created a system, which eventually became Blue Cross, to help people pay their hospital bills. As science, medicine, and hospitals grew more sophisticated and more successful, more people turned to hospitals and doctors for care. Costs for healthcare continue to rise. Blue Shield insurance for doctors' services started gaining ground in the late `30s as a way for doctors to protect their interests and their payments (Williams & Torrens, 2008).
As health insurance costs rose during the 1970s and 1980s, driven both by improving medical technology and by the growing inefficiencies of the healthcare system, health maintenance organizations began to flourish, along with other managed care schemes (Williams & Torrens, 2008). Like the Blue Shield Insurance, HMO became victims of their own success.
Initially they were mainly nonprofit, but the rising cost of healthcare transformed them into a profit HMO company. "The method for categorizing health insurance is by funding mechanisms: fully insured, partially insured, and self-funded or self-insured. All three funding alternatives are used by private medical and dental plans" (Williams & Torrens, 2008). As the cost of healthcare rises, question of who pays for healthcare arises. Healthcare today is paid for by government and insurance companies. However, both are funded by consumers and tax payers.
Managed care is an organized effort by health insurance plans and providers to use financial incentives and organizational arrangements to alter provider and patient behavior so that healthcare services are delivered and utilized in more efficient and lower cost manner (Williams & Torrens, 2008).
When services are consolidated within an organization, there is an opportunity for streamlining and efficiency. In my opinion, managed care organizations can standardize care philosophies, improve communication between doctors, and create technological solutions that help with aspects of care. In addition, a managed care facility provide individuals with the opportunity to see a collection of different specialists rather than the patient having to search for individual doctors in various places.
How Healthcare is regulated
Health care regulatory agencies monitor health care practitioners and facilities, provide information about industry changes, promote safety, and ensure legal compliance and quality services. Federal, state and local regulatory agencies often establish rules and regulations for the health care industry, and their oversight is mandatory. For the last decade, many policies have helped these agencies regulate healthcare.
HIPAA, Health Insurance Portability and Accountability Act of 1996, was enacted by the United States Congress and signed by President Bill Clinton in 1996. HIPAA protects health insurance coverage for workers and their families when they change or lose their jobs. In addition, HIPAA requires the establishment of national standards for electronic health care transactions and national identifiers for providers, health insurance plans, and employers (U.S. Department of Health, 2003).
The HIPAA Privacy Rule provides federal protections for personal health information held by covered entities and gives patients an array of rights with respect to that information. At the same time, the Privacy Rule is balanced so that it permits the disclosure of personal health information needed for patient care and other important purposes (U.S. Department of Health, 2003).
In addition to rules and regulations, HIPAA has stated penalties for violating these rules. On February 16, 2006, HHS issued the Final Rule regarding HIPAA enforcement. It became effective on March 16, 2006. The Enforcement Rule sets civil money penalties for violating HIPAA rules and establishes procedures for investigations and hearings for HIPAA violations. For many years there were few prosecutions for violations (Stein, 2006). Social forces that influence healthcare today
Healthcare at the federal and state level is highly regulated to ensure that care is delivered safely, access to care is available, and patient rights are secure. Consumer demand for assurances about the quality of the care they receive and the right to choose their care providers has greatly influenced legislation regarding health care funding and programs. It is important for nurses to understand from a global perspective the forces at work in the health care environment that affect nursing practice, patient care, delivery of service, and advancements in science and technology (Williams & Torrens, 2008). Health care delivery systems in the United States have evolved significantly during the past two decades.
Historically, people in the United States received health care through personal physicians and locally owned and operated community hospitals. However, highly competitive, expanding health care delivery systems are replacing that model. This transformation of the health care industry is being molded by increasing delivery costs, changing reimbursement requirements, standardization of diagnoses and treatment methods, contracted care, rising liability issues, and emerging technologies. Other influencing factors include increased severity of illness in inpatient facilities, major cost reductions and restructuring, emerging new illnesses, and changing population demographics.
References
* James Rhee. The Influence of the Pharmaceutical Industry on Healthcare Practitioners' Prescribing Habits. The Internet Journal of Academic Physician Assistants. 2009 Volume 7 Number 1. DOI: 10.5580/1c4f * K.B.Wells et al., "The Functioning and Well-Being of Depressed Patients: Results from the Medical Outcomes Study," Journal of the American Medical Association 262, no. 7 (1989): 914–919. * Richards, K.C.; Campania, C. Muse-Burke J.L (2010). "Self-care and Well-being in Mental Health Professionals: The Mediating Effects of Self-awareness and Mindfulness" .Journal of Mental Health Counseling 32 (3): 247. * Secemsky, B. (2012, November 08). Doctors and nurses: A relationship in the works. Huffingpost, Retrieved from http://www.huffingtonpost.com/brian-secemsky/doctor-nurse-relationship_b_2091040.html * Stein, R. (June 5, 2006). Medical privacy law nets no fines. Retrieved from http://www.washingtonpost.com/wp-dyn/content/article/2006/06/04/AR2006060400672.html U.S. Department of Health (2003). Retrieved from Office of Civil Rights website: http://www.hhs.gov/ocr/privacy/hipaa/understanding/summary/index.html * Williams, S. J., & Torrens, P. R. (2008). Introduction to health services. (7 ed.). Clifton Park: Cengage Learning.
Related Topics