he Internet is the Greatest Invention of Mankind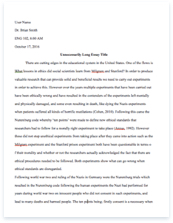 The whole doc is available only for registered users
A limited time offer! Get a custom sample essay written according to your requirements urgent 3h delivery guaranteed
Order Now
Introduction
The Internet Is The Greatest Invention of Mankind There are two sides to every story, and in this case, two sides to every argument. The above statement poses such questions as: if the Internet is not the best invention of mankind, what is? And, what would life be like without computers and the Internet? I hope to answer these questions and form a fact-based opinion on whether I think that the Internet truly is the greatest invention of mankind. One of the obvious benefits of the Internet is that it provides people with fast accessible information; mainly through search engines such as Google or Yahoo. These search engines are easily accessed, and they provide links to website containing information on what you searched for. Using these search engines, you can also search for images of whatever you want. But, we must ask, is this easy access to images and websites safe for young children? There are many upsides to the Internet.
Middle
Another factor which may put some people off the Internet as a whole is the distraction it is to young people, mainly teenagers. They can get sidetracked into chatting to friends on MSN or Myspace. Many children have stated that instead of doing homework or coursework, they often get distracted into other things. Some parents do not let their children use the Internet other than for homework and research, purely because of the fact that it may distract them from working. Perhaps because of the Internet, there has been an increase in the number of reported identity thefts and credit card frauds. The Internet has effectively provided a gateway for fraudsters to steal credit card numbers, addresses, pin numbers and personal information. The Internet is not as secure as it is made out to be, which is why many doubt its reputation. And, if there is any doubt that the Internet is safe, then surely the doubt should be eradicated somehow, by fixing the problems?
Conclusion
Without the wheel, we would not be able to get around ourselves. Another invention which has been with us a long time, but which will always be one of the most useful to us, is the telephone. The telephone has long been a great means of communication, and I believe that it will always be needed far more than the Internet. But, we are forgetting (In my opinion) the most important invention of all, and that is electricity. Without electricity, we would not have many of these other inventions such as the telephone, and more importantly the Internet. Undoubtedly, the Internet provides many people with a living, it provides millions of people each day with means of communication, and means of purchasing products, but, I do not think that the Internet is the greatest invention of mankind, nor do I think that it comes close; there are other far more beneficial inventions, such as the wheel, the telephone, and, of course, electricity. I believe that the Internet is a great invention, with upsides and downsides, but I believe it never was and never will be the greatest.
Related Topics