Having a Broken Family on the Academic Performance of the Fourth Year Students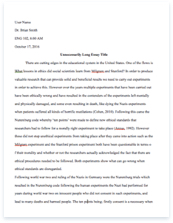 The whole doc is available only for registered users
A limited time offer! Get a custom sample essay written according to your requirements urgent 3h delivery guaranteed
Order Now
The family is the oldest and the most important of all the institutions that man has devised to regulate and integrate his behaviour as he strives to satisfy his basic needs. The family is basically a unit in which parents and children live together. Its key position rests on its multiple functions in relation to overall development of its members, their protection and overall well-being. Therefore, it would emerge not only in the social and physical well-being of the individual is taken care of by the family, but the psychological well-being as well. Reviewed researches claimed that there is a lot of importance of the home environment or family on pupil's/students academic performance. The home has a great influence on the students' psychological, emotional, social and economic state. (Dr. Anita N. Chawla, The Relationship between Family, Environment and Academic Achievement, 2012) Investigation of these factors has produced several findings by researchers. For example, Clemens and Oelke (1967) and Emeke (1984) have attributed the cause of poor academic performance to a combination of personal and institutional factors. Personal factors relate to the individual's intelligence, knowledge and ability. While institutional factors are family or parental influences, societal influences, institutional influences and school related factors- student/lecturer rapport, teacher related factors, accommodation and living conditions.
In the same vein, Wiseman (1973), Sogbetan (1981) and Hassan (1983) among others have examined the causes of poor academic performance among secondary school students. Some of the factors identified are intellectual ability, poor study habit, achievement motivation, lack of vocational goals, low self-concept, low socio-economic status of the family, poor family structure and anxiety. The consequences of these include indiscipline in schools and low level of educational standard. (V. O. Uwaifo, The Effects of Family Structure and Parenthood on the Academic Performance of Nigerian University, 2008) According Fafunwa (1984) Education in Nigeria has intensified that parents should be keen in their wards education. Children especially adolescents need basic things as love, affection, security, tenderness, food, clothes, school materials and fees etc. Those that lack these are often backward in school as they find it difficult to work in school. It was observed that most school dropouts are children from families whose parents are not able to provide the necessary school requirements. (Keybord, The Effect of Broken Home on The Academic Performance of Pupils, 2010)
Deep within the streets of the Philippines are images of street children that usually go unnoticed or are just plain invisible to others. Images that contradict to the perception of progress and development that to one they just simply don't exist. These children are oftentimes products of broken families, unwanted pregnancies and runaway delinquents from abusive parents or relatives. They are generally left off to fend for themselves in the streets and to provide most for their family living in squatters and shanties no one could ever imagine living in. (Bryeunade, Street Children in The Philippines – Children of Lesser God, August 26, 2010)
Based on the practical observation by the research as regards to the children who belong to a broken family, the researcher is prompted to conduct this study focusing on the academic behaviour of the 4th year students who belong to a broken family. The results of the study would serve as the main input for the proposed academic plan which will be used to help the students who belong to a broken family to cope up with their studies. The researcher is also optimistic that the students would be motivated to achieve more if the finding would be shared with them so that they would develop in their academic performances in the school. Once this research is better understood, parents and teachers can implement programs, techniques, and actions that will help the students in achieving the greatest possible educational outcome.
CHAPTER 2
RELATED LITERATURE
In a study by Gottfried, Fleming, and Gotfried (1998), home environment was found to have a statistically positive and significant effect on academic intrinsic motivation. Children whose homes had greater emphasis on learning opportunities and activities were more academically intrinsically motivated. (J. M. Muola, A study of the relationship between academic achievement motivation and home environment among standard eight pupils, April 19, 2010). It is commonly believed that divorce has a negative impact on children's cognitive performance. Deficits in cognitive performance have been found when children in divorced or father-absent families are compared with children from intact families, particularly in the area of quantitative performance. (Bonnie L. Barber, Long-Term Influence of Divorce and Single Parenting on Adolescent Family­ and Work-Related Values, Behaviours, and Aspirations, 1992). It is widely believed that children from broken homes have higher incidence of academics, emotional and behavioural problems than other children from intact homes.
An analysis of data by NAEP(1986)(National Association of Educational Procurement) data indicated that third graders living with one parent score considerably lower than third graders living with both parents (Tenibiaje Mokolapo Oluwatosin & Tenibiaje Dele Joseph, Effects of single-parenthood on the academic performance of secondary school students in Ekiti State, Nigeria, 2011). For teenagers, students from broken homes were 30 percent more likely to miss school, be late, or cut class than students from intact homes, in part because single parents had more difficulty monitoring their children. These children were also at higher risk for smoking, using drugs and consuming alcohol. Teenagers from non-intact families were more likely to be sexually active and had higher rates of pregnancy. Girls from divorced single-mother homes were at greatest risk for teenage pregnancy. (Schultz, G., Broken family structure leads to educational difficulties for children, 2006).
References
Bryeunade (2010). Street Children in The Philippines – Children of Lesser God. Retrieve from http://socyberty.com/people/street-children-in-the-philippines-children-of-lesser-god/. Uwaifo, V.O. (2008). The Effects of Family Structure and Parenthood on the Academic Performance of Nigerian University. Stud Home Comm Sci, 2 (2), 121-124. Chawla, A. N. (2012). The relationship between family environment and academic achievement. Indian Streams Research Journal 1, 1-5. Keybord (2010). The Effect of Broken Home on The Academic Performance of Pupils. Retrieve from http://gomestic.com/family/the-effect-of-broken-home-on-the-academic-performance-of-pupils/2/. Muola, J. M. (2010). A study of the relationship between academic achievement motivation and home environment among standard eight pupils. Educational Research and Reviews 5 (5), 213-217. Barber, B. L. & Eccles, J. S. (1992) Long-term influence of divorce and single parenting on adolescent family- and work-related values, behaviours, and aspiration. Psychological Bulletin 111 (1), 108-126. Dele Joseph, T. & Oluwatosin, T. M. (2011). Effects of single-parenthood on the academic performance of secondary school students in Ekiti State, Nigeria. International Review of Social Sciences and Humanities 2, (1) 240-248. Schultz, G. (2006). Broken family structure leads to educational difficulties for children. Retrieved from http://www.lifesitenews.com/news/archive/ldn/2006/jan/06011605
Related Topics