Group Minds: Hard Deal Information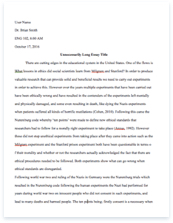 The whole doc is available only for registered users
Pages: 2
Word count: 476
Category: Mind
A limited time offer! Get a custom sample essay written according to your requirements urgent 3h delivery guaranteed
Order Now
The Essay" Group Minds" was written by Doris Lessing. In it, she argues that the government retains "hard information" about human actions/behaviour from schools to keep people submissive. "We (the human race) are now in possession of a great deal of hard information about ourselves, but we do not use it to improve our institutions and therefore our lives. (266)" This is information that will set people free from "blind loyalties, obedience to slogans, rhetoric, leaders, and group emotions. (267)" Lessing firmly believes this would be useful, if students learn to deliberate these rule with an indifferent approach. Which, as a result will improve schools and students lives; more people will become individuals and learn to withstand group pressures. Through out the essay, Lessing discusses the human need for belongingness. She goes on to explain how it is human nature to want to belong to a group and when in a group people often change their thinking to agree with the group.
Lessing states that "we tend to think as that group does: we may even have joined the group to find "like-minded" people. (266)" She conducts an experiment to support her preposition. Majority of the people said that they wouldn't give into the groups. Just as Lessing thought, people did exactly what everyone else in the group did. Which proves her theme correct, Lessing believes one can escape this way of thinking by simply having individualism taught in institutions but acknowledges that this will never happen ( 267). She understands that collective thinking individualism can be a danger and threat to the government. In a sense that they will no longer be able to manipulate ones thoughts, personal opinions or the way humans choose to live their lives. Yet, she also believes people are in danger if they do not free their minds and learn to challenge other thoughts and opinions in hopes of becoming a free thinker. Lessing indirectly describes this blindness to group obedience as invisible poison( 268).Meaning this way of thinking is ingrained so deep, that humans subconsciously follow the crowd.
Through out the essay Lessing continuously tries to make the same point that naturally humans seek for a sense of acceptance and belonging (266). Her concern with being apart of a group is not having a group mind but rather not being able to understand ones own mind. "We are group animals, and the better we understand that about our selves, the stronger we might be in the face of pressure to conform. (265)" Instead of being apart of a social identity, one can be in a group without loosing there own individual identity. Lessing wants everyone to understand that this way people will apprehend the powerful effects groups have on their lives and use that knowledge to construct a better meaning of the term "group minds".
Related Topics