Grammatically Correct Dialogue Is the Key to Effective Communication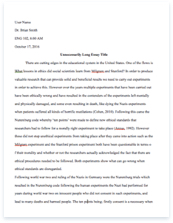 The whole doc is available only for registered users
Pages: 3
Word count: 552
Category: Ethos
A limited time offer! Get a custom sample essay written according to your requirements urgent 3h delivery guaranteed
Order Now
Words are the most common way of communication. Knowing how to put words together and structuring them correctly will get a lot of things accomplished. Your company will be perfect at negotiations, arguments and especially persuasion. I know that running a great business thrives on all of those things and I'm currently being well educated in doing that. With the English education i'm getting now, I won't just be a better employee, I will be your best employee.
If your company hires me then your negotiation deals will no longer be that much of a challenge. I know how to talk with people and explain to them what they want to hear. English is a hard language because there is a standard way to structure words; using that standard use of words incorrectly will not make negotiations go too well. I have the characteristics of a leaders and one of those characteristics is being able to talk with authority while still showing respect. I know how to talk with authority plus I know how to throw big words around while using then correctly and will intimidate your opponent. That is when I come into play because I have both of those things that will make opponents crumble under negotiations.
Me having a voice with authority will also help me win business arguments. Picture losing a negotiation then I come out and put us back into a fighting chance. How will I do this? English isn't all about knowing how to use words the correct way, it's also knowing how to comprehend words. There is a technique called active listening; It requires the listener to fully concentrate, understand, respond and then remember of what is being said. I will use this technique to comprehend the words they are saying and use their words against them. People mistaken English with just the use of words but it's a whole lot more than that.
Every business uses the way of persuasion to get there way. My current English education have taught me how to correctly use Ethos, Pathos and Logos. These 3 artistic proofs are modes of persuasion used to convince audiences. I will choose the correct language that appeals to the the audience and topic. Also make myself sound open-minded and impartial towards our rivals when discussing topics; while at the same time using correct grammar. Using the appeal of Logos is the most important to me in convincing someone because you use this way of persuasion when stating facts, statistics and any type of analogies.
To sum this up; Words are the basic building block of all businesses. I know how to use words correctly and I know all of the techniques I can use with words that will make your business the best. Speaking with authority is the main key into getting what you want; Intimidating your opponent is a must. Always listen to your rivals when they speak. Pick out every little detail of their speech and use that against them for the perfect rebuttal; this is what I specialize in. Last but not least, Modes of persuasion. I know how to properly use these 3 artistic proofs proficient and you that is the only way to persuade the audience. Again; I will not just be a better employee, I will be your best employee.
Related Topics