Grading System Persuasive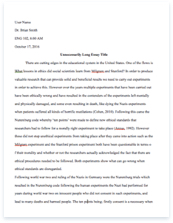 The whole doc is available only for registered users
Pages: 3
Word count: 702
Category: Grades
A limited time offer! Get a custom sample essay written according to your requirements urgent 3h delivery guaranteed
Order Now
ABSTRACT
Grading system is a system that uses internet that allows faculty to manage class grades and submit grades. Professors/Teachers can access list of students for each class that they are teaching and performing standard school management such as submit final grades, incompletes, and failed information. This information is stored in the database. This information becomes part of students' academic record and transcripts.
I. INTRODUCTION
I.1 Background of the Study
Grading systems plays a key role in the management system in schools and universities. But, such systems do not often relate expectations, outcomes and performance. As each student desires to achieve a good score for each assignment, exam, project and/or report, the whole process adds heavy workload for teachers in order to make their evaluation fair, comprehensive, and accurate. From the faculty perspective, these are necessary to avoid disagreement from students and parents. A computerized grading system is a highly desirable addition to the educational tool-kit, particularly when it can provide less effort and a more effective and timely outcome. .
Grading System is the most commonly used in computing and analyzing the performance, talent and skills of students. It is the important record to keep even for the longest time for the referral and credentials of the student to enter their next level of attaining their goals. It is the tract record that recognizes of one student, this maybe use for analyzing of your attitude and values. Grading System is designed to provide incentive reward for achievement and assist in identifying problems of the student. This will also be a big help to all the enrollment staff especially under the computer department because they are the one who are entitled to touch and read the information from here. It will help our institution to have another system that will upgrade the enrollment processes so as to meet the quality that our institutions are trying to meet.
I.2 Statement of the Problem
1. Is there any significance between the manual grading systems to the computerized grading system? 2. Is Manual grading system gives more accurate, efficiency and easy to use than the computerized grading system? 3. Is manual grading system makes the task easier and less consuming of time than the computerized grading system?
I.3 Objectives of the Study
To develop a system that will help to contribute in the institution To become easy for us to compute the grades of the students. To check the attendance of the students that can affect their grades To make a system that can compute the average scores of the students / whole class. To record the attendance of the students in every semester.
To know the students who are enrolled in the course.
2. Methodology:
This chapter will show and explain the methods of the grading system such as the DevCpp Programming Platform or Turbo C Programming Language, Proposed System, Block Diagram, IPO Chart, Pseudo code and the Flowchart.
2.1 DevCpp Programming Platform or Turbo C Programming Language
2.2 Proposed System
2.3 Block Diagram
2.4 IPO Chart
2.5 Pseudo code
2.6 Flowchart
3. RESULTS AND DISCUSSIONS
3.1. Project Description
3.2. Properties of the Project
3.3. Functions of the System
3.4. Tools and Methodologies of the System
4. CONCLUSIONS
5. RECOMMENDATIONS
6. ACKNOWLEDGEMENTS
We would like to thank the people who helped and support them to successfully complete the study. To our professor, this would not be possible without his guide and support. Thank you for the endless time and patience in guiding throughout the whole time. We really thank you for everything you've done to us. To our family, especially our parents for their love, support and guidance. Thank you for giving us strengths and motivations to do our project. To the CPE 3-1, thank you for uplifting us when we cannot push through. Thank you for believing that we can do everything with the help of one another. Also, for your words of encouragement during our hard times. And lastly, to Almighty God, for hearing our prayers and giving us strength to pursue this course. Thank you for letting us to finish the research without any conflict. You are one of our sources of strength.
7. REFERENCES
http://prezi.com/xx0c_fvsepb3/wnhs-online-grading-system/
http://www.studymode.com/essays/Thesis-Computerized-Grading-System- http://www.termpaperwarehouse.com/essay-on/Introduction-About-Enrolment-Grading-System/53406644114.html?topic http://www.slideshare.net/yuri56/computerized-grading-system-chapter-1-3-32629772
Related Topics