Gender Differences in STEM Fields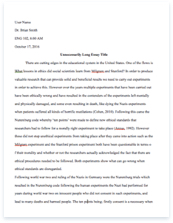 The whole doc is available only for registered users
A limited time offer! Get a custom sample essay written according to your requirements urgent 3h delivery guaranteed
Order Now
Participants were Latina or European American teenage girls and were divided into younger and older adolescents within their ethnic group for data analysis. The background for this study comes from research on gender differences in STEM fields and racial differences in academic achievement. Brown and Leaper cite research on self-concept by Cooley (1902) and Mead (1934) to explain this; "individuals create their self-concept largely by internalizing others' beliefs about themselves" (2010). This study is relevant to issues of the gender gap in STEM fields because "gender differences in perceived competence and valuing predict later differences in STEM achievement and occupational choices". Thus, if we want more women in STEM, we have to identify the factors in childhood and adolescence that drive them away from it. The girls' experiences with perceived academic sexism, their perceived competence in math and science, and their valuing of math and science was measured via a survey on "what it means to be a girl".
The questions for perceived competence and valuing came before the questions on perceived academic sexism, which I assume was to avoid the possibility that reading about academic sexism could put the girls in such a mood that they perceived themselves as less competent than they would have had they not reflected on academic sexism first. The authors asked for the girls' parents' levels of education to be able to examine it as a co-variate and use it as a marker of socioeconomic status. This is a strength because had they not done this, it would have been a possible confounding variable since European American girls tend to be richer and come from more highly-educated backgrounds. The authors also controlled for girls' grades, since that could also affect perceived competence and valuing of math and science, another strength of the study.
Most of the girls came from southern California, with the rest coming from northern California. I find this to be a weakness because California has many large Latino communities, and I think it's possible that being surrounded by Latinas could help buffer against the effects of academic sexism for Latinas. Being surrounded by other Latinas would help them feel less isolated and could give them more chances at meeting high-achieving Latinas who can help them feel like excellence in math and science is achievable for them as well. It also helps them avoid the emotional stress of being a token. I would want to see this study replicated with Latinas in more heterogeneous communities.
The results indicated that Latina girls, regardless of age, reported lower perceived competence in and valuing of math and science. For European American girls, older adolescents reported lower perceived competence in and valuing of math and science than younger adolescents. These relationships were all correlational. Parental education was not a significant co-variate suggesting that ethnicity and age could be responsible for most of these associations. Self-reported grades were significantly associated with girls' valuing of math and science. The authors found a significant 3-way interaction between perceived academic sexism, age, and ethnicity, suggesting that older Latina girls are the most burdened when it comes to having lower perceived competence in and valuing of math and science.
I agree with the authors in that perhaps for older girls, the cumulative effect of years of academic sexism erodes their perceived competence in and valuing of math and science. However, I don't completely agree with the interpretation that Latinas across age groups are more sensitive to academic sexism because they are used to being negatively discriminated against due to ethnicity as well. While I think that's possible, the authors fail to mention that machismo in Latino cultures is very prevalent, while many European American families have become relatively more gender egalitarian. I think that going home to machismo versus going home to a relatively more enlightened view of gender can make it so that Latina girls' erosion of their perceived competence and valuing of math and science starts sooner than for European American girls. A weakness I perceived is that the authors did not include European American and Latino boys.
I think including them would've made it easier to parse the effects of ethnicity interacting with gender. I was left wondering if Latino boys would compare more to Latina girls, European American boys, or European American girls. Seeing these "rankings" so to speak could help us see if racial or gender discrimination has a stronger correlation with perceived competence and valuing. Also, the authors did not control for the level of math the girls were in. I thought that perhaps older girls were more sensitive to academic sexism because some of them might have been in more advanced classes that placed more stress and pressure on them, or where they might've been outnumbered greatly by boys. The fact that the study is purely correlational makes it difficult to know if perceived competence is a result of grades or vice versa. I also would've liked to see a classroom observation element to help combat the issue of underreporting sexism and to look at sexism in other ways–how teachers respond to girls vs. boys or Latinas vs. European Americans differently, how rates of being called on vary, gender and ethnic make-up of classrooms, etc.
Related Topics